Archangel Gabriel's Soul Star Activation

Thursday, August 22, 2013 from 1:00 PM to 3:00 PM (PDT)
Event Details
Receive Gabriel's
Soul Star Activation
Archangel Gabriel is the angel of Resurrection, the voice of God and bringer of good news.
He appeared to Mother Mary to bring the remembrance of her mission as the mother of Jesus. He watched over the prophet Muhammad, inspired Joan of Arc and influenced Zoroaster.
When you are ready, Gabriel brings the remembrance of your soul calling and life purpose.
Reserve your seat with Archangel Gabriel at the top of this page. Click "View Organizer Profile" to reserve your seat for the full series of all 7 Activations.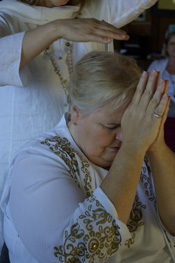 Activation
Gabriel is offering us two activations. The first activates the soul chakra just above the top of your head. Some call it the Soul Star.
The second will also activate your crown chakra at the top of your head.
Connecting the previous Activations from Archangels Michael, Metatron, and Jophiel, Gabriel will open a channel for the Light to flow from the Heavens, through the Soul Star and Crown Chakra, to the Third Eye, and Ascension Chakra, then down into the Solar Plexus and Root Chakra.
The floodgates of heaven can open to pour pure transendental Light from God and your true Being into your body and life.
Your path is illuminated.
The way is made clear.
Very great are the resources and treasures that flow to you empowering your soul calling. Your Guardian Angel and Micah, the angel of Divine Plans watch with joy, love, and pride as you step into your light body here on Earth.
You are empowered to respond to your soul calling.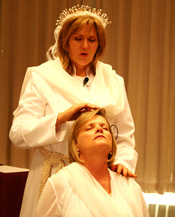 Develop your Inner Senses
During meditative connection with Archangel Gabriel, we'll experiment with your perceptions of how the Divine Energy from Spirit flows through your body and energy centers.
We will be curious to discover how your inner senses respond to this infusion of energy.
Receive Divine Guidance
And we'll explore ways to receive direct message about your soul calling and life purpose from Archangel Gabriel as your path is illuminated.
Yes, that means seeing visions, channeling, sensing, and divine knowing. Maybe you'll even see a burning bush or the waters part!
You are Not Alone!
Connect with a Community of Kindred Souls
Best of all, you are invited to fully participate by sharing your experiences, messages, and inner knowing to receive validation as we connect with each other in the light of the angels. 
The relationships we are developing with angels are very personal and will be unique for each of us. Sharing your experience is an empowering way to connect with each other to receive suport, love, and validation.
You are not alone. Gather with people who see you, hear you, and understand you.
Download Recording to Listen Any Time
This session will be recorded. If you are unable to attend live, you'll get access to the recording. Download to your favorite listening device, or listen from the internet. 
Archangel Metatron gave us a special dispensation to hold these events outside of time and space. That means whenever you listen, it is the eternal now. Your soul was with for the 'live gathering' so when you listen, you may notice it feels like you are there. You were! Your soul was anyway. You will receive the full blessing and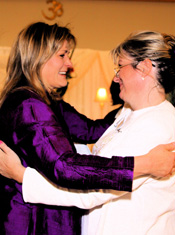 benediction of the Activations.
Your Angel Buddy
Do you have a special friend that you share spiritual experiences with? This experience will be even more delightful when shared. Invite your Angel Buddy to sign up, too.
Register for More Activations
This is the forth of 7 Archangel sessions, one each week. 
To register for more individual sessions with Archangels, or the Series of all 7 Archangels, click "View Organizer Profile" on the right side bar. You'll see the full list. 
If you missed an Archangel, register for the full 7 Archangel Series to get access to all of the recordings and remaining live events.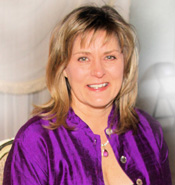 Kimberly Marooney
If you are wondering who I am, I literally wrote the book on angels. Books, actually. I'm the author of Angel Blessings Cards of Sacred Guidance and Inspiration, Angel Love Cards of Divine Devotion, Faith and Grace, Your Guardian Angel, My Angel Connection: The Guidebook to Interactions with Angels, and compiled Bring the People Back to My Love Rosary for the Children of Light of all faiths.
When & Where

Accessible by Phone, Skype, Internet from anywhere in the world




Thursday, August 22, 2013 from 1:00 PM to 3:00 PM (PDT)
Add to my calendar
Organizer
Kimberly Marooney, Ph.D. is gifted at creating an opening for God's love to infuse you with everything needed to heal and move forward on your life's path.
The first person ever to earn a Masters degree in Angelology and a Doctorate in Spiritual Psychology, many of the best-known angel experts including Doreen Virtue have sought to learn from her.

Dr. Marooney is the best-selling author of powerful books for self-transformation including, Angel Blessings Cards, Your Guardian Angel, Angel Love Cards, and My Angel Connection: The Guidebook to Interactions with Your Angels. Now in its third edition, Angel Blessings has been read by over 300,000 worldwide and is considered a classic. Visit Kimberly online at KimberlyMarooney.com