Description
This full day training course provides hands-on experience with RAD-IT and SET-IT, the companion tools for ARC-IT. Participants will use RAD-IT to look at the Oregon Statewide ITS Architecture and learn how to maintain and use the Oregon Architectures. Students will then use SET-IT to define a project that is consistent with the architecture and includes all of the systems engineering outputs required for good practice and Rule 940. Participants will learn directly from the tool developers and national experts in architecture use and maintenance. The course prepares participants to immediately and confidently use both RAD-IT and SET-IT.
TARGET AUDIENCE
Public and private sector professionals who will be using RAD-IT and/or SET-IT. This includes ODOT, MPOs, Local Agencies, and their consultants who will be directly using, producing, or maintaining ITS or connected vehicle architectures or projects.
The course assumes general knowledge of ITS concepts and terminology, including ARC-IT, and basic computer skills.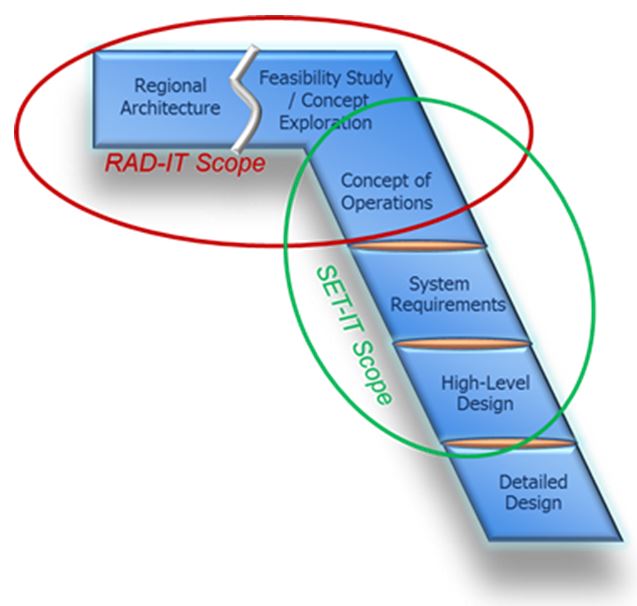 AGENDA
9:00 Welcome & Opening Remarks
9:15 ARC-IT Tools: RAD-IT and SET-IT
9:30 RAD-IT Walkthrough
10:00 Break
10:15 RAD-IT Walkthrough (Continued)
11:00 RAD-IT Exercise
12:00 Lunch
1:15 SET-IT Walkthrough
2:15 Break
2:30 SET-IT Exercise
3:30 Wrap Up, Final Q&A
4:00 Adjourn