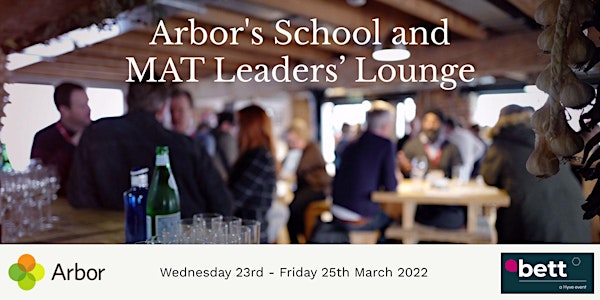 Arbor's School and MAT Leaders' Lounge at BETT 2022
BETT is back, and so is Arbor's Leaders' Lounge!
When and where
Location
Tapa Tapa Restaurant (near Custom House DLR) Warehouse K Western Gateway, ExCel West London E16 1DR United Kingdom
About this event
Arbor's School and MAT Leaders' Lounge at BETT 2022, 23rd-25th March
Join us at BETT 2022, where we're putting on our special annual lounge for school and MAT leaders.
You'll find us at Tapa Tapa restaurant, right next to the Custom House entrance of BETT every day from Wednesday 23rd - Friday 25th March. Pop in for a free tea or coffee in the morning, lunch from 12pm, or a glass of wine in the afternoon.
If you want to find out more about Arbor, hear about the experience of switching MIS from the schools and MATs who use us already, or have questions to ask our experienced team in-person, this is the place for you!
As well as lunch and drinks, we're also holding user groups on Thursday morning for MAT leaders and Friday morning for secondary school leaders. Join us for breakfast and get a sneak peek at what's coming up in the Arbor roadmap.
Are you an Arbor partner or looking to speak to someone about becoming one? Sign up for our Partner Lounge here.
Hope to see you there!
Programme 
Wednesday 23rd March
Tea, Coffee, wine and lunch -11:30am-2:30pm
Thursday 24th March
MAT MIS Breakfast - hear about the exciting future of Arbor's MIS for MATs
Tea, Coffee, wine and lunch -11:30am-2:30pm
Friday 25th March
Secondary School Breakfast - hear what exciting new features we've got coming up on our secondary school roadmap for Spring Term
Tea, Coffee, wine and lunch -11:30am-2:30pm
Inside BETT
Don't forget, you can also find us at stand SK41 inside the main arena at BETT. Come and watch a demo!
About Arbor
Arbor helps schools of all sizes work more easily and collaboratively, with intuitive tools designed to make a difference.
For schools: Arbor MIS gives schools the tools they need to work better today and be ready for tomorrow. Used by over 3,000 schools and 300 trusts across the country, it's the fastest growing MIS today.
For MATs: See the bigger picture with the only true MIS for MATs. More than just a dashboard, Arbor MIS for MATs is custom-built for better collaboration across your trust, with tools that make it easy to work together as one organisation.