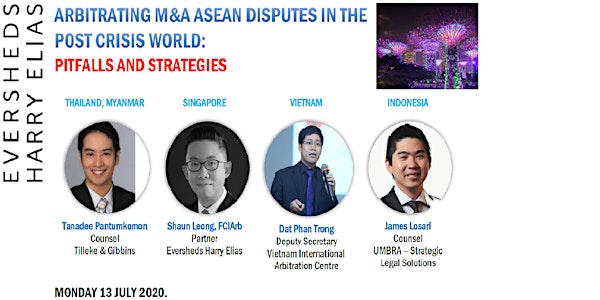 ARBITRATING M&A ASEAN DISPUTES IN THE POST CRISIS WORLD
Arbitrating Mergers & Acquisitions Disputes in the Post Crisis World: Strategies & Pitfalls
About this event
It is anticipated that the "post-crisis" era would bring the biggest challenges to businesses, when the economic impact would be felt the most. With this, now is the window to plan ahead where pitfalls in mergers and acquisitions transactions should ideally be avoided, if not mitigated. Where disputes are inevitable, critical early decisions need to be made to gain a decisive advantage.
This is especially significant having regard to the diversity of legal norms that may be applicable throughout the different jurisdictions in South-East Asia. From misrepresentations and warranty claims, breaches of completion obligations, consolidation of disputes arising from multi-party and multi-document transactions, to seeking emergency relief to freeze assets, it is important to apply the right strategy to the precise jurisdiction in question.
Join our panel of international arbitration experts from across the ASEAN region as we discuss the key challenges in mergers and acquisitions disputes, and consider strategies to obviate such challenges.