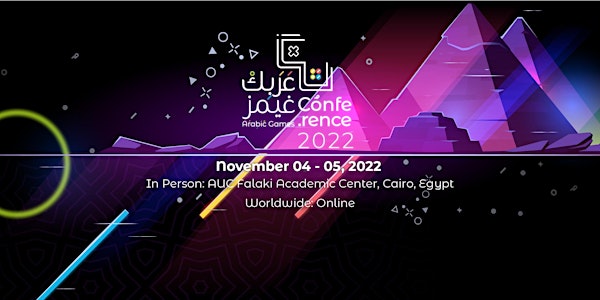 Arabic Games Conference 2022
Arabic Games Conference (AGC) is a celebration of games and interactive experiences designed in the Arab world by Arab creators.
About this event
Schedule and Location : arabic.games/watch
Arabic Games Conference (AGC) is a celebration of games and interactive experiences designed in the Arab world by Arab creators, a first of its kind. And this year we are back for the second edition!
AGC seeks to help the SWANA game community prosper, by facilitating access to educational resources, professional advice, publishing opportunities, jobs, and more, all while highlighting the best work this community has to offer.
In-Person:
Only the first day (Nov 4th) of Arabic Games will be hosted in person at AUC Falaki Academic Center, Cairo, Egypt. The event will be livestreamed on our channels as well.
Other than the Game Showcase Ceremony, you can book a table to showcase your game at the event. Just book a ticket and check the confirmation email for more info on how to register.
Online:
The entirity of Arabic Games talks and activities are available to join online.
Make sure to join the discord on arabic.games/discord to participate in the live Q&A, mentorship sessions, cv & portfolio review, connect with other participants, and make the most of the event!
What to Expect:
Chat with a Pro (Mentorship sessions)
Unsure about how to move forward with your game? Is your story falling short? Does your code feel inefficient?
Chat with a pro and learn how someone solved a tricky problem you're facing, or level up your game dev skills in a one-on-one call with whoever has the experience to answer your questions, be it in code, art, music, design, story, and more!
Portfolio and CV Review
Applying to your dream job? Trying to get into the industry? Maybe you want a change of pace from where you currently are.
Join our CV and portfolio review to see what the pros think about your CV and what you can do to fix it. Get personalized answers as to how to look more attractive to the HR in your dream companies.
Arabic Games Showcase
Flex your game dev skills in the games showcase below!
You've been working on your game for a while and you're proud of it. It's time to share it with the world. Show it off in the games showcase, where you can present your game to professionals and gamers. Get direct feedback for your game and advertise it in the games showcase section.
Talks
We're inviting industry professionals, the creator that started from the region to share their experience with you!
For more info checkout arabic.games
P.S. If you are interested in booking a mentorship session, a CV review, or showcasing your game, you will be sent a link to register for those after you book your free ticket.
جدول مؤتمر عَرَبِكْ غيمز 2022، الموقع، وموعد البدء:
عَرَبِكْ غيمز (AGC) هو مؤتمر فريد من نوعه و احتفال بالألعاب و تجارب تفاعلية صممها مبدعون عرب في العالم العربي. عدنا للمرة الثانية هذا العام!
يسعى AGC لمساعدة مجتمع الألعاب في منطقة الشرق الأوسط وشمال إفريقيا على الازدهار من خلال تسهيل الوصول إلى المشورة المهنية لجميع المهتمين، إلى جانب إلى فرص النشر والوظائف والمزيد، كل ذلك مع إبراز أفضل الأعمال يقدمه هذا المجتمع.
سيعقد AGC فى نسخته الثانية على الإنترنت حصريًا يوم 27 نوفمبر.
الحضور الشخصي:
أول يوم فقط (٤ نوفمبر) من عربك غيمز سيكون الحضور شخصي في مركز الفلكي الأكاديمي في الجامعة الأمريكية، القاهرة، مصر.
سيتم عرض الحدث بالبث المباشر على قنواتنا أيضًا.
بالاضافة لاحتفال معرض الألعاب، يمكنكم حجز مكان لعرض لعبتكم في الحدث. كل ما عليكم هو حجز تذكرة وتفقد رسالة التأكيد في بريدكم من أجل الحصول على معلومات أكتر عن كيفية الاشتراك.
أونلاين:
يمكنكم حضور جميع محاضرات وأنشطة عربك غيمز أونلاين.
تأكدوا من الانضمام إلى discord على arabic.games/discord من أجل المشاركة في البث المباشر لفقرة الأسئلة والأجوبة، وجلسات الارشاد، ومراجعات السير الذاتية والبرتفوليو، والتواصل مع المشاركين الأخرين، والاستفادة بأقصى درجة من هذا الحدث!
ما عليك توقعه:
الدردشة مع محترف
هل أنت غير متأكد من كيفية المضي قدمًا في لعبتك؟
تحدّث مع محترف وتعرف على كيفية حل المشاكل الصعبة التي تواجهها أو رفع مستوى مهاراتك في تطوير الألعاب في مكالمة فردية مع أي شخص لديه الخبرة للإجابة على أسئلتك ، سواء كان ذلك في البرمجة أو الفن أو
الموسيقى والتصميم والقصة والمزيد!
مراجعة سيرتك الذاتيه أو ملف أعمالك الفنية
هل تحاول الدخول في المجال أو التقديم على وظيفة أحلامك؟
انضم إلى مراجعتنا للسير الذاتية أو ملفات الأعمالك الفنية لمعرفة رأي المحترفين وما يمكنك فعله لجعله بشكل أفضل. احصل على إجابات مخصصة لكيفية الظهور بمظهر أكثر جاذبية للموارد البشرية في الشركات التي تحلم بها.
معرض الألعاب
استعرض مهاراتك في تطوير الألعاب!
لقد عملت بَجَد على تطوير لعبتك لفترة طويلة وأنت فخور بها. حان الوقت لمشاركتها مع العالم. اعرضها في معرض الألعاب أمام محترفي الصناعة واللاعبين.
محادثات
بعض من أفضل المطوّرين في المجال في المنطقة اجتمعوا من أجل AGC هذا العام، وسيقدمون محادثات عبر بث مباشر ويشاركون خبراتهم ورؤيتهم. لا يفوتكم!
للمزيد من المعلومات قم بزيارة موقعنا: arabic.games
ملاحظة: إذا كنت مهتمًا بحضور "دردشة مع المحترف" أو مراجعة سيرتك الذاتية أو عرض لعبتك ، فسيتم إرسال رابط لك للتسجيل بعد حجز تذكرتك المجانية.