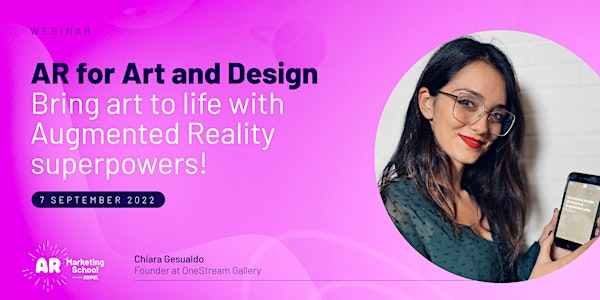 AR for Art and Design
Bring Art to life with Augmented Reality superpower!
About this event
This webinar is part of our AR Marketing Month, an incredible 30-day round of free online webinars dedicated to immersive technologies, marketing, and metaverse with 1st class speakers, talking about the hottest trends.
👉 Do you want to discover how Augmented Reality can help you enrich your portfolio with engaging and interactive AR experiences that allow potential buyers to virtually see your work in real life before they buy?
If yes, you just found the perfect webinar to boost your artworks or portfolio and make your audience and potential buyers ready to visit AR exhibitions straight from the future! 💥
This webinar is loaded with first-hand knowledge about the industry, and you will leave the session with an understanding of why AR Marketing can be a game-changer for the Art and Design industry.
⚡️ What will I learn?
We will give you a live demonstration of:
An overview of AR Marketing for the Art industry
How AR can bring artworks to life for museums, galleries, and eCommerce
How AR can simplify buying processes, overcoming risks of damages and transport costs
🎙 A bit about your speaker:
This webinar is run by Chiara Gesualdo, Founder & Curator at Onstream Gallery 🚀
🚨 Essential information:
Please note that this webinar will be held on Zoom.
Once enrolled, you will receive the Zoom webinar link and password to join the call.
Ensure you join the webinar 5 minutes before the scheduled start time.