Description
Aqua Girl October 3th, 2019 - October 6th, 2019
CELEBRATING 20 YEARS!!

PRINT OR SAVE TICKET TO YOUR PHONE AND SCAN AT THE DOOR OF EACH EVENT - for passes bring to Welcome Center for your weekend wirtsband.
All events are 21 and over

All sales are final. NO refunds or exchanges

All events are rain or shine

If you have a PASS bring to welcome center located at the host hotel to get weekend wristband/ the person that bought the pass needs to be present to retrieve your wristband with a valid ID

All purchases are non-refundable
YOU CAN BUY TICKETS & MERCHANDISE AT WELCOME CENTER :
Aqua Girl - Welcome Center hours are:
(will-call pickup / ticket outlet / merchandise)
Located at our Host Hotel
Friday, Oct 4 – 11am to 8 pm
Saturday, Oct 5 – 11 am to 6 pm
Sunday, Oct 6 – 11 am - 7 pm

For more info contact Amy 305-975-6933 or email Amy@pandoraevents.com

www.aquagirl.org
*pricing is subject to change
………………………………………………………..
Saturday, Oct 5th - AQUALICIOUS POOL PARTY
Don't miss our iconic pool party for some much needed fun in the sun. Kick back as some of the best
DJs from all around the nation drop beats to keep this summer splash swinging.
Time: 11:00am - 5:00pm
Dj's Sammii Blendzz, Zehno and Gigi
Performance by Citizen Jane
Venue: The Marseilles
Address: 1741 Collins Ave, Miami Beach FL 33139
Price: $25 IN ADVANCE / $30 at door
VIP: $75 (limited amount)
*pricing is subject to change
…………………………………………………….
Saturday, Oct 5th GIRLTOPIA– The Future is Female
Welcome to Girltopia - where women rule and dance reigns. Be a part of our signature dance event
an unforgettable, female utopian experience of sights and sounds.
Time: 10:00pm - 4:00am
DJ's Zehno, Sammii Blendzz, Baritone and DJ Gigi
Venue: Treehouse
Address: 323 23rd Street, Miami Beach 33139
Price: $20 IN ADVANCE
*pricing is subject to change
………………………..
Sunday, Oct 6 Evolution Tea Dance
Bring your shades and your moves as back to
back DJs keep the vibe blissfully fun!
Time: 12:00pm - 7:00pm
Dj/Producer Pat Pat and Citizen Jane
Venue: The Marseilles
Address: 1741 Collins Ave, Miami Beach FL 33139
*pricing is subject to change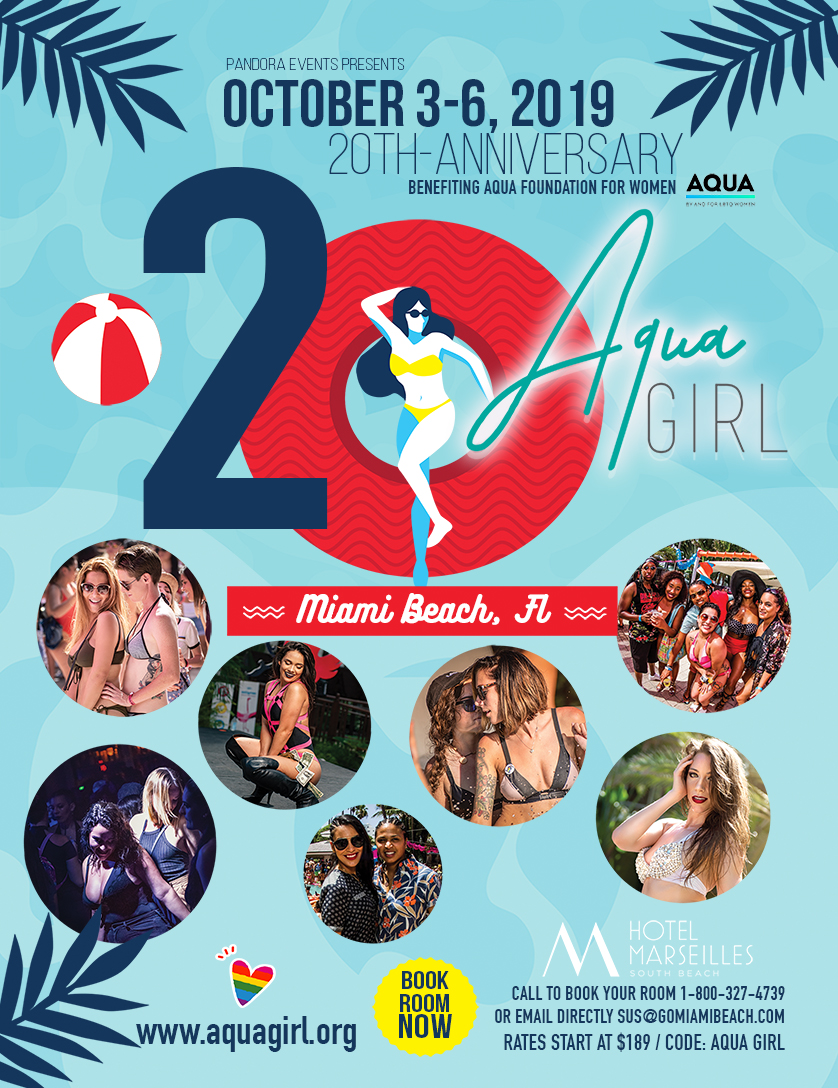 Organizer of Aqua Girl 20th Anniversary - October 3-6, 2019
Click here to subscribe to our text messages.
AQUA GIRL PROVIDES SOMETHING FOR EVERYONE
AQUA GIRL IS CELEBRATING 20 YEARS!!
October 3rd  to October 6th,  2019
A portion of the proceeds from Aqua Girl 2019 go to support Aqua Foundation for Women (AFW).
Aqua Girl is the iconic five-day celebration and the largest gay women's charity event in the country. Each year thousands of women from all over the world travel to South Beach to celebrate their lives laughing, swimming, sharing, dancing and playing together. Stay and play for an exclusive all women's weekend at the exclusive beachfront Marseilles Hotel.
ABOUT US
Alison Burgos, Amy Alonso & Yesenia Leon, are the women behind Pandora Events, and this powerhouse lesbian event production company from South Beach have created and/or produce some of the hottest women's soirees in the country - including Aqua Girl (Founded by Alison Burgos),Girls In Wonderland in Orlando, Women's White Party, FLING- Women's Pride Weekend, Miami Beach.