Join us for a presentation and conversation on computational tooling in architectural practice at MVRDV NEXT?in Rotterdam
About this event
How Good Are We? 我们有"多""好"?
Computational Tooling in Practice 在建筑实践中研发与运用参数化工具
The increasing role of standardized, digital design tools has placed data-driven design exploration and performance quantification at the core of architectural decision-making processes. Recognizing the need for design tools that are specific to MVRDV's methodology and building on the practice's heritage of visionary tools, the computational R&D unit MVRDV NEXT was established. Leo and Yayun will talk about the role of NEXT within MVRDV's global practice and illustrate their ongoing research on design quantification through applied, speculative, and academic case studies of MVRDV NEXT.
标准化、数字化的设计工具在如今发挥着愈加重要的作用。这些工具将数据驱动的设计探索,以及建筑性能的量化评估置于设计决策的核心。研发与运用前瞻性的设计工具是MVRDV一直以来的传统,其不断演变的设计方法论也需要量身定制相应的设计工具。为此,MVRDV成立了参数化研发设计小组——MVRDV NEXT。该小组成员Leo Stuckardt和刘雅蕴,将阐述NEXT 团队在 MVRDV 全球实践中的所扮演的角色,并通过实践性、前瞻性及学术性的三组案例,来分享近期正在进行的设计量化研究。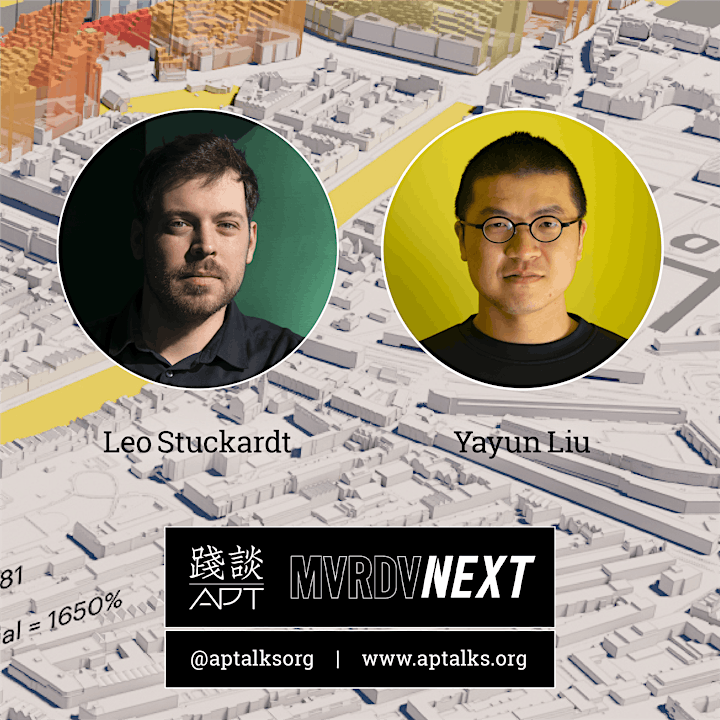 Leo Stuckardt is a practicing architect and researcher with a focus on emerging technologies, computational tools, and speculative design.
Since 2015 he works as an Architect at MVRDV (NL) where he was predominantly involved in architecture and urban design projects in Europe, India and South-Asia before co-founding MVRDV NEXT In 2017. Leo teaches design studios at The Why Factory, TU Delft and workshops at IIT Chicago, Tsinghua University and Chiba University Tokyo. Within the research program of The New Normal at Strelka Institute (RU), he developed atoll.city, a platform for urban design and governance based on deep learning, in 2018. He is currently a PhD candidate at TU Berlin (DE).
Yayun Liu is an architect and computational design specialist with a systemic, data-driven approach. At MVRDV NEXT, Yayun has contributed to projects on various scales in Asia and Europe, most notably including Taipei Twin Towers, Paris Olympic Aquatic Centre, and Tencent Campus. In addition, he regularly engages in MVRDV's research projects and academic activities, such as MVRDV's SolarScape and the design workshop 'How Good Are We?'. Prior to joining MVRDV in 2017, Yayun studied at Tsinghua University (CN) and TU Delft (NL) worked as an architect in Beijing and Hong Kong.
As a group of in-house specialists, MVRDV NEXT develops and implements computational workflows and new technologies within MVRDV"s practice. Through a mixture of project-based work and standalone research, NEXT rationalizes designs, speeds up processes and makes projects more efficient and adaptable in the face of change. Alongside projects and research, MVRDV NEXT regularly engages in workshops and lectures to share knowledge and develop new insights.
Organizer of APT.New York Vol 41 x MVRDV NEXT: How Good Are We?
践谈APT (Architectural Practice Talks) celebrate design talents and creative minds in architecture, design and urbanism, and fosters an international design community by curating a series of diverse and engaging cultural events. Through a rich program of office tours, interviews, site visits and lecture series, APT is committed to nurturing design excellence and encouraging interdisciplinary dialogues through the power of online engagements and offline events. Founded in a small apartment in New York in 2014, today APT has Chapters in New York, Chicago and Shanghai, and brings together over 1000 industry leaders and reaches thousands of readers in the design community.


Visit Us at www.aptalks.org
Read about Us on Architizer: https://architizer.com/blog/apt/
Follow us on social media @aptalksorg