Join us for our April Wine Dinner - part of a monthly, Terrace 16 Wine Dinner Series
About this event
Hermitage is an ancient wine region that continues to mystify wine lovers, and be the world leader in Syrah. The area of La Chapelle is an homage to the Chappelle that is erected in the vineyard sight to honor, Saint Christopher, the knight Henri Gaspard de Sterimberg. After the Albigenisan Crusades, St Christopher retired to this region to become a "hermit" giving the region rise to the name of "Hermitage." Join Terrace 16 to compare the houses of Paul Jaboulet Aîné who produces La Chapelle, and Jean-Louis Chave in vertical format.
1st Course
"Beef Jerky"- Chicken Liver Mousse, Blueberry Compote, Mustard and Fresh Greens
JL Chave, Hermitage, Rhone Valley, 1984
2nd Course
Braised Lamb Shank- Braised Greens, Ramps, Carrot-Fennel
JL Chave, Hermitage, Rhone Valley, 1999
3rd Course
BBQ Beef Rib- Black Berry, Olive, Peppercorn
Paul Jaboulet AIné, Hermitage, Rhone Valley "La Chapelle" 1997
4th Course
Chef's choice of Dessert
Paul Jaboulet AIné, Hermitage, Rhone Valley, "La Chapelle" 2010
We look forward to serving you.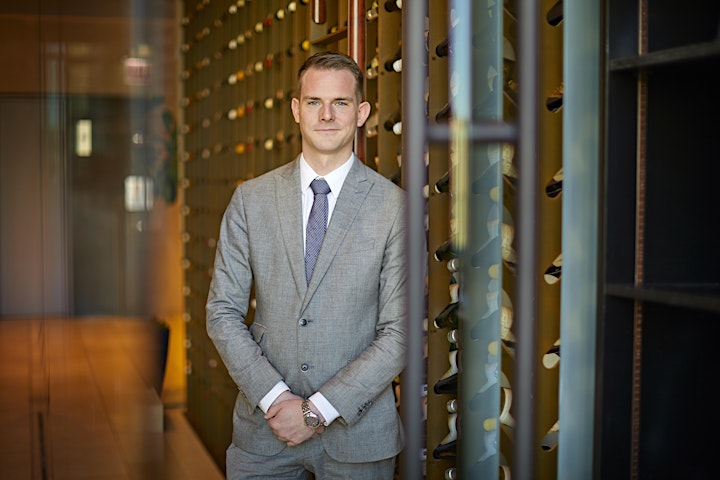 Daniel Kroes, Sommelier at Terrace 16
Organizer of April Wine Dinner: Exclusive Expressions of Hermitage
Terrace 16 captures the spirit of Chicago's glorious summer months year-round with genuine hospitality, warm design, convivial bar, unmatched vistas and an ever-changing menu whose ingredients shine bright. Our American restaurant features a bustling indoor bar and dining room, as well as expansive outdoor seating on its idyllic terrace – all punctuated by breathtaking views of the Chicago River and the city's most iconic architectural landmarks. Our menu features vibrant, new American flavors, allowing ingredients to speak simply and powerfully for themselves. An extensive craft cocktail program and thoughtful wine list enhance the experience of this Chicago restaurant.
Elevating Chicago River dining, Terrace 16 champions of the most stunning attributes found in Chicago restaurants: A 200-seat, inviting outdoor patio, which has enamored thousands of guests for the past ten years with its breathtaking views of Chicago's prized architecture, the winding Chicago River and awe-inspiring Lake Michigan. Terrace 16 offers fresh options for a variety of tastes and preferences in our gluten free restaurant in Chicago.