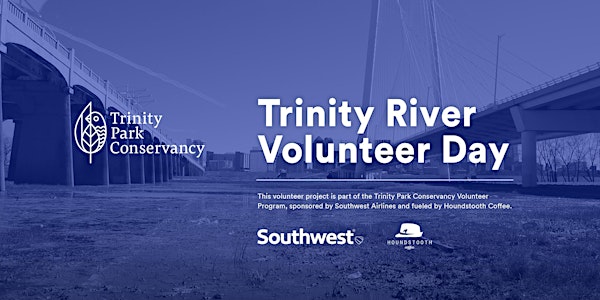 April Volunteer Day | Virtual Earth Day Celebration
We will be celebrating National Volunteer Month and Earth Day virtually throughout the month of April!
About this event
On April 1st, we are launching #TrinityRiverConnectsUs -- a campaign to keep us virtually connected to one another through the ways we can all engage with the Trinity River. Join us as we explore the connections between our communities and with our environment and take steps to make a positive impact: trinityparkconservancy.org/journal-posts/trinity-river-connects-us
Weekly Activities for April 2020
Join us as we take actions, large and small, each week to make positive impacts on our communities and environment. If you have ideas, activities and resources you'd like us to share, please email volunteer@trinityparkconservancy.org.
For the health and safety of all, when you are engaging in these activities, please adhere to all local public health department and CDC guidelines and practice social distancing during this unprecedented global situation.
Week One (Mar 30 - Apr 3)
Celebrate #NationalWalkingDay on April 1st!
Join the Earth Day 24,901 Mile Challenge virtual run.
Share your positive outlook.
Send a note to Dallas area seniors - address notecards to Aidee Campos, 922 W 9th Street, Dallas, TX 75208.
Create a pollinator garden in your backyard and take part in the Million Pollinator Garden Challenge.
Start an edible garden. Local gardening centers are offering starter-kits.
Week Two (Apr 6 - 10)
Get to know the Trinity River, its past and present.
Learn the do's and don'ts of recycling properly so your recyclables stay out of the landfills.
Replace your household cleaners with non-toxic options.
Remember to bring your reusable bags to the grocery store, here is how to care for them to keep them clean and safe to use.
Learn about expiration dates and food safety to reduce your food waste.
Week Three (Apr 13 - 17)
Observe the natural world around you and be a citizen scientist with the iNaturalist app.
Share the Texas Wildlife Association's Critter Connections Magazine with a teacher or student. They qualify for a free annual subscription!
Learn about wetland ecosystems, one of Texas Wildlife Association's free webinars.
Make a DIY rainwater catchment system for your home.
Get back into nature to reverse symptoms of stress.
Week Four (Apr 20 - 24)
Celebrate Earth Day with these online resources:
Travel the globe on a Virtual Field Trip. Explore the rainforests of Borneo or the Coral Reefs of Palau with The Nature Conservancy's online videos.
Free webinars.
Week Five (Apr 27 - May 1)
Join our network of Friends of the Conservancy
Volunteer your time with Trinity Park Volunteers
Donate to the Conservancy to help us continue similar campaigns and programs.
Share your actions, thoughts, and ideas with us using the hashtag #trinityriverconnectsus on social media.
Recruit your friends and family and commit to continuing to take positive actions.
-------
The Trinity River is our river. All of us can contribute to the care and maintenance of the River. From wetlands, forests, and prairies to recreational areas, trails, and overlooks, volunteers help to keep the river clean and green by removing debris and invasive plants from the landscape and water and planting and caring for native plants.
This volunteer project is part of the Trinity Park Conservancy Volunteer Program, sponsored by Southwest Airlines and fueled by Houndstooth Coffee.