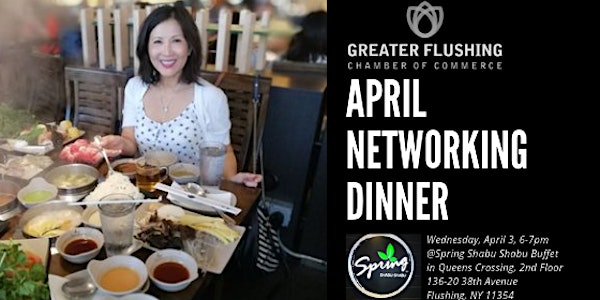 April Networking Dinner
When and where
Location
Spring Shabu-Shabu 136-20 38th Avenue Queens Crossing #2nd Floor Queens, NY 11354
Description

APRIL NETWORKING DINNER

Wednesday, April 3, 6-7pm
@Spring Shabu Shabu Buffet
in Queens Crossing, 2nd Floor
136-20 38th Avenue
Flushing, NY 11354
Mingle with local entrepreneurs, professionals, business owners and civic leaders at the Chamber's April networking event and enjoy an array of mouthwatering hotpot cuisine from Spring Shabu Shabu Buffet. If you haven't tried Flushing's famous hotpot dining scene, here's a great opportunity to try it out in great company. RSVP today!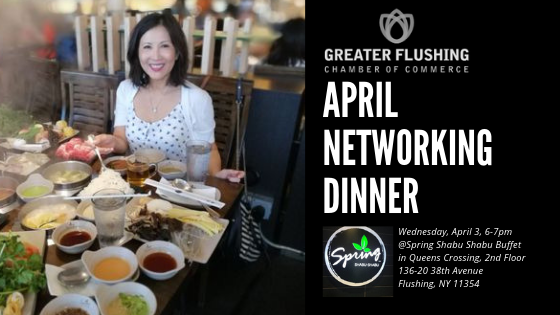 What is Shabu-Shabu?
A Japanese-style hot pot cuisine, shabu-shabu is a fun and healthy interactive dining experience that is fast becoming a popular American favorite. You pick and place fresh vegetables, fishcake, noodles, and other ingredients in your own individual pot of simmering broth at the table. The term shabu-shabu is an onomatopoeia derived from the "swish-swish" sound made when you brush back and forth through the broth to cook.
Fresh. Healthy. Your Way.
Spring Shabu Shabu has reimagined the hot pot dining experience by giving guests the freedom to select traditional and modern shabu-shabu dishes from a buffet setting. Spring's buffet is abundantly stocked with a vast array of fresh vegetables, fishcakes, dumplings, noodles and many other shabu-shabu items that compliment the generous portions of fine meats and seafood entree dishes that are available to order a la carte.
Dinner Prices:
$17.95 per person gives you an amazing hotpot dinner with delicious soup broth along with mountains of all-you-can-eat veggies, fishcakes, dumplings, noodles and other shabu-shabu items as well as dessert. You also have the option of ordering additional side dishes of various Meat Shabu Shabu at $5 or more each or extra orders of Seafood Shabu Shabu at $7 or more each. Visit www.springshabu.com for details.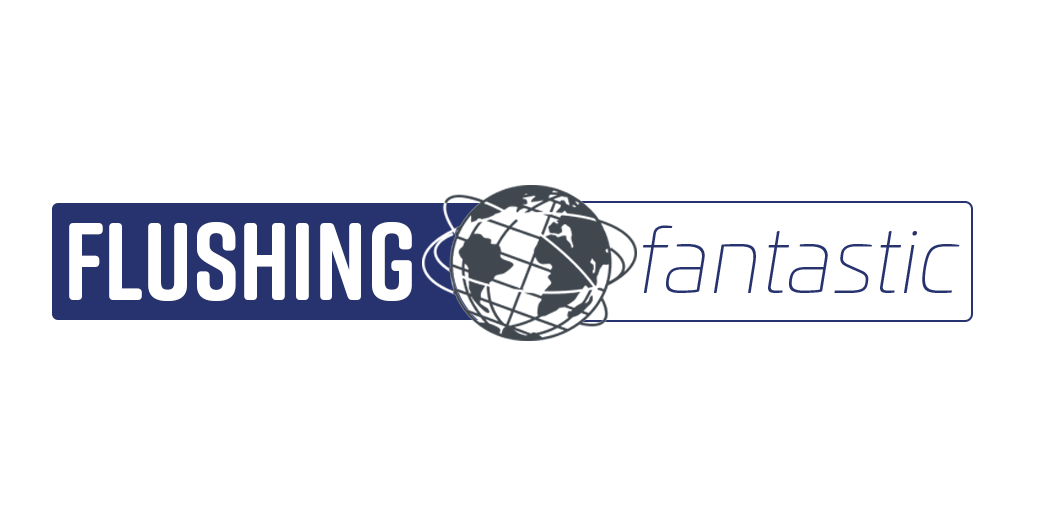 Find Yourself Here!
#FlushingFantastic