Description

Join us on an amazing Spring night in Mojave!
---
In this awesome night of photography you'll learn to photograph the landscape outside Mojave, California- the hotspot for independent space flight! With its amazing night skies and an abundance of Joshua Trees, you'll walk away with some amazing nighttime pictures and the knowledge to shoot the stars anywhere on the planet.
We will begin the day at 3pm and go over a brief introduction to moon phases and illuminocity and how it affects your night photography. If it's cloudy, we'll go over the effects you'll get using time exposure. You'll learn basic camera settings to get you started, and we'll end the introduction with a few ideas on adding artificial light sources (like speedlights and flashlights) to your landscapes. We'll also talk about post processing to get the most of your star photos once you get home.
---
Gear Requirements:
--Digital SLR
--Wide Angle Lens- in the 20mm-35mm range for full frame cameras, and 14mm-20mm for smaller sensors
--Tripod
--Corded remote capable of long exposures
--Extra charged camera batteries
--Flashlight- a necessity for seeing your camera controls in the dark, and also as a light source to light the landscape.
--Warm clothing
---
See the recent article about my Mojave Workshops in the Antelope Valley's AVentures Magazine: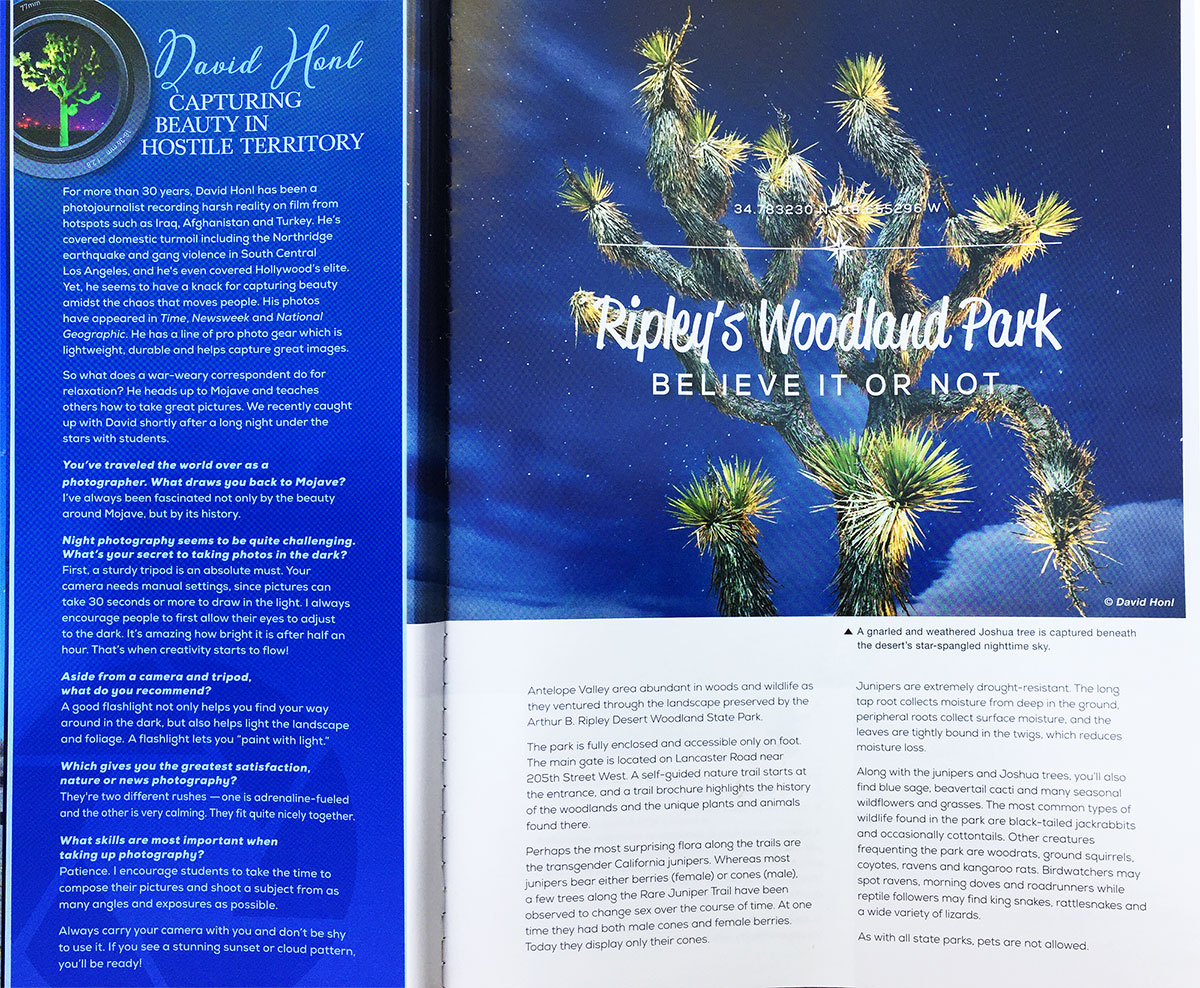 Directions, Lodging, and Meals:
Mojave is just 85 miles north of Burbank. After registration, you'll receive regular workshop updates, equipment tips and specific directions to the site. The workshop site is about a mile off the main highway and is accessable with any higher clearance vehicle like a pickup or SUV - 4 wheel drive is not necessary. If you do not have a higher clearance vehicle, don't worry as we will arrange to bring you to the site from the main road.
If you choose to stay overnight I recommend either the Motel 6 or Red Roof Inn for a clean, inexpensive room. Their rates are around $50. If you adventurous and want to bring your tent, you can camp at the location at no charge. Keep in mind there are no bathroom facilities or water, and be sure to bring a warm sleeping bag and extra blanket!
Pay-as-you go gourmet hot dogs, chips, and drinks will be available for purchase throughout the night.
If you have specific questions about gear or travel before the workshop, I am always here to help so contact me anytime. I look forward to taking pictures with you in the desert!
-David Honl