National Perspective-Sustainable Infrastructure Report Card, RFP & Funding
About this Event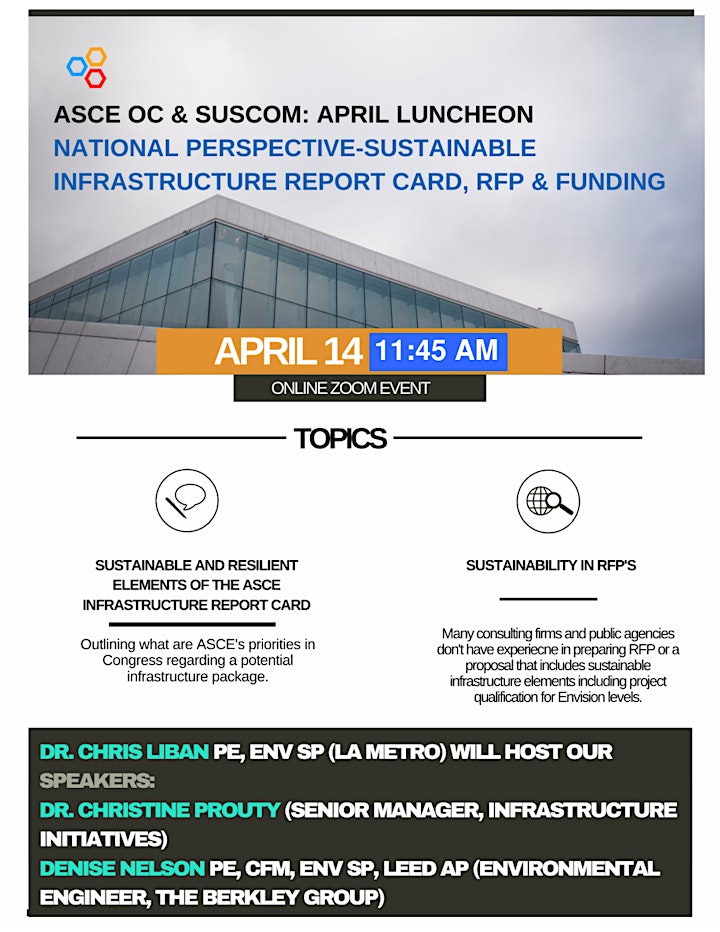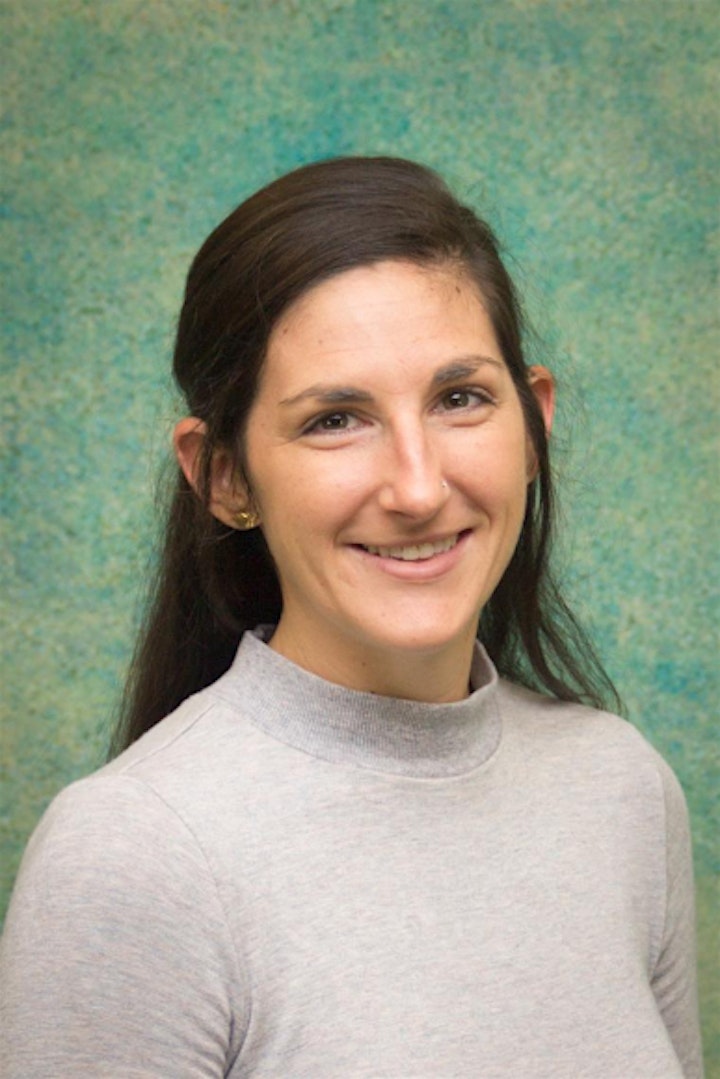 Christine Prouty, Ph. D.
Senior Manager, Infrastructure Initiatives
American Society of Civil Engineers
Christine "Christy" Prouty earned her Ph.D. in environmental engineering at the University of South Florida. She has worked with grassroots and institutional stakeholders across the US and around the world on engineering solutions and research related to sustainability, resilience, innovation adoption, and climate adaptation. Using her background in engineering and research, Christy now works with the American Society of Civil Engineers (ASCE) Infrastructure Initiatives team to develop and leverage advocacy tools and resources. Namely, Dr. Prouty collaborates with nationwide members of ASCE to train, oversee, and produce the engineers' state-based assessments of different infrastructure categories – ASACE's Infrastructure Report Cards. Christy enjoys the research-based nature of her work and is especially passionate about bridging the gap between engineers' technical writing and producing materials that are widely accessible and usable by policymakers, the business community, and the public. Dr. Prouty likes collaborating on holistic engineering solutions that shift away from traditional, siloed approaches and towards those that pursue resilience, sustainability, and innovation across different types of infrastructure and among a varied group of stakeholders. Christy's other degrees are also in environmental engineering (University of South Florida—2013—Master's International Peace Corps Program, Uganda; Louisiana State University—2009).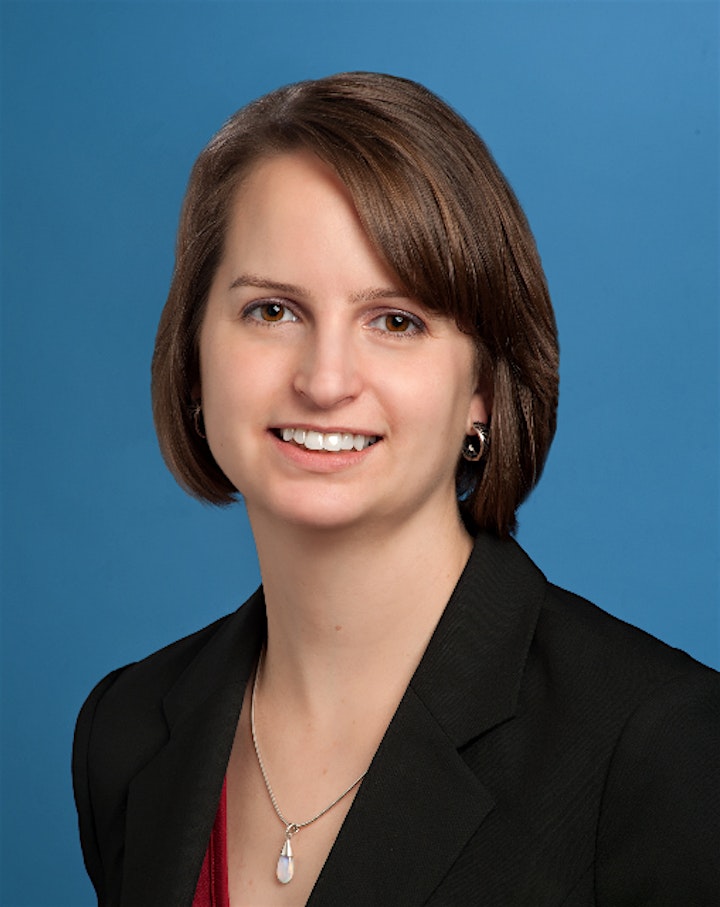 Denise Nelson P.E., CFM, ENV SP, LEED AP
Environmental Engineer, Berkley Group
Denise Nelson is a Civil Environmental Engineer, Certified Floodplain Manager, Envision Sustainability Professional, and a LEED AP. She has seventeen years' experience in design and application of best practices for water, wastewater, and stormwater systems and sustainable development. Her experience includes large and small firms in the US and New Zealand, and she is currently an Environmental Engineer at The Berkley Group. Mrs. Nelson received her Bachelor of Science degree in Civil Engineering from Virginia Tech and her Master of Science degree in Environmental Engineering from the University of Cincinnati. She is active with ASCE's Committee on Sustainability including the team that creates the report on sustainable procurement.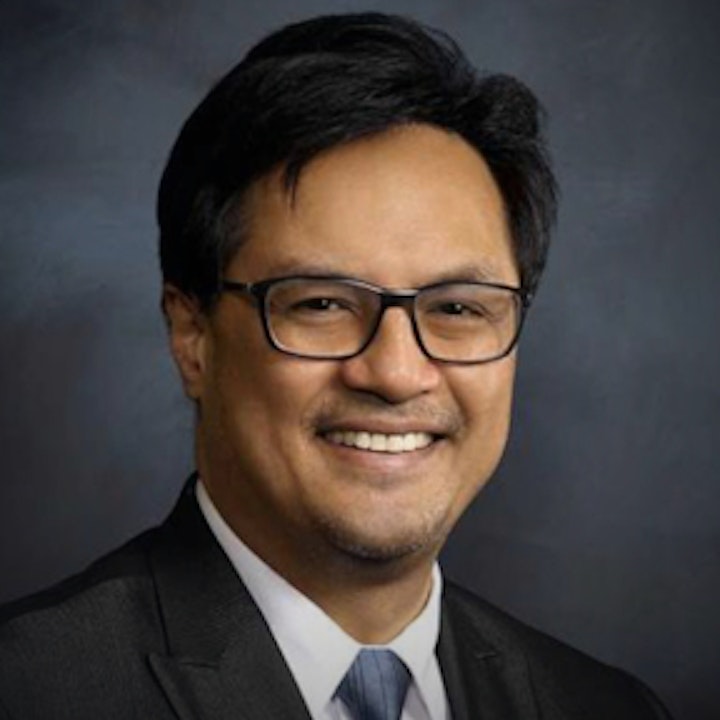 Dr. Cris B. Liban, P.E. is the Los Angeles County Metropolitan Transportation Authority's (LA Metro) Chief Sustainability Officer (CSO).
Cris oversees LA Metro's internationally recognized Environmental, Sustainability, and Energy initiatives. As CSO, Cris' responsibilities are also unique as he sets the environmental, sustainability, and resiliency vision for the agency while oversees the implementation of programs to fulfill that vision.
Cris is currently a Commissioner in the City of Los Angeles Board of Transportation Commissioners (appointed by LA City Mayor Eric Garcetti); as well as the Vice-Chair of the Los Angeles County Beach Commission (appointed by LA County Supervisor Sheila Kuehl). He previously held political appointed positions in the State of California as a member of the Climate Safe Infrastructure Working Group, and as an adviser to the US Environmental Protection Agency's (USEPA) Administrator (Obama and Trump Administrations) as a Council Member of the USEPA National Council for Environmental Policy and Technology (NACEPT). He recently got appointed by CA State Treasurer Fiona Ma to sit on the Green Bonds Development Committee and develop Green Bonds Standards for the State of California.
Dr. Liban is currently the American Society of Civil Engineers National Committee on Sustainability Chair. In that capacity, he is overseeing the development of an international standard for sustainable infrastructure, a manual of practice for the incorporation of climate science into engineering practice, a manual of practice for green procurement.
Cris is the recipient of the 2020 Engineering News Record (ENR) Award of Excellence (AOE) for his work on environmental science, climate change, and environmental equity. In 2016, he was the recipient of the 2016 Pamana ng Pilipino Award from Philippine President Rodrigo Duterte. This is the Philippines' Highest Civilian Honor for Filipinos living overseas.
He has degrees in geology (magna cum laude), civil and environmental engineering, and environmental science and engineering.