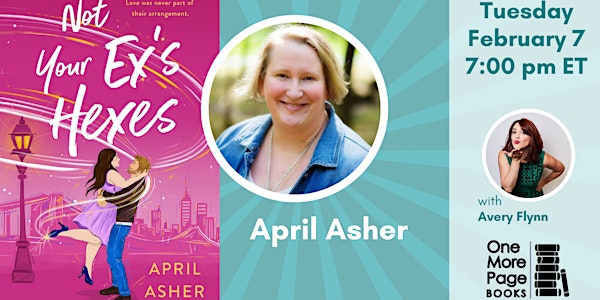 April Asher Celebrates Release of Not Your Ex's Hexes
April Asher joins us at the store to celebrate the release of the second book in her Supernatural Singles series, Not Your Ex's Hexes!
When and where
Location
One More Page Books 2200 North Westmoreland Street Arlington, VA 22213
About this event
This will be an in-person event, with an option to join us online. Pick the correct ticket for attendance type. Proof of vaccine will be required (scroll to the end for more info about COVID safety plan).
She will be joined in conversation by Avery Flynn, author of Witcha Gonna Do?
April Asher, aka April Hunt, was hooked on romantic stories from the time she first snuck a bodice-ripper romance out from her mom's bedside table. She now lives out her own happily-ever-after with her college-sweetheart husband, their two children, and a cat who thinks she's more dog—and human—than feline. By day, April dons dark blue nursing scrubs and drinks way too much caffeine. By night, she still consumes too much caffeine, but she does it with a laptop in hand, and from her favorite side of the couch.
From the far left cushion, April Asher pens laugh-out-loud romantic comedies with a paranormal twist, but when she's not putting her characters into embarrassing situations with supernatural entities, she also writes high-octane romantic suspense as April Hunt, her thrill-seeking alter ego who has written the Alpha Ops and Alpha Security series.
Avery Flynn, USA Today and Wall Street Journal bestselling romance author, has three slightly-wild children, loves a hockey-addicted husband and is desperately hoping someone invents the coffee IV drip. She lives outside of Washington DC with her family, Dwight the cat, and a pack of five dogs all named after food. If she's not reading romance or binging reality TV, she's most definitely plotting to take over the world so she can banish Crocs from existence. Also, if you figure out how to send Oreos through the Internet, she'll be your best friend for life.
Registration is free.
COVID Safety Precautions for Author Events at One More Page Books
As always, we continue to take the safety of our customers, authors and staff seriously. After careful consideration, we have implemented the following measures to promote the health and well-being of attendees and staff at in-person events at One More Page Books:
1) All attendees will be required to show proof of vaccination status to join us for in-person author events at One More Page Books. Registration is required via the website, including confirmation that you are vaccinated. We will be checking off registered attendees at the door. Please be prepared to show your vaccine card, photo thereof, or government-provided digital record. (If you live in VA, you may be able to get your QR code record here.)
2) Because our store is small, with no windows, masks will also still be required of all attendees. We leave it to the discretion of authors to keep or remove their masks while speaking to the crowd. Everyone will again be wearing masks during book signings.
3) We will also limit the number of attendees, again because of the size of our space. We will close registration once 50 people have signed up to attend. Once registered, if you decide you can no longer attend, please update your registration or let us know so we can update our numbers.
4) If authors are signing books as part of the event, we will manage the lines with a wristband system. Please follow the instructions given at the conclusion of the author talk. Masks are required throughout the event.
If you are experiencing any COVID symptoms or know of a recent exposure, we ask that you do not attend any in-person events.