Event Information
Location
Ahern Hotel and Convention Center
300 W Sahara Ave
Las Vegas, NV 89102
April 5, 2022, NRC Luncheon with US Senate Candidate Adam Laxalt
About this event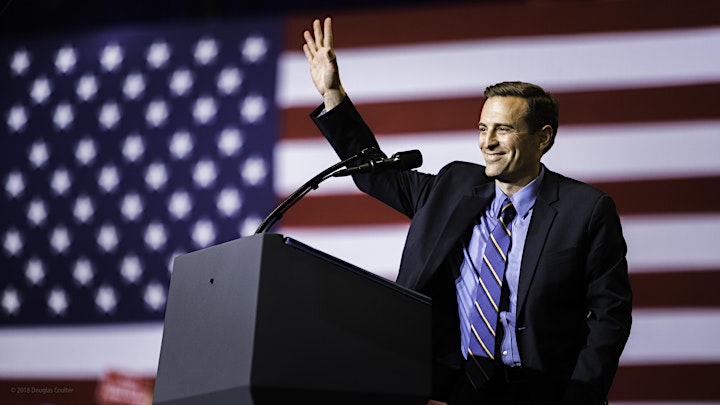 Adam Paul Laxalt, a fourth generation Nevadan born in Reno, served as Nevada's 33rd Attorney General from 2015-2019, entering office as the youngest Attorney General in the country at the time.
Laxalt graduated Magna Cum Laude from Georgetown University and graduated from Georgetown University Law Center. Additionally, he is a former Naval Officer and Iraq Veteran, serving in Iraq detainee operations. Laxalt's team was in charge of more than 20,000 detainees during the surge, keeping America's troops and citizens safer by assisting with the detention and prosecution of thousands of war criminals and terrorists. For his exemplary service, Laxalt was awarded the Joint Service Commendation Medal and the Iraq Campaign Medal. His unit was also awarded the Joint Meritorious Unit Award. While on Active Duty, Laxalt served as a Special Assistant U.S. Attorney and as an Assistant Professor of Law in the Leadership, Ethics, and Law Department at the U.S. Naval Academy.
As Nevada's Attorney General, Laxalt fulfilled a campaign promise to test the backlog of more than 8,000 untested sexual assault evidence kits; launched the first-ever Nevada Law Enforcement Summit, which brought together law enforcement from across the state, and brought serious resources to bear against the state's opioid crisis. As Attorney General, he created the Office of Military Legal Assistance, a first-of-its-kind, public-private program that provides Nevada's military community with free legal representation and no cost the taxpayer.
In his bid for U.S. Senate, Adam has been endorsed by President Donald J. Trump, Florida Governor Ron DeSantis, U.S. Senators Josh Hawley, Tom Cotton, Ted Cruz & Cynthia Lummis, General Michael Flynn, Ambassador Ric Grenell, Las Vegas City Council Members Stavros Anthony and Victoria Seaman & many more.
Laxalt resides in Reno, Nevada with his wife, Jaime, their daughters Sophia, Isabella, and Lilliana, their son Jack, and their dog, Buckley.
Date and time
Location
Ahern Hotel and Convention Center
300 W Sahara Ave
Las Vegas, NV 89102