Description
Day 2 of the Eleventh Annual Sentinel Initiative Public Workshop will be the Sentinel Public Training, which will focus on enabling expanded use of Sentinel tools among the scientific community.
OVERVIEW
This full-day training will be comprised of a series of presentations and hands-on exercises on the Cohort Identification and Descriptive Analysis (CIDA) tool. CIDA is a SAS® software-based analytic tool that can identify and extract cohorts of interest from data in the Sentinel Common Data Model format. This flexible analytic tool has been used in hundreds of FDA-initiated data requests that have supported medical product safety assessments.
ATTENDANCE OPTIONS:
ON SITE:
Onsite attendees will attend the morning session and will need to choose between the two afternoon sessions upon registration.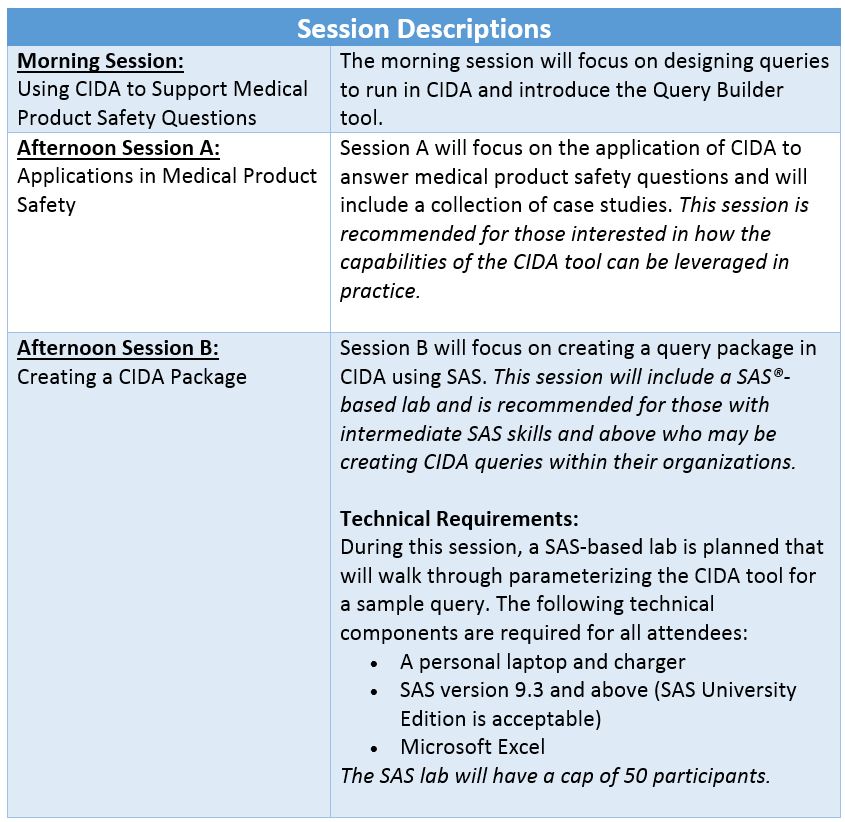 WEBCAST:
In addition to the on-site registration options, organizers will be webcasting the joint morning session and the Applications in Medical Product Safety afternoon session. For those unable to attend on-site, please register to attend via webinar, and the link with be sent to you with your registration confirmation.
REFRESHMENT & LUNCH OPTIONS
Coffee and light refreshments will be available for purchase from the kiosk in the morning prior to the training and during the morning break.
Lunch will be available for purchase and may be pre-ordered (highly encouraged) at registration in the morning. The cost for a bagged lunch is $11. Folks will receive a receipt and will pick up their lunch per the protein/veggie they ordered during the lunch hour.
DIRECTIONS
FDA Visitor Information and further details about the FDA White Oak campus can be found here.