April 26, 2012 Rez Abbasi Group "Invocation" with David Binney

Thursday, April 26, 2012 at 9:00 PM

-

Friday, April 27, 2012 at 12:00 AM (PDT)
Event Details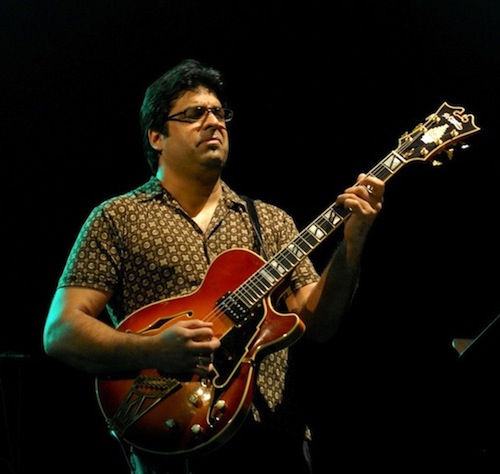 REZ ABBASI'S INVOCATION
REZ ABBASI  guitar
DAVE BINNEY  alto saxophone
MATT MITCHELL  piano
JOHANNES WEIDENMULLER  bass
DAN WEISS  drums
GENERAL ADMISSION: $15   |   STUDENTS with ID $10 MUST PROVIDE I.D. at the door
details:  MINORS under 21 ALLOWED WITH GUARDIAN
Born in Karachi, Pakistan, removed at the age of four to the vastness of Southern California, schooled at the University of Southern California and the Manhattan School of Music in jazz and classical music, a pilgrimage in India under the tutorial of master percussionist, Ustad Alla Rakha, Rez Abbasi is a vivid synthesis of all the above stated influences and genres.

Making New York home for the past 20 years, Abbasi has developed a unique sound both as a composer and an instrumentalist and is considered by many to be one of the foremost modern jazz guitar players the world over. He has honed his skills with performances throughout Europe, Canada, the U.S., Mexico and India. He has performed and recorded with many jazz greats including, Grammy winner Ruth Brown, Peter Erskine, Kenny Werner, Barre Phillips, Tim Hagans, Marc Johnson, Billy Hart,  Marvin 'Smitty' Smith, Gary Thomas, Dave Douglas, Rudresh Mahanthappa, Mike Clark, Tony Malaby, George Brooks, Ronu Majumdar, Kadri Gopalnath, Vishwa Mohan Bhatt, Marilyn Crispell, Greg Osby, Howard Levy and a host of others.
"An amazing guitarist...unique and beautiful music - and best of all - very original....I'm really impressed." Pat Metheny
Rez is musical director, arranger and producer for Indian/Canadian Juno award winning vocal sensation, Kiran Ahluwalia. Kiran's 2008 recording, "Wanderlust" on the World Connection label, was in the top ten European world-music radio charts and also was among the top ten albums of 2008 in Song-Lines Magazine. Her follow up, Aam Zameen (2011) features the Touareg sounds of Tinariwen and has garnered a another Juno nomination. Another highly regarded association Rez has is with award winning saxophonist, Rudresh Mahanthappa. Rez plays an integral role in the Indo-Pak Coalition (Innova) and Kinsmen (PI).  Kinsmen placed in twenty top ten list's for 2008. As a result, Rez was interviewed by NPR's "All Things Considered", Rolling Stone Magazine India and featured in the New York Times. Indo-Pak Coalition has performed at the Montreal, Newport, Monterey and North Sea Jazz Festivals. Rez can also be heard as a member of many others projects.
"Producing so vivid a music that it can be tasted, Abbasi sounds like no one before him. Hi compositions are cheer genius..." All About Jazz
With eight albums of original compositions under his belt, Rez Abbasi continues to garner new groups of musicians to help his musical vision come to life. His 2005 recording Snake Charmer, created a stir in the music world partly due to his organic, original approach in blending two complex musical genres together, namely jazz and Indian music. The provocative instrumentation of organ, drums and guitar alongside Indian vocalist Kiran Ahluwalia, is on one hand, a sound grounded in jazz and yet uncommon in jazz arenas. 20th Century Guitar reviewed the CD as, "One of the best examples yet of how to merge Indian Classical music with jazz...Snake Charmer really breaks new ground." In 2007, Rez achieved even greater heights with the follow up to Snake Charmer, Bazaar.
Bazaar continues the groups journey through uncharted territory and achieves results unparalleled in today"s jazz/world music scene.  Abbasi's musical philosophy states, "To create a global-based music steeped in jazz is my goal. In this way, I'm following in the footsteps of some of the greatest jazz musicians such as Coltrane, Ellington and Gillespie.
Abbasi's sixth album, Things To Come (Sunnyside, 8/20/09) is yet another leap into unchartered musical territory. It features a star studded group of Vijay Iyer, Rudresh Mahanthappa, Kiran Ahluwalia, Johannes Weidenmueller and Dan Weiss and was included in Down Beat's top CD's of the decade. The same year he was awarded the prestigious Chamber Music America Grant as a commission to compose new works for this ensemble, Invocation.

At the end of 2009, Abbasi formed a new quartet. The Rez Abbasi Acoustic Quartet, or RAAQ, was conceived for the purposes of featuring Abbasi's acoustic guitar talents. Simultaneously, it serves as an outlet to feature his compositions alongside "gems from other composers that are rarely heard today."  Abbasi was well aware of creating a group that would magnify and enhance his acoustic guitar sound - calling upon vibraphonist, Bill Ware (Jazz Passengers), bassist, Stephan Crump (Vijay Iyer Trio) and drummer, Eric McPherson (Andrew Hill). RAAQ's debut, Natural Selection (Sunnyside, 9/21/10) captures the profound sensitivity of the ensemble as it twists and turns through the set. Compositions as Abbasi's "Up On The Hill" (dedicated to pianist, Andrew Hill) or Nusrat Fateh Ali Khan's, "Lament", feature the standout textural cascades created between acoustic guitar and vibraphone. 
In 2010, Abbasi reconvened his group, Invocation to record the follow-up to Things To Come. Suno Suno (Enja 10/18/11) features his new CMA commissioned compositions that are informed by Qawwali - a music from Pakistan. The energy, joy and depth that Qawwali encompasses can be heard throughout Suno Suno.
"Mr. Abbasi succeeded in making some fairly cerebral intricacies feel intuitive and touched by a higher source." - New York Times 
Please view: www.reztone.com
Have questions about April 26, 2012 Rez Abbasi Group "Invocation" with David Binney?
Contact bluewhale
When & Where

bluewhale
123 Astronaut E S Onizuka Street #301
Los Angeles, CA 90012


Thursday, April 26, 2012 at 9:00 PM

-

Friday, April 27, 2012 at 12:00 AM (PDT)
Add to my calendar
April 26, 2012 Rez Abbasi Group "Invocation" with David Binney