Location
Hera Hub Sorrento Valley
4010 Sorrento Valley Boulevard
#400
San Diego, CA 92121
Refund policy
Contact the organizer to request a refund.
Eventbrite's fee is nonrefundable.
Sales Have Ended
Registrations are closed
It is my personal pleasure to welcome you to The 2022 Women of Diversity Power Luncheon focusing on Latinas in Business hosted at the gorgeous Hera Hub Carlsbad! We are all looking forward to meeting you! Send any questions you have to Vihil@Magistra.us Remember #MagistraMag Kind regards, Ms.Vihil H. Vigil, MBA, PMP, CHHC CEO Empowerment Empire™, LLC The Empowerment Empire™ Suite of Programs Therapeutic Empowerment www.WomensEmpowermentCoach.us Magistra Int'l, Magistra Magazine & Boss Latinas Anthology www.Magistra.us Connect on LinkedIn http://www.linkedin.com/in/vihil Honoring Women to Inspire Women Proud Sponsor of the Women in Business Brunch & Power Luncheon Series! Join us at our next event: Latinas in Business January 16th Power Luncheon at HeraHub Carlsbad! Go here for details and to sign up>>> https://latinas_in_business_january_power_luncheon.eventbrite.com
Join Business Women of Diversity, Entrepreneurs, Influencers & those who support us for the Spring Power Luncheon on Saturday, March 23rd!
About this event
Dynamic & Diverse Business Women of Diversity are gathering to speak to YOU on how to be more successful in life, business and entrepreneurship!
PLEASE WELCOME THE SPRING POWER LUNCHEON SPEAKERS!!!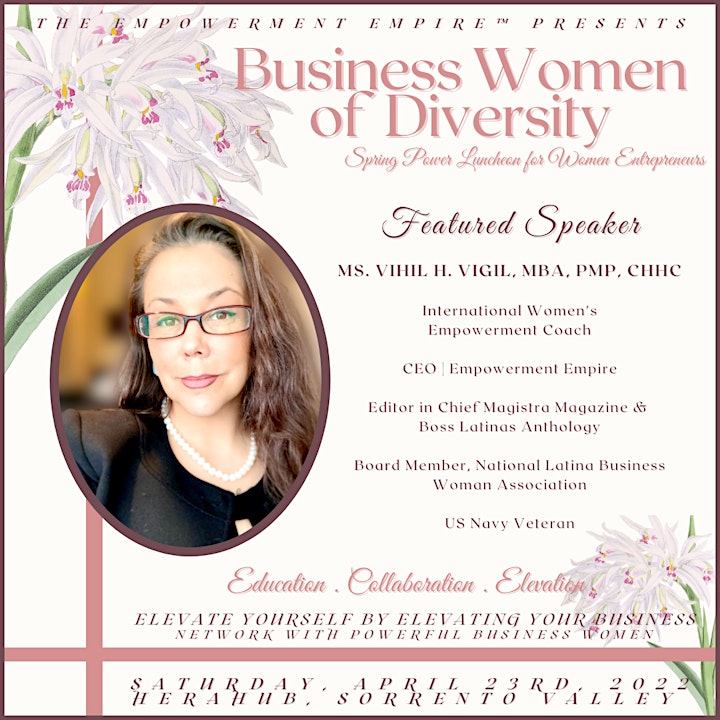 Ms. Vihil H. Vigil, MBA, PMP, CHHC, International Women's Empowerment business Coach, CEO | Empowerment Empire™ LLC, Editor in Chief Magistra Magazine & Boss Latinas Anthology, Board Member, National Latina Business Woman Association, US Navy Veteran
PRESENTING:
Business Coaching for Dynamic Women Entrepreneurs; Examining Your Foundation of Vision & Mission Statements, Financial Plans, Business Growth Plans and Life Plans!
Ms. Vihil H. Vigil, MBA, PMP, CHHC is a driven and ambitious International Women's Empowerment Health, Wellness & Business Coach at Therapeutic Empowerment, Founder & Editor in Chief of the Women's Empowerment Business Publication Magistra Magazine, Creator and Monthly Host of The International Women in Business Mastermind Podcast, Creator of the quarterly Business Women of Diversity Business Brunches & Power Luncheons along with Online Bi-Annual Business Women of Diversity Educational Summits, only parent to her beloved daughter, a United States Navy Veteran, Board Member National Latina Business Woman Association & CEO of The Empowerment Empire™, LLC.
Following a diverse career in Corporate Business Development & Project Management Ms. Vigil shifted focus after 20 years to follow her true path in life of coaching, collaborating and connecting with women who desire a greater life for themselves and their families! Through her Coaching Firm 'Therapeutic Empowerment' Ms. Vigil's expertise is to challenge the mindset of very busy professional family focused women and women business owners by being their personal empowerment, health, wellness and business coach. EMPOWERU! is her ONE to ONE Signature Coaching Course where her clients begin their transformation. To learn more and to sign up visit: https://womensempowermentcoach.us/elite-coaching-programs.
PUBLISHED AUTHOR of NOT WITHOUT MY COFFEE! EMPOWERING JOURNAL PROMPTS FOR ACTION TAKING WOMEN TO JUMPSTART YOUR WRITING! This 50 page journal guides you through 6 weeks of empowerment exercises, reflections, goal setting and action planning to finding personal empowerment through your writing! PUBLISHED AUTHOR of 100 Fantastic Affirmations to Inspire You! Purchase copies of Vihil's books on her website: https://womensempowermentcoach.us/empowerment-reading
CONTRIBUTING AUTHOR & EDITOR IN CHIEF
Magistra Magazine, The Empowerment Empire's signature women's empowerment business publication. Each issue features women leaders from the United States and around the world. Magistra Magazine, designed for US, FOR YOU AND ALL OF THE AMAZING ENTREPRENEURISTAS OF THE WORLD! (https://magistra.us/magistra-magazine-1).
BOSS LATINAS ANTHOLOGY (https://magistra.us/boss-latinas-anthology)
The Empowered Women of Empower Hour, and Voices of Queer Femmes, along with contributing to numerous online articles in women focused empowerment and business magazines.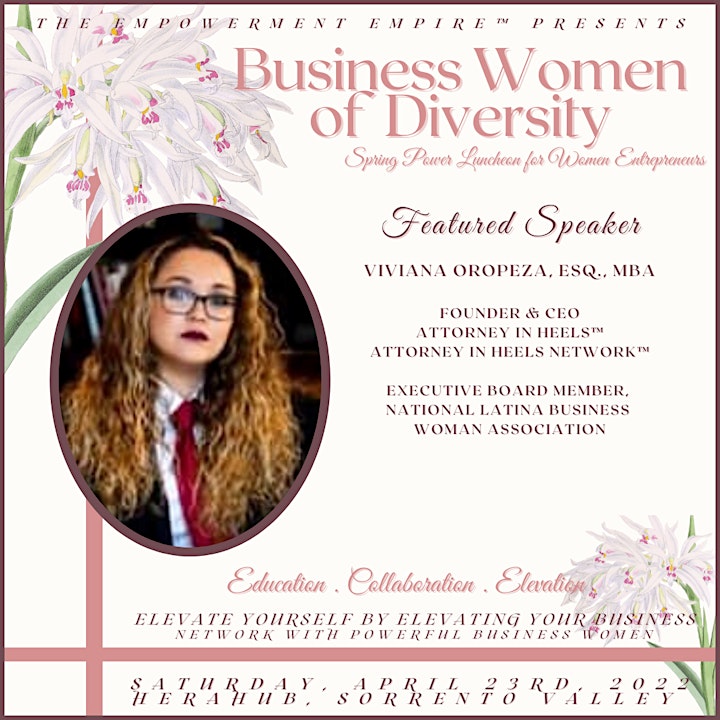 Viviana Oropeza, Esq.,MBA, International Women's Founder & CEO | Attorney in Heels™ , Executive Board Member National Latina Business Woman Association
PRESENTING: The Top 5 Legal Protections for Your Business!
Attorney in Heels™ Business Counsel and Estate Planning Law firm. Attorney in Heels ™ is based in San Diego, California but also serves regions such as Inland Empire, Los Ángeles, and Northern California.
Viviana is highly involved in her community as she serves on the Boards of the San Diego County Hispanic Chamber of Commerce, the National Latina Business Women's Association of San Diego, and the Committee on Diversity and Inclusion for the San Diego County Bar Association.
Viviana speaks to her communities about the importance of business, and estate planning while providing mentorship to at risk youth through the Dream Bigger Foundation. Additionally, Viviana provides mentorship to international female entrepreneurs through the Young Leaders of Americas Initiative!
www.oropeza-law.com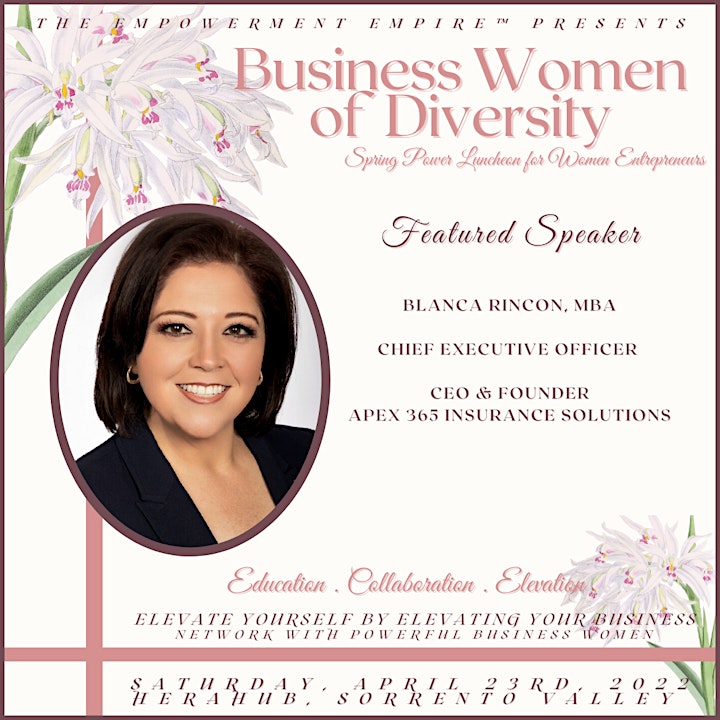 Blanca Rincon, MBA, CEO and Founder of APEX 365 Workforce Solutions and is a successful business entrepreneur with over twenty-five years of experience.
PRESENTING: Grow Quick, Grow Safe: How to Succeed with Minimal Liability
In this seminar, experienced human resources professional Blanca Rincon shares powerful insights and valuable strategies with current and aspiring business owners.
If any of these describe you, then you already know you can benefit from Blanca's expertise:
You handle onboarding, terminations, unemployment or other employee issues
You have to decide whether to hire via 1099 or W-2
You make decisions about insurance coverage for your business or employees
But what about all the reasons you need Blanca's insight that you don't yet know about?
You aren't providing clients or employees with appropriate contracts that will protect you
You've been misled into short-sighted decisions about insurance coverage
You're exposing your business to existential risk because of your payment, scheduling or documentation practices
For the reasons you know and—more importantly—the reasons you don't yet know, give yourself the benefit of Blanca's knowledge and hard-earned wisdom. Along the way, you'll receive valuable pointers for:
Knowing the important differences between an Entrepreneur and a Solopreneur
Staying compliant with laws and regulations
Managing time to protect both your profits and your personal life
At a very young age, Blanca was already serving as human resources liaison for multiple restaurant locations. By the age of 20, she managed safety and operations for 15 locations for a popular Fortune 500 company. These early, transformative experiences opened her eyes to all the moving parts that contribute to the success or failure of a business. She built on her human resources and operations expertise with intensive experience in the pharmaceutical and dietary supplement industries. For the past ten years, she has specialized in helping businesses keep compliant and proactive with respect to industry laws and regulations. Blanca holds a Master of Business Administration, while also achieving a bachelor's degree in Business Management and Business Administration as an undergraduate.
Blanca brings a wide range of hard and soft skills to her work. She is deeply familiar with environments ranging from small businesses to large manufacturing concerns. She works with businesses in all phases, from start-up, to maturity, through sale. Diverse, adaptable, and culturally competent, Blanca has the wisdom and experience to meet businesses where they are at and help them move to where they want to be.
https://apex365workforcesolutions.com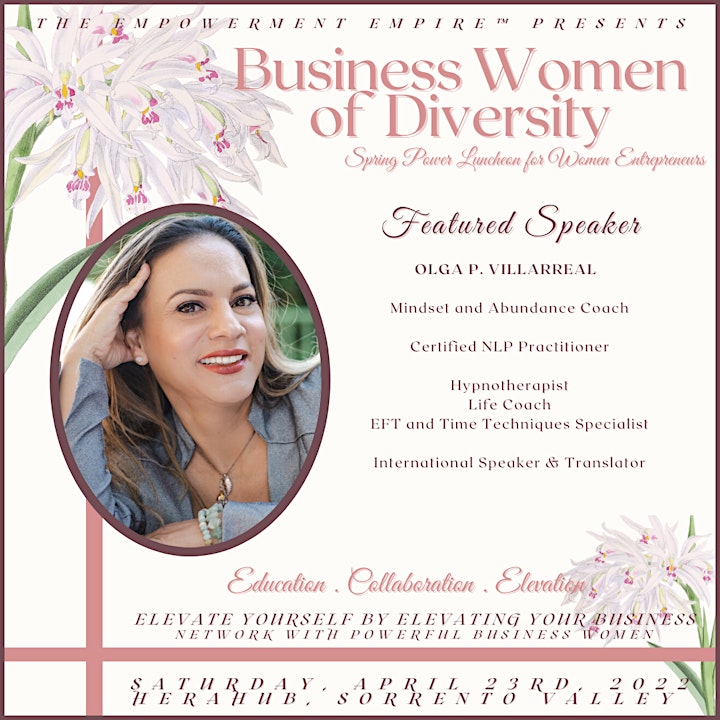 Olga P. Villarreal, Mindset and Abundance Coach, Certified NLP Practitioner, Hypnotherapist, Life Coach, EFT and Time Techniques Trainer, International Speaker & Translator.
PRESENTING OUR CLOSING MEDITATION:
Bringing in the Happy!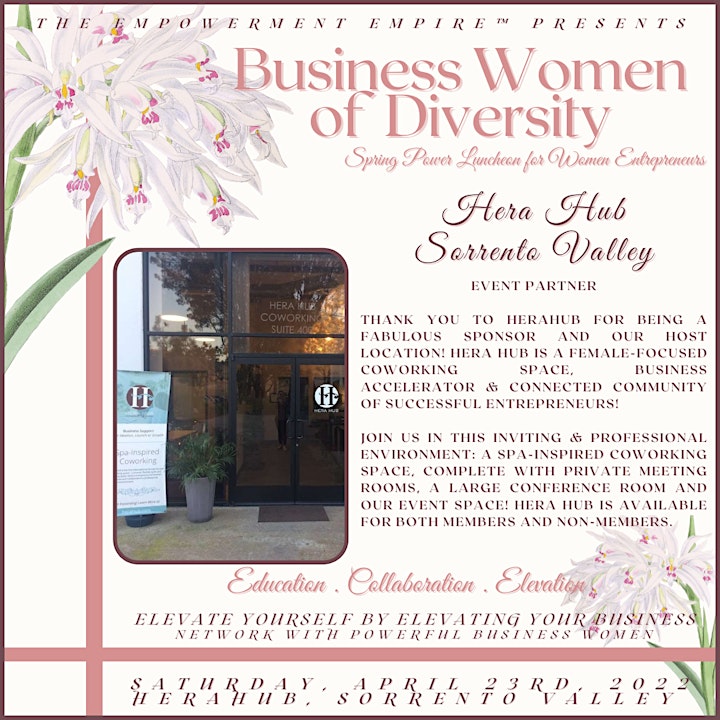 THE DETAILS
Saturday, April 23rd, 2022
10:00AM ~ Onsite check in begins
10:00AM - 10:30AM ~ Professional Headshots
Program Starts ~ 10:30AM
Programs Ends ~ 2:30PM
THE LOCATION and OUR PARTNER
>>>Hera Hub Sorrento Valley<<<
4010 Sorrento Valley Blvd, Suite 400
San Diego, CA, 92121
*Plenty of FREE PARKING!
Previous programs have presented speakers and programs on:
*Business Management Strategies
*Effective Goal Planning & Execution
*Legal Structuring of your Business
*Mastering Your Marketing
*Prioritizing Your Personal Health & Wellness
*Forming Lasting Community Connections
*Financial Management
*Getting Past the Fear of Networking
*Claiming Your Right to Succeed
and so much more...
THIS EVENT IS BENEFITTING:
THE YOUNG WOMAN ENTREPRENEUR FUND
The Magistra Magazine Young Woman Entrepreneur Education Foundation offers annual scholarships to women to aid in funding educational programs to prepare them for their entrepreneurial ventures. All scholarship donations and a percentage of all revenue from this event are designated to fund The Young Woman Entrepreneur Fund in preparation for the December 2022 awarding of the annual scholarships.
For more information on the Foundation visit: https://Magistra.us/Education-Foundation
At the conclusion of this Power Luncheon participants will have:
* The crucial opportunity to review your 2022 Business Goals & Strategies
* Identified areas in your business that need attention and a fresh look moving forward
* Learned so much more about yourself!
* Experienced unprecedented connections with other businesswomen & have the opportunity to make like-minded new friends
* Created a next steps action plan for your mental & physical health and for your professional career/business growth!
* Received an AMAZING Attendee Gift Bag for joining us!
* AND SO MUCH MORE!!!
We look forward to seeing you there!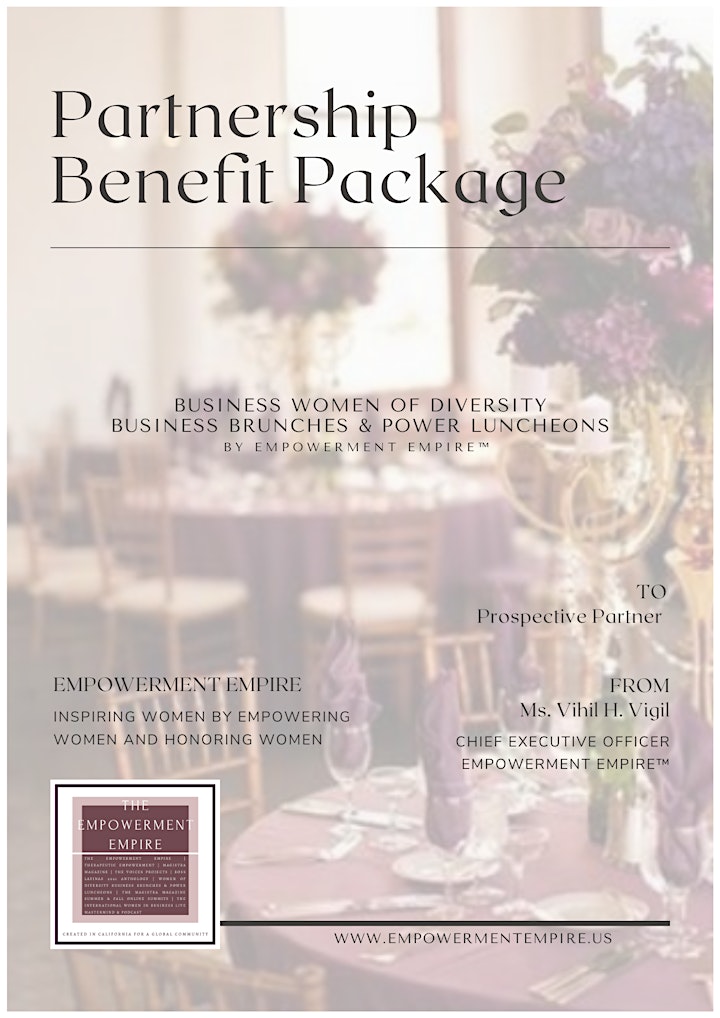 Vendor & Sponsor Opportunities are available for this event.
Download the Sponsor Benefit Packet here: https://bit.ly/3vvYADE
Interested individuals and businesses can email Vihil@Magistra.us to inquire on how you can benefit from partnership with The Empowerment Empire™!