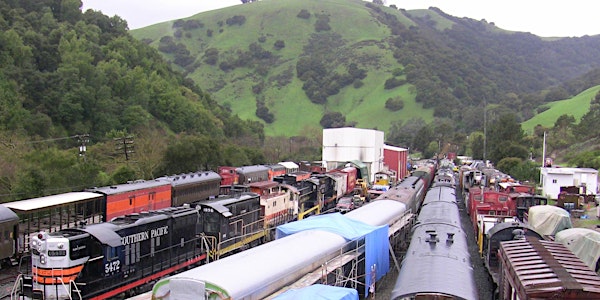 April 2019 Railroading Merit Badge Session
When and where
Location
Niles Canyon Railway 5550 Niles Canyon Road Sunol, CA 94552
Refund Policy
Refunds up to 7 days before event
Description
The Railroading Merit Badge is a "big badge". Scouts must earn 17 of the 27 requirements, so it would be tough to complete at a merit badge marathon. That's why we have our sign-off sessions at the Niles Canyon Railway's service facility, called "Brightside". We can teach many of the requirements at the railroad, but the scout will get more requirements signed off if they have prepared before coming to the session.
In 2018, we started asking $5 per attendee per session. Our counselors are volunters who donate their time. The $5 will be donated to the railroad for the use of the facilities. It is our hope that adding this cost will make scouts take their commitment to attend more seriously. If you set a password with Eventbrite (to create an Eventbrite account), you'll be able to ask for a refund up until the week prior to the event, which will open your seat to another scout and give them time to prepare to attend.
Our sessions have limited seating, primarily because of the time it takes to sign off each requirement one-on-one with up to 10 scouts, even when they are prepared to sign off. It takes longer if the scout hasn't prepared. In our 10 years of the program, there was only one scout who completed this badge in a single session, because he had prepared to sign off all the requirements before the session, and he was the only scout to attend that day.

You may want to get the current RRMB handbook (2005 revision) from your local scout store, or borrow one from your troop library. MeritBadge.org also has a Railroading Merit Badge Worksheet available. While it is not a requirement to use this form, we have found that using the worksheet is a great way for a scout to organize their notes to be prepared for their sign-off.
If you are planning to attend;
- Please read over the badge requirements with your scout, to help them understand what is needed, and to help them choose between the elective requirements.
- Please do what you need to do for requirements 2a, 2b, 4, and your choices of 8a or 8b,and bring the required information to the sign-off session.
- RSVP, by registering here on Eventbrite to reserve your seat!
- Plan to arrive by 8:45 a.m., to ensure that your scout is there by 9:00 sharp.
- The scout should bring his Blue Card, and any note/materials for the requirements he wants to get signed off.
- The session is 3 hours long. Bring some snacks, and something to drink (we do not have any vending machines).
- Scouts should wear high-top shoes or hiking boots to guard against twisted ankles, if they wish to walk on the "ballast rock" to see some of the train cars up close.

NOTE: Our sessions occur on regular "working days" at the railroad, which means that trains and other heavy equipment will be moving around the yard. Before we enter the yard, we hold a safety briefing OUTSIDE THE MAIN GATE at 9:00 sharp. When the briefing is done, we go into the yard, and lock the gate. Late scouts will not be able to catch up to us, which is why it's important to plan to arrive early.
When you complete your registration, we will send you this information to the email address you give during the registration.

In 2019, we will be having many more special events on Saturdays (as part of the 150th anniversary of the completion of the Transcontinental Railroad, of which Niles Canyon was the "last leg". As a result of this, we may not be able to schedule other Merit Badge Sign-Off events during Summer. If we can add sessions, we will announce it on our RRMB Facebook and Twitter accounts.
Thank you for your interest in our scouting program.