Description
4-Day inclusive workshop: An incredible photography experience
This photo experience will teach you how to use multiple flashes to photograph hummingbirds with incredible color and detail. We provide each photographer with their own dedicated flash setups, abundant instruction, and plenty of time to photograph the birds. Bring your camera, tripod and a lens--and start taking amazing pictures! We'll show you how!
You will be a part of a small group (8) participants and two instructors as you sit amidst myriad hummingbirds that are concentrated in this renown area as they travel northward through Madera Canyon, an internationally known flyway for migrating hummingbirds.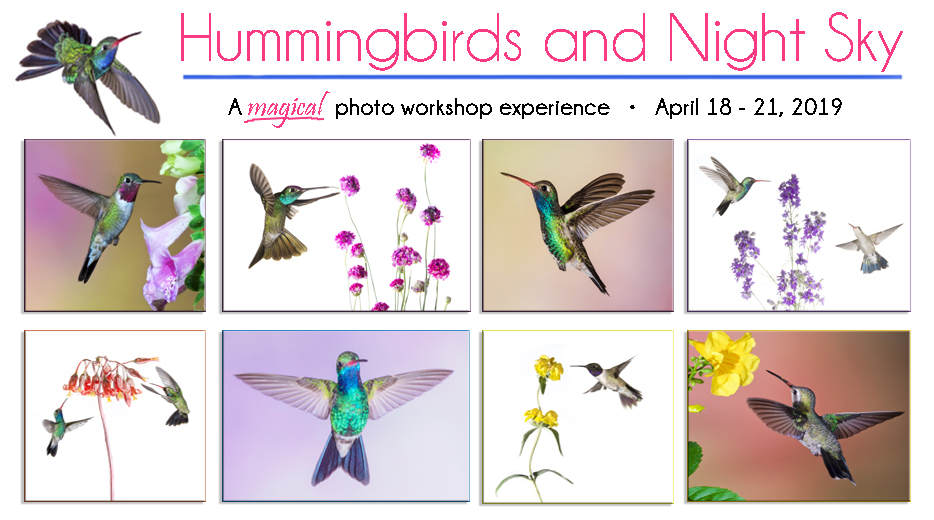 Per-person rate: $1850 ($850 deposit)
What's included:

4 days / 3-nights lodging (April 18-21, 2019)
Flash-related photography setups and instruction for hummingbird photographys, including backdrops, flowers, flashes and related gear for your complete setup! Just add your camera, a mid-range zoom lens, a tripod and a remote trigger! We will help you with the rest!
Hummingbird photography instruction, Night photography instruction, and processing instruction with PhotoShop and Luminar by Skylum.
Beverages, continental breakfast, coffee and light snacks.
LOADS of fun, supportive instruction, laughs and great experiences!
What's not included:
Transportation to/from the Santa Rita Lodge in Madera Canyon, Arizona
Closest airports are:
Tucson, AZ (about 45 mins from the lodge)
Phoenix, AZ (about 2.75 hours from the lodge)
Your basic camera gear (see checklist in your registration packet, upon registration, for details.)
Transportation to/from the Optional Extension or night photography (participants may work together to carpool or drive separately)
Meals. Due to Arizona law, we cannot provide meals; however, your cabin is equipped with a kitchenette: Includes a stove, oven, microwave, sink, coffee maker and toaster, plus assorted utensils, soap, dishes, etc. You are welcome to pick up grocery items for your snacks/meals in Green Valley on the way up the hill to the lodge (about 30 minutes from the lodge entrance). Some participants also choose to enjoy dinner in nearby Green Valley.
$750 deposit holds your seat.
Join Lisa Langell (http://www.langellphotography.com) and Kim Gray (Phoenix, AZ) in beautiful Madera Canyon, located in southern Arizona, for a Hummingbird & Night Sky Photography Extravaganza!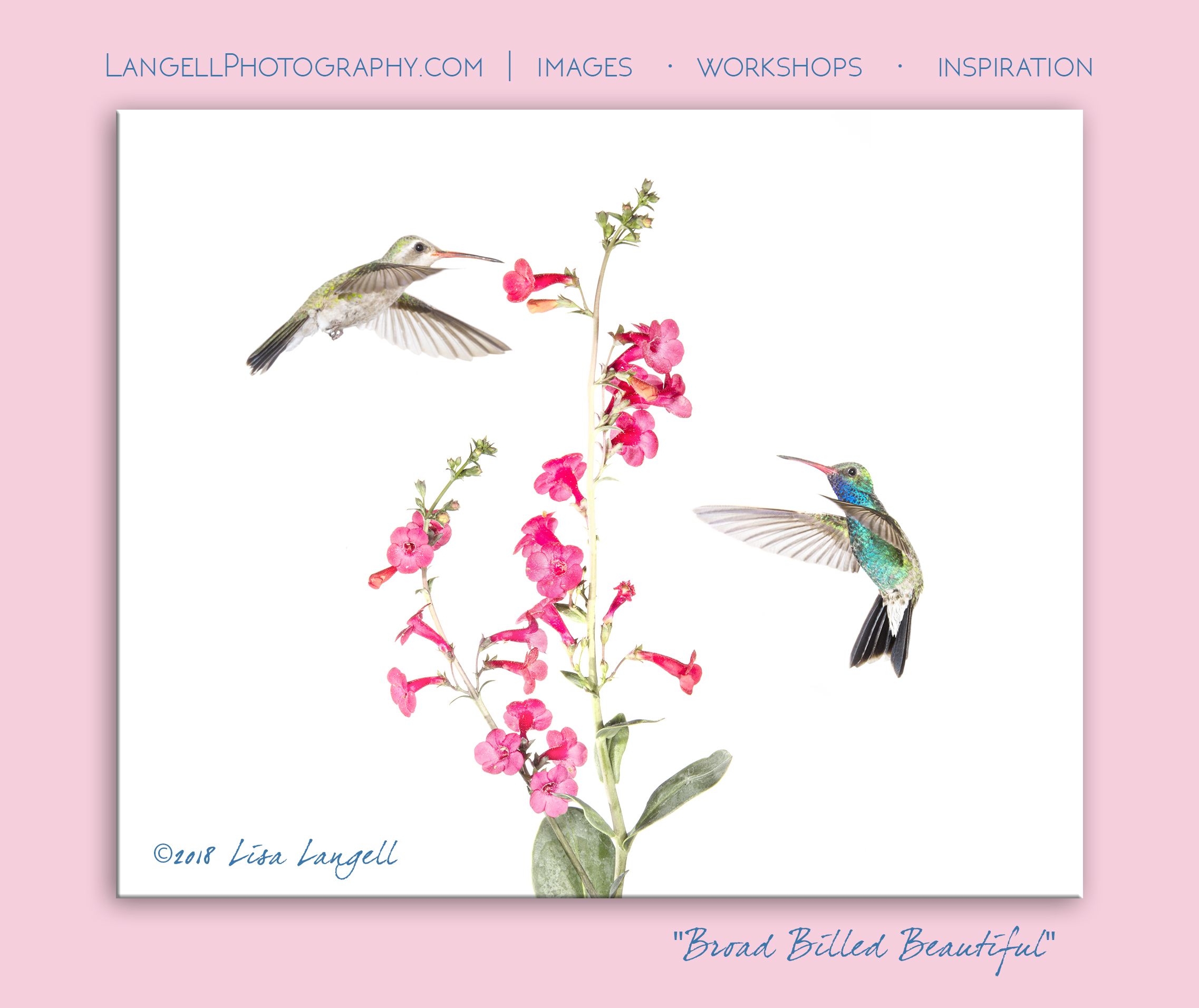 This workshop is based right at the rim of the canyon where we may see and photograph:
Broad-Billed Hummingbirds
Black-Chinned Hummingbirds
Magnificant Hummingbirds
Broad-Tailed Hummingbirds
Rufous Hummingbirds
Much more
These birds often visit our specially placed feeders and the trees nearby. There is also an abundance of other species in the area, offering you plenty of photographic opportunities for birds. Additionally, wildlife frequents the canyon--including mule deer, reptiles, butterflies, coatimundi, javelina, and even the elusive ringtail--which could all add to your photographic diversity during this workshop.
Over the 4-day workshop, you will be taught the various techniques, settings, and gear needed to successfully photograph hummingbirds using a multi-flash setup. To effectively photograph the gorget and irridescent feathers of a hummingbird, it requires skill, artful location of flashes, precise settings, and specialized gear. Again, we'll provide all of the flash setups you'll need, along with abundant instruction and support so that you may create oustanding images of a variety of hummingbird species.
You will be able to photograph the birds right from the luxury of the yards and patios of our specially reserved cabins. We have activities and an abundance of various setups available in strategic locations to ensure everyone has plenty of instruction and shooting time throughout each day.
Here is a sample of what other participants have photographed during our workshops: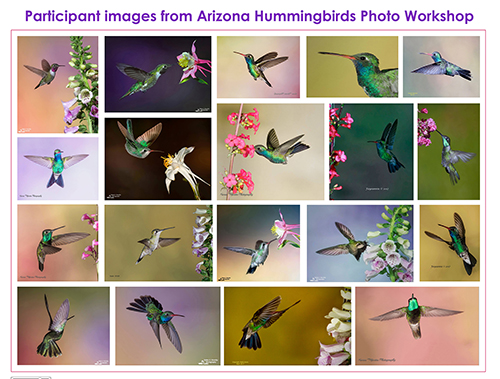 LEARN THE "WHITE BACKGROUND" CONTEMPORARY LOOK FROM THE ORIGINAL CREATOR, LISA LANGELL: Lisa Langell is known for her original creations of photographing hummingbirds in front of white backgrounds to create contemporary images like the ones you see below! These are not "cut out images" and you will learn how to create images like these and more during the workshop!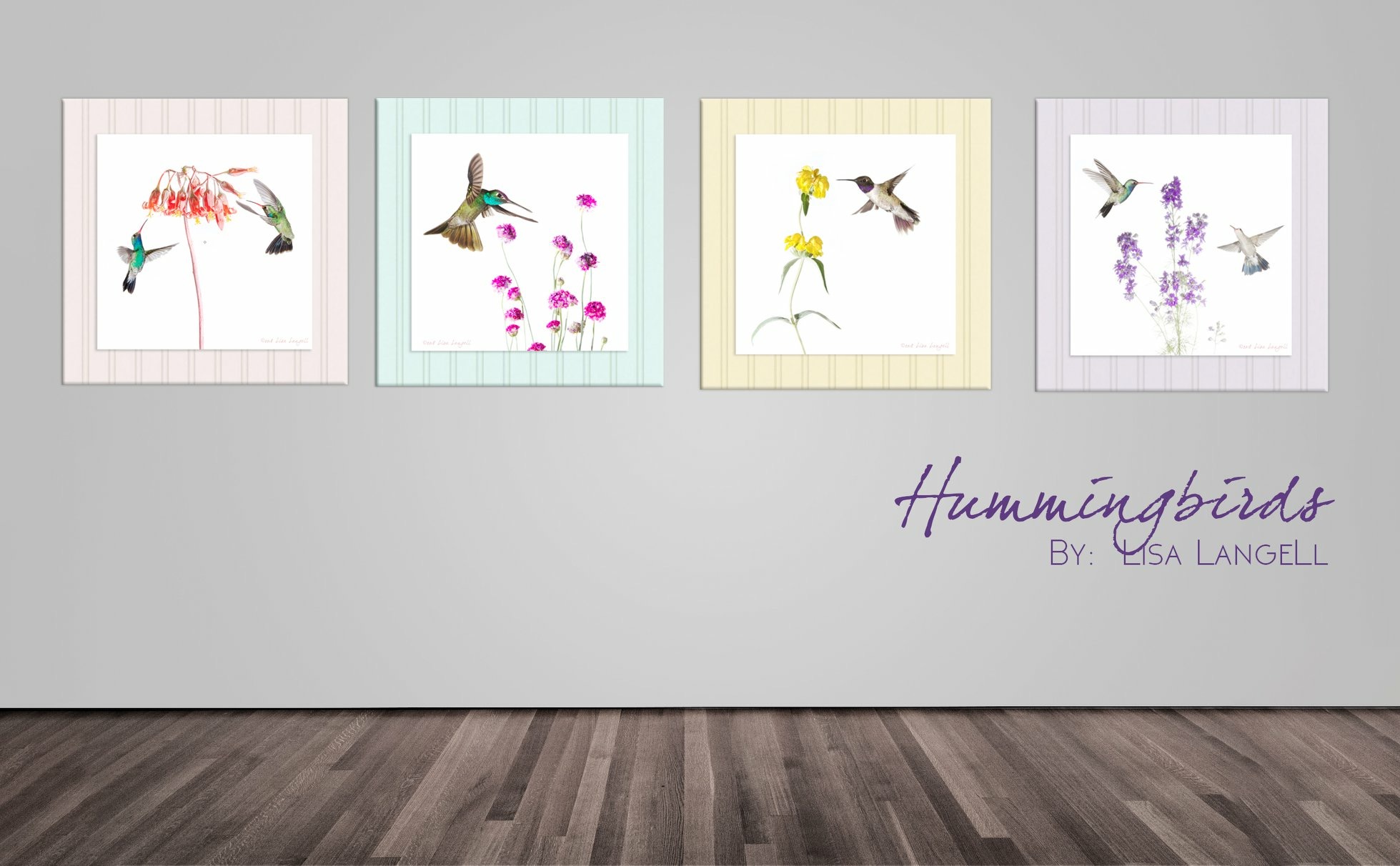 And then? There's Astrophotography!
When the sun sets, you're welcome to relax in the cabins, but if you're interested, join your leaders for an evening of night shooting! Have you ever wanted to photograph the stars and night sky? Or have fun with light painting? We will take you out (weather permitting) and each you how to do so during the evening hours. Near the top of the mountain nearby (driveable), there is ample darkness and stunning stars. Shoot from the parking lot and enjoy the clean mountain air and gorgeous stars!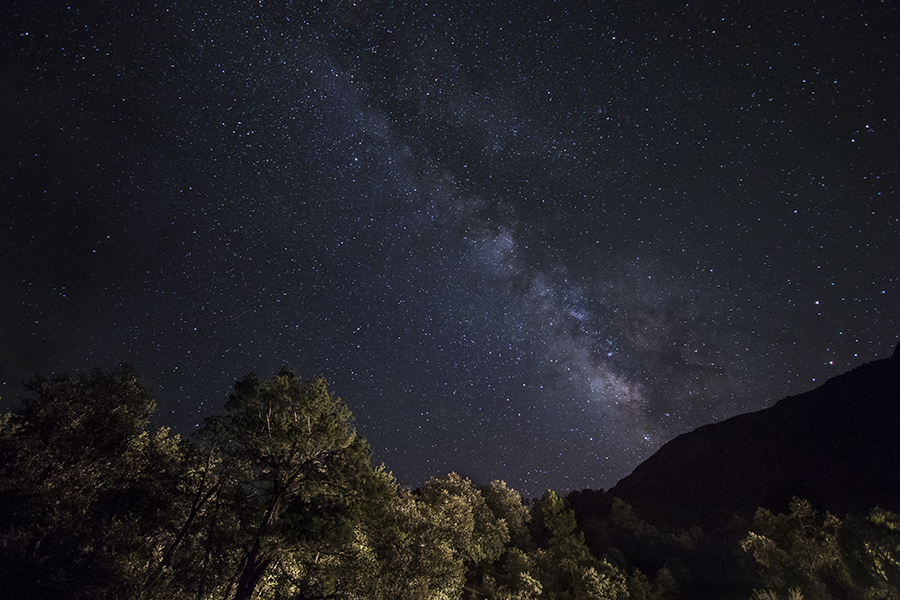 (Above: Night sky and Milky Way atop the mountain near the cabins in Madera Canyon)
We will teach you how to:
Set up a multi-flash setup for hummingbird photography
Set your cameras and flashes on the proper exposure settings for maximum success
Photograph hummingbirds in the best positions, using a series of techniques, for optimal images
Post-processing techniques including basic light, contrast and composition, plus compositing and layers. Lightroom and Photoshop will be covered.
Photograph wildlife and nature in natural light (where possible and based on interest)
Night / astro-photography and light painting (Weather permitting)
We will teach you how to use time exposures and proper settings to photograph the night sky and Milky Way, which makes its appearance each evening, beautifully, during Augist in Arizona.


FAQs
I'm a beginner -- is this too advanced for me? No! We welcome new learners of photography! If you have a DSLR or Mirrorless camera with a hot shoe (the mount on the top of your camera for a detachable flash), a lens that zooms to about 200mm (more is fine), a remote trigger (about $20), and a tripod, we can help you with the rest! We provide the flashes and setups for you and the instruction you need.

Is there a lot of walking or climbing? No. This is a low-impact workshop. We will be shooting right from the luxury of the lodge, situation right on the canyon. You may optionally take hikes nearby through the lovely forests adjacent to the cabin. Please inquire with lisa@langellphotography.com if you have questions about your physical needs relevant to this workshop.
May I have a private room? Currently we are set up for shared lodging -- two people per cabin (same gender, unless you are traveling with a friend, then we will pair you together.) A single supplement may be available on a very limited basis. Inquire with lisa@langellphotography.com for details. Single supplements, if available, run approximately $480.

What's the altitude of the cabins? Approximately 5500' altitude.
What's the weather? Temps during the day at Madera Canyon in April are usually in the low to mid 70's. At night they can dip to the low 30's to upper 40's. Chances of rain are typically low in April.

May I bring a friend who does not want to participate in the workshop? Depending on availability, we have made this possible in the past for a reduced rate. Please inquire with Lisa@langellphotography.com for details.

What camera do I need? We require either a DSLR or Mirrorless camera with a hot shoe. Because of their limitations in manual mode, we cannot accommodate bridge or point-and-shoot / compact cameras at this time.
What's the culture of this workshop? We provide abundant upbeat, supportive, and caring instruction. Kim and Lisa care dearly for participants and want you to have a fun, helpful, and successful experience.

Have more questions? Contact Lisa Langell at lisa@langellphotography.com or 602-345-0883