April 2017 Play's the Thing: Facilitating Play (April 21-23) & Therapeutic...
Description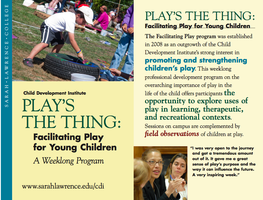 Play's the Thing is a week-long intensive program that is being offered over the course of two three-day weekends (Facilitating Play, April 21-23 & Therapeutic Aspects of Play, April 28-30, 2017) for educators, undergraduate and graduate students, playworkers in outdoor parks, children's museums, and playgrounds, social workers, play therapists, and child life specialists, who are interested in learning more about the importance of play in the life of a child. Through lectures led by experts in the field, the reading and discussion of articles, hands-on seminars, and observations, the program explores play in learning, therapeutic, and recreational contexts through an interdisciplinary lens. Participants also engage in field observations of children at Sarah Lawrence College's Early Childhood Center and at Community Adventure Play Experiences. Scholarships are available for New York City Public School Teachers through a grant from the Seth Sprague Education and Charitable Foundation.
FAQs
Where can I contact the organizer with any questions?
For more information, please visit: http://www.slc.edu/cdi/professional-development/play/index.html.
If you are needing further assistance, please write cdi@sarahlawrence.edu and include "Facilitating Play April Program" in the subject.

If you are needing housing walking distance to the Sarah Lawrence College campus please contact:
Hyatt Place New York/Yonkers
7000 Mall Walk
Yonkers, New York, USA, 10704
Tel: +1 914 377 1400