April 2017 Meeting - Wayzata Bay Tour

Wednesday, April 19, 2017 at 2:30 PM (CDT)
Event Details
The Folkestone of Wayzata project is the redevelopment of an existing 14 acre site in downtown Wayzata near the edge of Lake Minnetonka.  You may recall we did a tour of this project 4 years ago when it was just underway and only two buildings were complete. We welcome you to come back and tour the finalized project to see how it all came together now that the entire site has been developed and completed.
The project consists of five buildings and the infrastructure required to support them. Three buildings are senior housing, the fourth building is condominiums, and the final building will be a 92-room hotel and 31 residential condominiums. All of the buildings have retail on the first level creating a large mixed use campus.  
The project site is on a former swamp which resulted in the use of a deep foundation system (piling) that supports all the buildings, roadways, and sidewalks. The project also includes a very unique application of a geo-thermal heating and cooling system by utilizing the piles as the geo-thermal wells. The project has a very expansive storm water collection system which captures and treats 99% of the storm water that hits the site.
Happy Hour
There will be happy hour following the tour. The happy hour will be held at Wayzata Muni (Wayzata Bar & Grill). Our anticipated start time for the Happy Hour is 4:30 pm. If you cannot make it out for the tour, please feel free to register as a happy hour only attendee.
Wednesday, April 19, 2016
2:30 - 3:00 pm - Registration
3:00 - 4:30 pm - Tour
4:30 - 6:30 pm - Happy Hour
Location
There is public underground parking available in the West Block building located at 801 Lake Street E, Wayzata Bay, MN 55391.  The parking area can be accessed via Mill Street. The job trailers are on the corner of Lake Street N and Engle Street with the entrance on Lake Street N. We will meet across the street from the job trailers in front of the Regatta building.
Happy Hour
Wayzata Muni (Wayzata Bar & Grill)
747 Mill Street
Wayzata, MN 55391
(952) 473-5286
 Please register by Wednesday, April 12th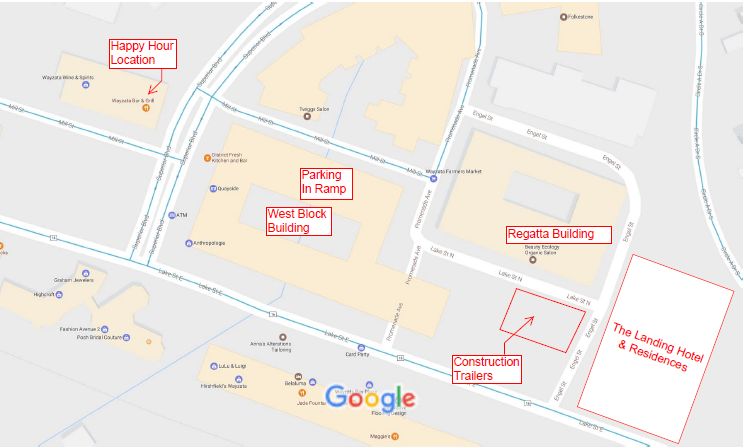 When & Where

Wayzata Bay
801 Lake Street E
Wayzata Bay, MN 55319


Wednesday, April 19, 2017 at 2:30 PM (CDT)
Add to my calendar
April 2017 Meeting - Wayzata Bay Tour