Description
Reinvigorate your inspiration in the south of France.
For five days and four nights, you'll relish gourmet cuisine and unwind in the elegantly restored 16th-century Maison Basse. Tour Provençal villages and learn visual and written storytelling techniques from New York based artists Steven Ladd and William Ladd, brothers who have created an international body of work, developing an expanded practice that consists of drawing, sculpture, performance, design, and public art. Deeply committed to community building and collaboration, the Ladds will teach you how you can combine these techniques, forms and practices, to forge a unique aesthetic vocabulary in your own storytelling. Meet fashion editor Sarah Schussheim, stylist and consultant for Amazon, Vince Camuto, Target, TUMI, Neiman Marcus and Reebok and whose editorial work has been featured in ELLE, ELLE Canada, Teen Vogue, DuJour, The Editorialist, Glamour and Refinery29. Explore the changing landspace of fashion journalism with Chioma Nnadi, Vogue.com Fashion News Editor and Lynn Yaeger, Vogue.com contributing fashion editor and longstanding SCAD supporter.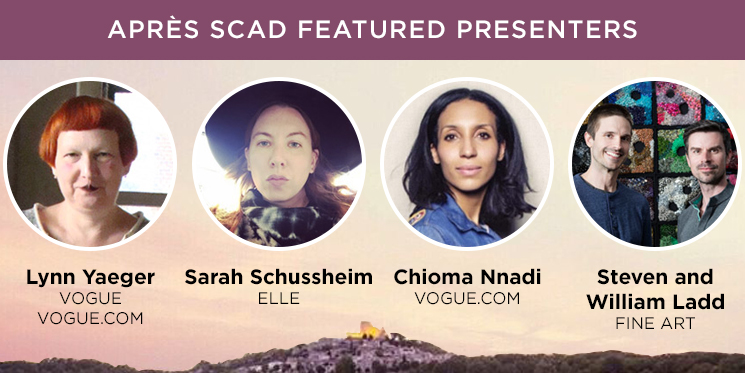 ---
Program Fee*: $1200 includes the following:
Two days of workshops, lectures, discussions with guest presenters

Excursions to markets and other local attractions

Four night lodging, rooms are shared. Unfortunately, there are no single rooms

All meals except lunch on market days

Ground transportation between Marseilles Airport and Lacoste

SCAD Workshop supply kit

Space is limited, on a first come first serve basis, and is for SCAD Alumni
Full Program Fee of $1200 is due at time of registration. For more information contact Grace Grund at ggrund@scad.edu
*Airfare is not included in the program fee
---
FAQs
Are there ID requirements to attend?
All participants must hold a valid passport current up to six months upon return. France and other Schengen countries may require a visa for particular nationalities depending on what passport you hold. U.S. passport holders can enter France and stay in country for 90 days.
What if my spouse, partner, friend, colleague who did not attend SCAD wants to join?
Yes, your significant others are welcome to attend as full participants of the program. All participants must be over the age of 21.
Who is this program designed for?
Creatives who would like to refresh and reconnect with SCAD and like-minded alumni, people who are looking to reinvigorate their studio work, creative passions or brand. Participants should be in good physical shape as there will be walking and some light hiking on steep terrain. Participants should be able to comfortable carry their own luggage for short distances.
---
TRAVEL
Participants are responsible for their travel arrangements to/from Marseille Airport. On Thursday, August 30, arrive at the Marseille Airport by noon. On Monday, September 3, schedule your departure from Marseille Airport no earlier than 10:30 a.m.
Provided Ground Transportation Schedule:
Thursday, August 30: Bus Shuttle departs Marseille Airport at 2 p.m. A SCAD representative will meet you at Baggage Claim Hall 4 at 1:30 pm.
Monday, September 3: Bus Shuttle departs Maison Basse at 7 a.m.
Ground Transportation between Marseille Airport and Lacoste:
We have only scheduled one bus shuttle from Marseille Airport. If you miss this bus, you will be responsible for getting to Lacoste on your own. Typical taxi fare from Marseille to Lacoste is 200 euros and travel time is approximately 1.5 hours. If you decide to take the train to Avignon, typical taxi fare to Lacoste is 75 euros and travel time is approximately 45 minutes. The Apres SCAD program fee does not cover these fares.
PACKING LIST
Comfortable, sturdy shoes with rubber soles: These are strongly encouraged so you can safely navigate the cobblestone streets in the village


Sweater and/or jacket: Be prepared for cooler temperatures in the evening

Two professional outfits for evening activities

Cotton T-shirts (Long and short sleeves are suggested for layering) for workshops and excursions

Swim attire and towel

Waterproof footwear, rain jacket and travel-sized umbrella

Personal items in carry-on: Have a few emergency items with you in case your luggage gets delayed or lost

Prescription medication

Convertor for European Electrical Outlets
Note: Electricity in France runs at 220 volts and 50 cycles, which is not compatible with U.S. electrical appliances, including, but not limited to, hair dryers, electric toothbrushes and razors. (Hairdryers are provided in each bathroom.) Remaining items should be purchased in France to avoid damage. Do not bring U.S. multiplug or surge protectors, even with an electricity converter, as they will cause power outages. Items with the symbol C€ are available for electric conversion, including most laptops, camera chargers and mobile phone chargers.
DOCUMENTS and MONEY
Passport: (valid passport current up to six months upon return) It is recommended to bring at least one copy of your passport to keep with you as a backup

Insurance documents: These are not required but are good to have on hand

Cash, credit cards and ATM cards: Credit/ATM Cards must have a chip and you must know your 4-digit pin code. Marseille Airport has ATMs and Currency Exchange.

---
CONTACT INFORMATION
Please notify Grace Grund, Asst. Dir. of Alumni Programs, if you have travel delays during your trip to France.
Phone: 912.398.8231 (internationally reachable, text or call) | Email: ggrund@scad.edu.
SCAD Lacoste
Rue du Four
Lacoste, France 84480
SCAD Lacoste office: +33 (0)4.90.75.80.34.