APR DFW 2017 Tradicional Fiesta - Cena y Baile de Año Nuevo (New Year's Eve...
Actions and Detail Panel
APR DFW 2017 Tradicional Fiesta - Cena y Baile de Año Nuevo (New Year's Eve...
Sat, Dec 31, 2016, 7:30 PM – Sun, Jan 1, 2017, 2:00 AM CST
Description
Tradicional Cena & Baile de Despedida de Año de la
Asociación Puertorriqueña de Dallas-Fort Worth
para toda la Comunidad Latina!

---
SEPARA LA FECHA:
DECEMBER 31, 2016
APR DFW's 2017 Annual New Year's Eve Dinner Banquet & Dance

"Un recorrido musical por Latinoamerica" - Salsa, Bachata, Merengue, Cumbia, Kizomba, Semba, Guajira, Reggeton, Pop Latino, Baladas, Mambo, Norteño & otros mas!
Orquesta en Vivo, DJs Invitados, 2 Ballrooms, 3 Pistas de Baile, Recepcion con Entremeses, Cena Buffet "ALL-YOU-CAN-EAT" (2hrs), Menú variado con 2 Carnes, Arroz, Pasta, Surtido de Vegetales, Postres, Frutas, Cafe & Brindis con Champagne, Sombreros, Globos, Sorteos y Mesas con Asientos Asignados. Ambiente Familiar y Seguridad (DPD).
Taquillas: $95 General / $75 Socios / $ 35 Niños 3-12 años / VIP disponibles (Express Early Check-In, VIP Hospitality Suite, After-Party Snacks & Holiday Treats) - Info ó Reservaciones: 214-259-6171
$10 de cada boleto vendido contribuye al Fondo de Becas Universitarias Jorge Rivera de la Asociación Puertorriqueña de Dallas-Fort Worth (APRDFW) para estudiantes hispanos cursando su primer año universitario. El camino a un futuro mejor comienza con una buena educación... Compra tus boletos hoy!
Facebook: www.facebook.com/events/1566440856981320/
Descuento en Estadia de Hotel: $99 por noche mas impuestos. Incluye desayuno para dos personas. DoubleTree Hotel Dallas Near the Galleria - www.tinyurl.com/ARP2017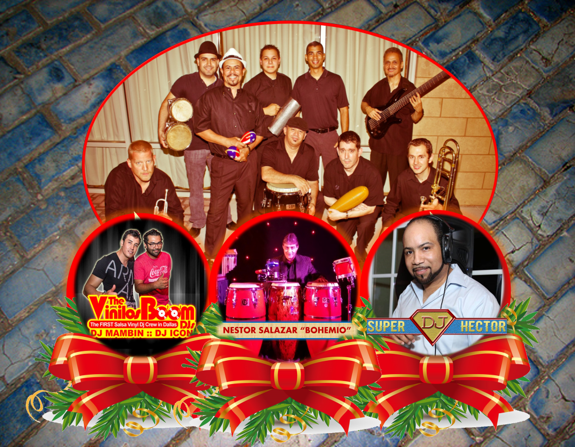 The "Asociación Puertorriqueña de Dallas-Fort Worth" (Puerto Rican Association of Dallas-Fort Worth ) is proudly hosting its 2017 Annual New Year's Eve Dinner-Dance on December 31, 2016. Join us and welcome the new year among members, friends, family and guests. This event is a long standing tradition of the Association which serves to reunite longtime friends, helps newcomers make new friends and provides a family-friendly environment to celebrate the beginning of a brand new year surrounded by our rich heritage, culture and "Calor Boricua".

This annual traditional celebration not only reaffirms our best wishes to our brothers, sisters and extended family (abuelos, abuelitas, tia, sobrinos, primas, cuñados, vecinos, entre otros). It also helps raise funds for our community outreach & cultural programs; like our "Dia de los Reyes Magos" Celebration, Scholarship Golf Tournament, Mother's Day Tribute, Family Day Picnic, Puerto Rico at the Botanical Garden & many others in our mission to promote, foster and celebrate the Puerto Rican/Hispanic Culture in the DFW Metroplex.

APRDFW's 2017 Annual New Year's Eve Dinner Banquet & Dance will be held on December 31, 2016 at the DoubleTree by Hilton Dallas Near the Galleria from 7:30pm to 2:00am. A star-studded evening which includes the amazing "Latin Fire Band" and "Nestor Salazar", alongside guest DJs & guest performances on multiple dance floors for your pleasure and enjoyment. So come join us for an incredible Latin American musical journey.

Complementing the evening is the super 2-hour "Unlimited-All-You-Can-Eat" Buffet from 8pm-10pm by the DoubleTree's Executive Chef & Culinary Team. A delicious starting point to a wonderful night and a happy New Year...

VIP Packages Available // Group Seating // Express Check-In Lines // Special Requests // Corporate Sponsorships // Multimedia Marketing - Info: Nelson @ Aprdfw.org


Tickets: (plus applicable online processing fees)

o General $95.00 per person / Children (3-12yrs) $35.00 per person

o CUTX / AGMUS Employees $85.00 per person*
*Thanks to a donation from Credit Union of Texas & Ana G. Mendez University System* - Contact organizer for access to the "CUTX/AGMUS/COMMUNITY PARTNERS-ONLY" Ordering Site

o APRDFW Active Members $75.00 per person.
- Contact Libby, Nelson, Danny or Margie for validation & access to the "MEMBERS-ONLY" Ordering Site

Dress Code:
Men Semi-Formal – Suit & Tie or Bow / Ladies – Elegant Semi-Formal Attire. **Important Note: Men must wear a Suit Jacket (Chaqueta) to attend!**


SPECIAL INFORMATION-TERMS & CONDITIONS:
Are you or your guests planning to seat together as part of a group? - Please provide the group captain's name and telephone via email to NYE-Seating@aprdfw.org.
All group or special seating requests must be received or notified via email to NYE-Seating@aprdfw.org by December 20, 2016. Table assignments & group or special seating arrangements will be confirmed via email between December 20, 2016 and December 27, 2016. Online tickets sale ends December 19, 2016 - 2:00AM CT

Each guest will receive a wristband with their ballroom/table assignment. Table-jacking will not be tolerated. Guests not seated at their assigned table will be escorted back to their respective table. All table and seating assignments are final, unless changes are approved by APRDFW's President/Chief Executive Officer or designated Executive Officer or Chairperson appointed by such.

Any guest(s) found disrupting the event or not adhering to directives, instructions or procedures issued by APRDFW Executive Officers may be asked to vacate any or all of the event premises without any refund.

OUTSIDE FOOD, BEVERAGES OR ALCOHOL IS NOT PERMITTED - (NO BYOB!!!) - CASH BARS WILL BE PROVIDED THROUGH OUT THE VENUE FOR YOUR CONVENIENCE. OFF-DUTY POLICE OFFICERS WILL BE PRESENT FOR YOUR COMPLIANCE AND SAFETY.

ALL TICKETS ARE NON-REFUNDABLE. NO-SHOWS WILL BE CONSIDERED A DONATION TO THE ORGANIZATION OR GENERAL FUND. APRDFW RESERVES THE RIGHT OF ADMISSION. WE THANK YOU FOR YOUR SUPPORT!!!

For Group Tickets or Silent Auction donations: please contact

Librada Rueda - 443-910-0355 (President)

Nelson Cruhigger - 214-259-6171 (Vice President)

Danny Marcano - 214-394-2521 (Treasurer)

Margie Rosado - 953-695-1263 (Secretary)

Lynnette Cabrera - 972-765-7285 (Director-Membership East)

Yamira Pimentel - 787-460-3488 (Director-Membership West)

OFFERS & DISCOUNTS:

DoubleTree by Hilton Hotel Dallas Near the Galleria - Room Discounted Rate Available - $99 plus tax (Incl. breakfast for 2) - Group Code: APR. Free Parking & Wi-Fi in Guestrooms... Reserve your room today! - Hotels fills up fast during the holidays!!! - For Room Reservations: Call +1(972) 385-9000 or Online at http://tinyurl.com/APR2017


Al's Formal Wear Group Discount - Up to $40 OFF on Suits & Tuxedos Rentals or 20% Off Retail Purchases. Tel. (214) 520-8897 - APRDFW Group Code: 11465371

Budget Car Discount - Discounts up to 35% OFF. Use BCD Code: X123327

Questions or additional information - Please email us at INFO@APRDFW.ORG

We look forward in greeting you at our event.

Regards,

APRDFW Board of Directors 2015-2017
Date and Time
Location
DoubleTree by Hilton Hotel Dallas Near the Galleria
4099 Valley View Lane
Dallas, Texas 75244