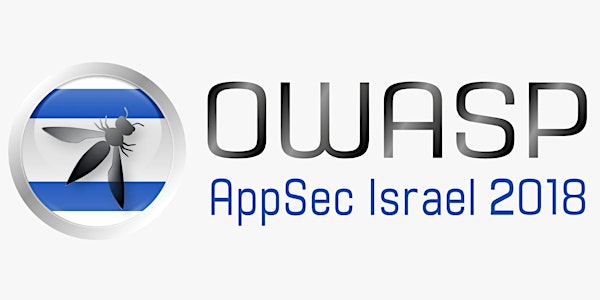 When and where
Location
Tel Aviv University Bar Shira Auditorium Tel Aviv-Yafo, Tel Aviv District Israel
Description
The annual OWASP AppSec Israel Conference is the largest conference in Israel for application and software security, has been going regularly for over a decade and always draws hundreds of participants. Over 650 people attended last year, this year we expect well over 700!

OWASP AppSec Israel will take place this year on September 6th, 2018. The Conference usually starts at 9AM and lasts until 18:00. It will also be preceded by a day of Developer Training.

But AppSecIL is not just for security experts! We also have talks aimed at developers, testers, architects, product designers, and managers - anyone involved with the software lifecycle is welcome, regardless of type of software, website, mobile app, or any other type of application.

If you are responsible for, or involved with:

web security

devops security

cloud security

mobile security

application security

software development

quality assurance

software maintenance or operations


… we want to hear from you at AppSecIL!
Follow this link for submitting your paper - https://www.papercall.io/appsecisrael2018

AppSec Israel 2018 will have two lecture tracks. There will also be a sponsors pavilion for vendors of products and services relevant to application security and developers, and for recruiting. Note that sponsorship deals never include talks! The content is selected independently of sponsors, and we do not abide "pay for play" (i.e. $ != talk).

AppSec Israel always has excellent talks, but even if you've never done this before - you should not be discouraged from submitting! It is very important to us to have a diverse variety of speakers, and even if this is your first time presenting we will ensure that you have the support needed to give a great talk, including speaker mentorship if you want. (AppSecIL is also a super friendly crowd, so it's a great place to start out!)
More information on becoming conference sponosr can be found in https://2018.appsecil.org/assets/AppSecIL_2018_Sponsorships.pdf