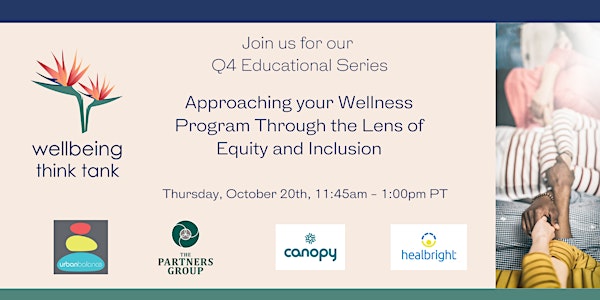 Approaching your Wellness Program Through the Lens of Equity and Inclusion
Join us for a discussion about how to center equity and inclusion in your workplace wellbeing program.
Refund Policy
Contact the organizer to request a refund.
Eventbrite's fee is nonrefundable.
About this event
Join the Wellbeing Think Tank for our Quarterly Education Series.
Equity, inclusion and employee wellbeing are frequently mentioned as top priorities by leaders as organizations navigate the current workplace landscape. Many workplaces have these initiatives separate when in fact they are intrinsically connected. "Organizations need wellbeing strategies that are equitable and inclusive of diverse employees, as well as comprehensive DEI initiatives that deliver a consistent employee experience for everyone. At the same time, leaders need to recognize that diverse employees' experiences and needs related to wellbeing can differ dramatically. No employee can do their best work if they are struggling in their health and wellbeing -- and their needs vary. To fully meet the needs of every employee, leaders need to synchronize their DEI and wellbeing efforts" – Gallup, 2022.
In this session you'll hear perspectives from panelists who understand how these concepts are linked and learn what organizations are doing differently to see results.
Takeaways for the audience:
Recognize the importance of evaluating and implementing changes to ensure you are considering equity and inclusion in the design and execution of your wellbeing strategy
Learn about social drivers of health (SDOH) and ways employers can impact change
Understand best practices in integrating equity and inclusion into your health and wellbeing programs and resources
Additionally, accessibility and inclusion are two of our core values at Wellbeing Think Tank:
Accessibility - We strive to ensure that all individuals have access to wellbeing resources and the education, knowledge, and support needed to help them live well.
Inclusion - We believe in creating workplace wellbeing programs that are inclusive of all ages, sizes, genders, races, ethnicities, mental and physical abilities, sexual orientations, socioeconomic status, and roles within an organization.
This event was made possible by our all-volunteer team and our sponsors, The Partners Group, Urban Balance, Canopy and Healbright.
This event is free however if you choose to make a donation, 100% will benefit Playworks, which helps kids to stay active and build valuable life skills through play. This event includes 1.25 SHRM/HRCI credit.
Questions? Please email contact@wellbeingthinktank.org
Look for more details and panelists to be added soon!
Panelists: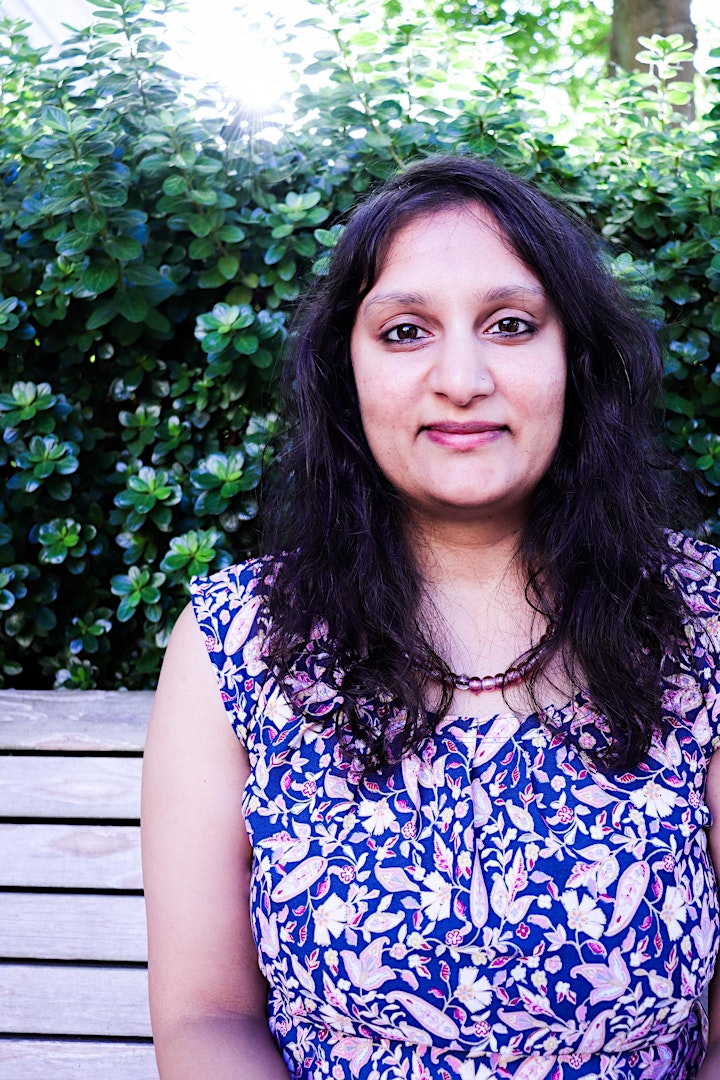 Anjali Rameshbabu, PhD. , Center Manager – Co-lead, Outreach Core , Oregon Healthy Workforce Center
Anjali has a PhD in Health & Social Psychology from the University of Wisconsin-Milwaukee and a background in health behavior change and intervention design informed by the social determinants of health. Her research has involved designing and testing a self-regulation intervention for custodial workers in the United States, examining shift work and sleep concerns among call center employees in India, exploring HPV and cervical cancer prevention among women in Malawi, and evaluating education-based interventions to increase HPV vaccine uptake in low-income populations in the United States.
As center manager of the Oregon Healthy Workforce Center, Anjali works to facilitate cohesiveness across its research, outreach, and evaluation components. She is also MPI of the center's Outreach Core where she is focused on moving research to practice. She is passionate about delivering evidence-based resources beyond academia with the goal to increase the impact of scientific effort in reducing preventable illness and improve health outcomes. She has a Bachelor's in Psychology, English Literature, and Journalism and enjoys writing for a variety of audiences.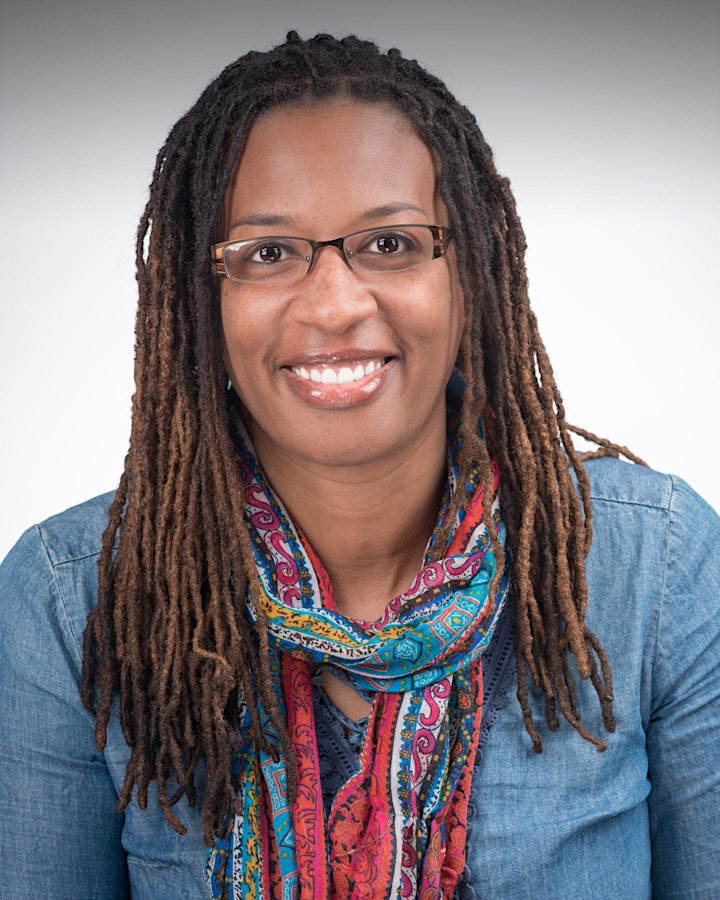 Taquina "TQ" Davis, PhD, MA - Managing Partner: Health E Strategies
Dr. Taquina Davis has over ten years of experience demonstrating the ability to partner with multiple sectors effectively, including managing and assisting with advocacy, health and racial equity, community engagement, and health care delivery. She has the desire and experience to work for and with organizations that help strengthen and implement strategies designed to achieve health equity. Her expertise includes program development, management, community/population health, chronic disease prevention, and wellness.
As a leader in community health, she works in and with communities to substantially impact and improve community health outcomes. Currently, her responsibility includes developing, implementing, evaluating, and maintaining comprehensive, evidence-based chronic disease prevention and wellness programs for community members who are underserved and uninsured. Dr. Davis also serves as an advisor on related projects and initiatives on various local community coalitions, boards, and advocacy committees, assisting with advancing state and local public health practice interventions to help achieve health equity.
Taquina has her MA in Health & Wellness with a concentration in alternative medicine and her Ph.D. in Health Education and Promotion.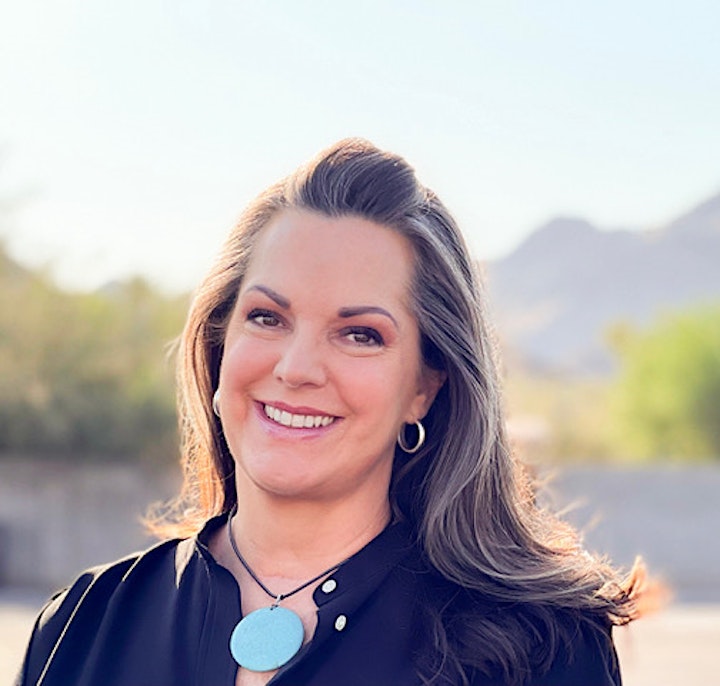 Heather Sayers Lehman, MS, CHWC, CIEC, NASM-CPT, CSCS, CWP - CEO, Overcoming U - Cultivating Employee Well-Being Executive Director, Alliance for Weight-Inclusive Health
Heather has been supporting health and wellness for over thirty years. She is a TEDx speaker, author, and weight-inclusive wellness strategist. Heather created Overcoming U - Cultivating Employee Well-Being to bring virtual wellness solutions focused on behavior change to the workplace. Heather's experience in health coaching, personal training, and intuitive eating counseling help her to create comprehensive health and well-being courses. They support mindset shifts and practical skill sets to improve stress, energy, and overall health.
Heather founded Alliance for Weight-Inclusive Health (AWIH) to support improving the many facets of health without focusing on weight. AWIH works to eradicate health misinformation, weight stigma, and eating disorders while improving healthcare interaction quality, body image, and health sustaining behavior adoption. She educates individuals and trains other health providers on weight-inclusive policies and practices.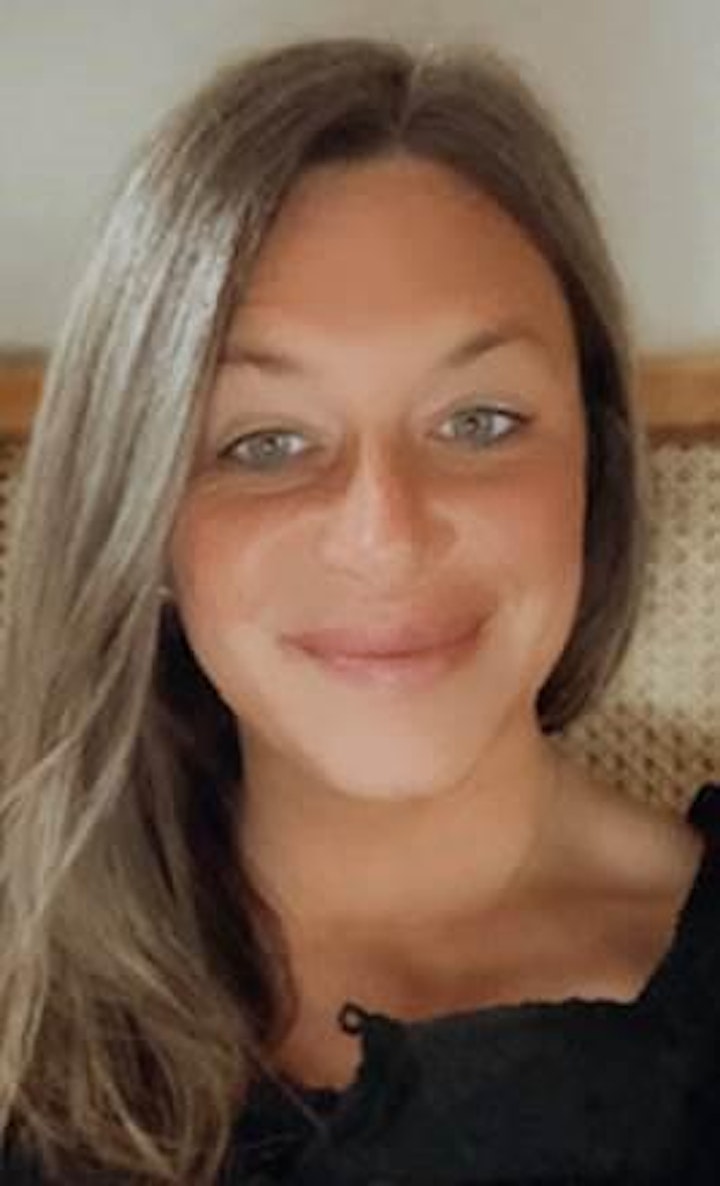 Lauren O'Dell, Workforce Health Consultant - Kaiser Permanente
Lauren is a Workforce Health Consultant at Kaiser Permanente in the Northwest Region. She is responsible for evaluating, developing and implementing programs to support customers' worksite wellness needs. She focuses on improving the health and helping to create a culture that supports wellness, and is a subject matter expert in the area of health equity. Lauren develops strategic relationships with internal and external partners and understands the business processes of customers
The strategy at Kaiser Permanente is one that addresses workforce EID, member access to affordable health resources and services, and community factors that impact health.
Moderator: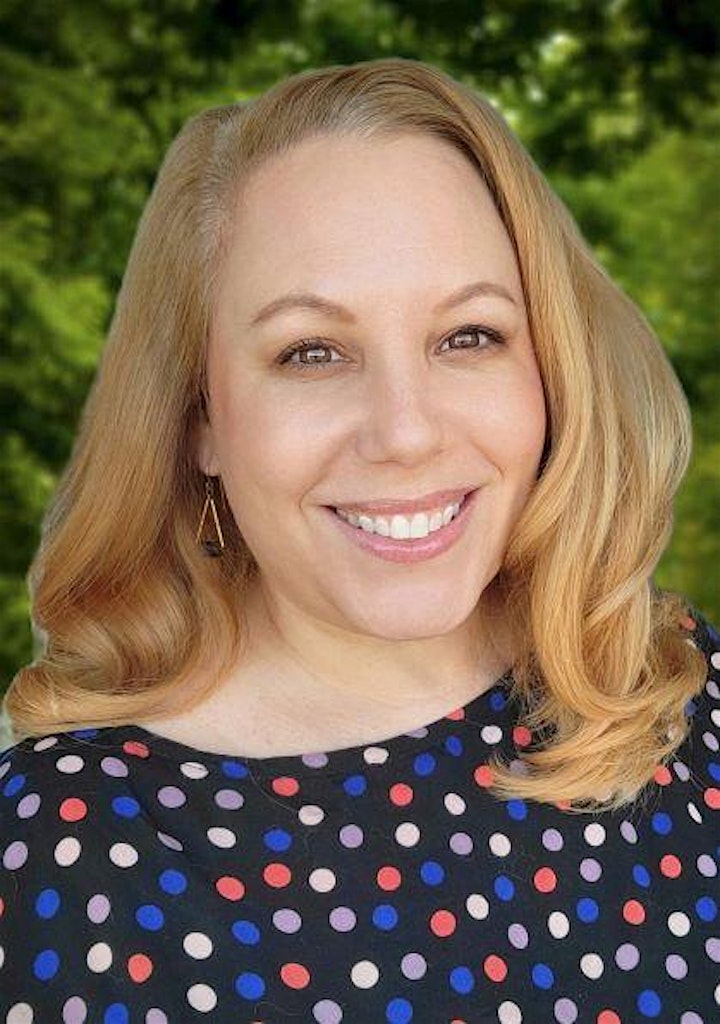 Chase Sterling, MA, CWP, Founder - Wellbeing Think Tank and Managing Consultant, PartnerWell
Chase is passionate about improving the world by improving workplaces, and is currently conducting research on "How the Intergenerational Workforce Talks about Work on Social Media". Chase works with organizations to focus on both individual and organizational wellbeing and will be sharing best practices that can be implemented for wellbeing across your population.
With over 20 years of experience, and an educational background in Human Physiology and Industrial/Organizational Psychology. Chase brings a unique perspective to any wellness conversation with her diverse workplace experiences including Google, Cigna, Wounded Warrior Project, and the University of Dayton. Chase is also an Army veteran having served honorably for 7 years.