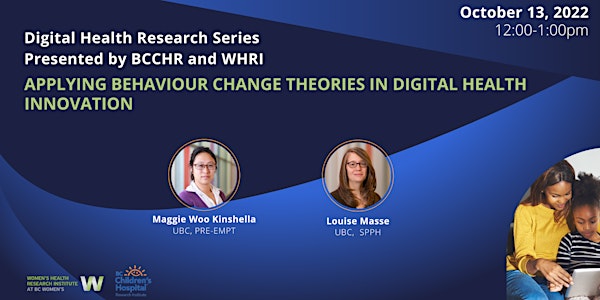 Applying Behaviour Change Theories in Digital Health Innovation
Join BCCHR and WHRI every month as we dive deeper into a different aspect of conducting digital health research.
About this event
The BC Children's Hospital Research Institute (BCCHR) and the Women's Health Research Institute (WHRI) are collaborating to host a virtual digital health research seminar series.
On Thursday, October 13, between 12:00-1:00pm, join us for an exciting session about applying theories and techniques to support positive health behavior change through digital health interventions.
Objectives.
Understand the value of using behaviour change theories as key components of digital health interventions
Identify and apply behaviour change theories to inform design of digital health projects
Speakers.
To lead this discussion, we've invited two experts who have developed digital tools, informed by behaviour change theories.
Louise Masse, Professor, SPPH, UBC
Maggie Woo Kinshella, Research Coordinator, PRE-EMPT
*****************************************************************
**A Zoom link will be sent closer to the event date
Previous sessions can be found here: https://whri.org/our-services/digital-health-hub/digital-health-learning-corner/
For any issues registering or accessing the Zoom link, contact dhr@bcchr.ca