APPLY NOW! Special Series: WEST PHILLY PLACE STORIES Family Workshop
Participants must meet eligibility criteria: (1) Must identify as Black and (2) Must have a sense of belonging with West Philadelphia.
About this event
ALL ATTENDEES WILL BE EMAILED A SPECIAL APPLICATION TO FILL OUT ON BEHALF OF THE WORKSHOPS. CONFIRMATION OF ATTENDANCE WILL COME DIRECT FROM CHRISTOPHER R. ROGERS, PROGRAM DIRECTOR @ Paul Robeson House & Museum
------------
These family-oriented Saturday workshops are presented as part of a PennGSE dissertation research project on the intergenerational storytelling practices of Black West Philadelphia residents, including how these stories can inform strategies for neighborhood preservation and nurture social action. Recruiting 15 participants between the ages of 8 and up! Youth and elder participation encouraged.
WHAT TO EXPECT:
Arts-based activities and collective discussion that explore personal and family histories in West Philadelphia
Public storytelling opportunities to preserve, share, and spread community history and wisdom.
PARTICIPANT ELIGIBILITY:
self-identifies as Black/African-American
holds a strong sense of belonging with West Philadelphia.
Expert-advised health and safety guidance will be followed in the execution of these workshops.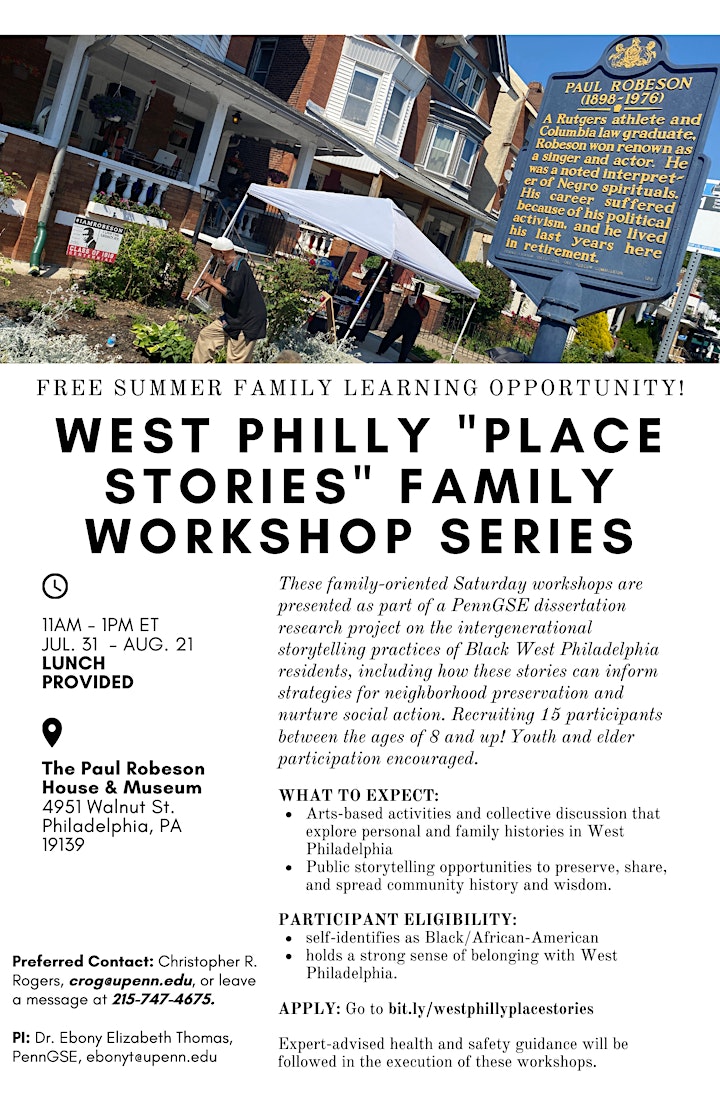 Organizer of APPLY NOW! Special Series: WEST PHILLY PLACE STORIES Family Workshop
The West Philadelphia Cultural Alliance owns and operates the Paul Robeson House and Museum. The alliance was established in 1984 to "stimulate community participation in the arts by cultivating an interest in, understanding of, and appreciation for the arts in the greater Philadelphia region."