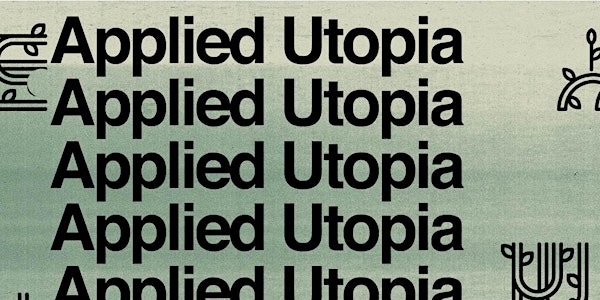 Applied Utopia - Study Hall
Slow Factory is bringing our iconic Study Hall series to our residency at Central Saint Martins, in partnership with Bolt Threads
When and where
Location
Central Saint Martins 1 Granary Square London N1C 4AA United Kingdom
Refund Policy
Contact the organizer to request a refund.
Eventbrite's fee is nonrefundable.
About this event
Applied Utopia begins with a radical principle: we get further, faster by aiming for an idealized future rather than sluggish, incremental change. Applied Utopia is not a destination, therefore: it is a process and an approach.
Although we often understand it to be a potential perfect future, the word itself means "Not a Place", inherently unattainable. Utopia is therefore not generally seen as a practical guiding principle, or blueprint for action in the now.
Join us for a series of panels with prominent speakers, designers, scientists, authors, and thinkers on the Digital Revolution and Material Innovation for Utopia
Opening Remarks
Orsola de Castro, Co-founder of Fashion Revolution & Hywel Davies, Journalist & editor
Panel 1: Digital Revolution; Utopia in the Metaverse
Aja Barber, Author of Consumed: The Need for Collective Change
Colin Vernon, Slow Factory Fund
Henrietta Gallina, Citizen Magazine
Céline Semaan, Slow Factory (Moderator)
Panel 2: Material Literacy/ Growing Utopia
Seetal Solanki, Scientist and Material Psychologist
David Breslauer, Bolt Threads / Mylo
Ioana Man, Faber Futures
Dian-Jen Lin, Biodesigner and Microbial Farmer, Post Carbon Lab
Céline Semaan, Slowhide (Moderator)
BSL Interpretation Available
About Slow Factory
Slow Factory is a nonprofit that transforms socially and environmentally harmful systems by designing models that are good for the Earth and good for people. We are People of the Global Majority advancing climate justice and social equity through regenerative design, education, and materials innovation. Education is central to the systemic change we need for a livable equitable climate future. We must dismantle the current paradigm of extraction, exploitation, and racial oppression and revive a pan-Indigenous paradigm to restore our relationships to each other and our planet.
About Bolt Threads/Mylo™
Bolt Threads is on a mission to create way better materials for a way better world by developing sustainable solutions for the apparel and beauty industries. With nature as inspiration, Bolt invents and scales materials that put us on a path towards a more sustainable future including Mylo™, a mycelium-based leather alternative. Mylo is currently in the design studios of iconic global companies including adidas, GANNI, and Kering, and available for purchase in products from Stella McCartney and lululemon. Bolt Threads is based in the United States in Emeryville, California, and is one of Fast Company's Most Innovative companies. To learn more, please visit www.boltthreads.com, www.mylo-unleather.com or @mylo_unleather on social.
About Central Saint Martins
Central Saint Martins is alive with different ways of thinking, making and doing. Across art, design and performance, our students create the ideas, materials and actions for a better future.
Creative practice combines the ability to imagine new futures with the means to deliver them. As such, artists and designers are equipped to address our urgent global challenges – from tackling the climate and biodiversity emergencies to forging more equitable societies. Our students work with hope and uncertainty, using their compassion and vision to shape the world through creative action.
What we do is always connected to others. Our community goes beyond building, beyond disciplines and beyond borders. From local neighbors to global partners, Central Saint Martins collaborates with others to build knowledge and transform objects, systems and lives for the better. We understand that good things happen when people work together.
At Central Saint Martins, we believe that art, design and performance can generate real, productive change.