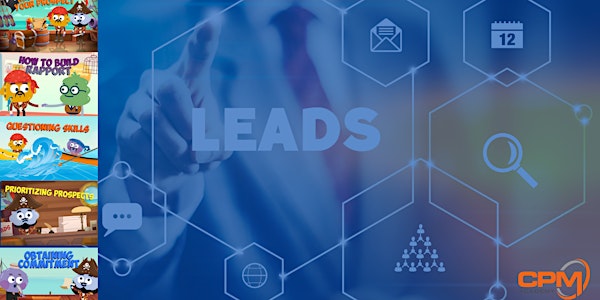 Applied Sales Skills - Bundle of 5 Courses
Online Course. Study at your own pace. Bundle of 5 Courses.
About this event
362 days 8 hours

Mobile eTicket
CPM Academy and TalentLMS bring 100% Online Courses for your professional development. Receive a Certificate of Completion from CPM Academy after each course.
This Bundle includes the following 5 Courses:
Researching Your Prospect
In sales, researching your prospects is the best way to "get the lowdown" on them before you attempt to engage them. And having that background knowledge could be a dealmaker, because being passionate and knowledgeable invites trust.
By the end of this course, you'll be able to:
Research prospects effectively
Use a variety of sources to build up a "full picture" of prospects
Engage a prospect by using your research
How to Build Rapport
In sales, getting someone to trust you is like the pot of gold at the end of the rainbow. Without trust, sales can easily fall apart. But how can you quickly gain the trust you need to complete the deal? Well, it's all about building rapport.
By the end of this course, you'll be able to:
Identify the benefits of building rapport with clients
Use effective questioning to help build rapport
Use mirroring and matching techniques to build trust
Use "active listening"
Questioning Skills
A lot of salespeople fall into the trap of asking too many leading questions, turning meetings into interrogations and putting clients off. In order to get to the heart of what the client wants and needs, you need to be able to identify and use the right types of questions at the right time.
By the end of this course, you'll be able to:
Describe the benefits of using different layers of questioning
Identify a variety of techniques for questioning
Use questioning skills to improve pitching and deal closing
Prioritizing Prospects
When it comes to sales prospects, getting your priorities straight is crucial. Making sure you spend your time working on the prospects that are the most likely to convert into sales can give you the edge you need to close deals more quickly and successfully.
By the end of this course, you'll be able to:
Identify the benefits of prioritizing prospects correctly
Describe how analytics can help you prioritize prospects
Use lead scoring to make your pipeline more efficient
Obtaining Commitment
Getting commitment from prospects is a delicate business, and something that needs to occur continuously throughout the selling process. And until you get them to commit, you don't really have a deal. Approaching commitment from prospects correctly will not only strengthen your pitch, but will also help strengthen your future relationship with them, as it affirms your desire to get things right for them. So, when it comes to getting them to say "I do," you need to know what you're doing.
By the end of this course, you'll be able to:
Identify points in the sales process where commitment is needed
Use strategies and techniques to ask for commitment from prospects
Use commitment in stages to help identify problems