Applied Machine Learning Models That Power Oracle's Autonomous Health Frameworks for Databases – AICUG AI Tech share

Tuesday, February 12, 2019 from 6:00 PM to 8:00 PM (PST)
Event Details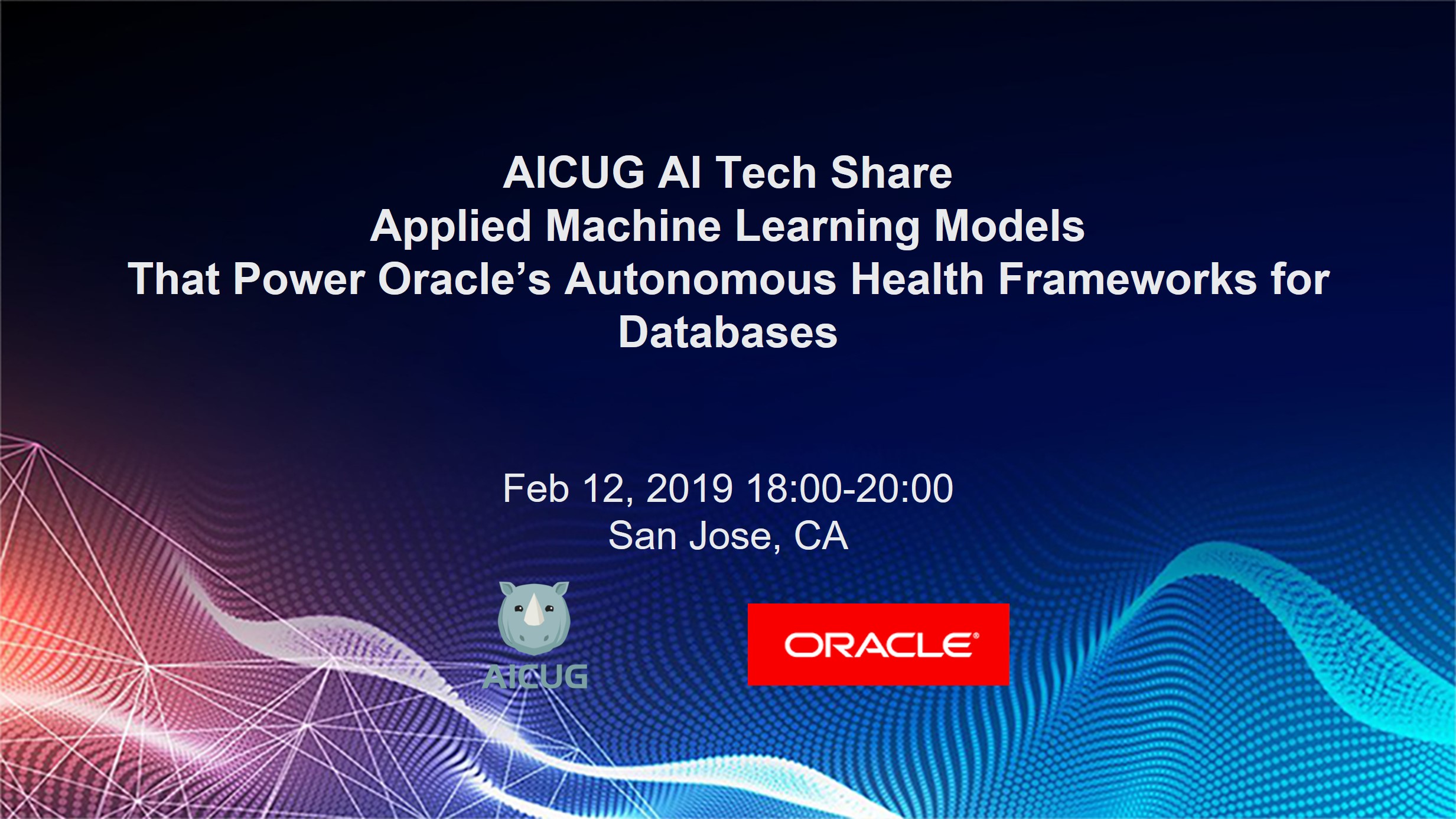 What is, who has and how to rule Autonomous Health Frameworks? This month AI Tech share, AICUG will invite Oracle gurus in the field to help us understand those questions. Be prepared! Sandesh Rao, the VP of Oracle Autonomous Health and Machine Learning Oracle Corporation is coming!
Live broadcast: https://xichuang.maodou.io/course/399ox2WPKnrdHZCDg
What will happen?
Let's decode the title. First, what is Oracle's Autonomous Health Framework? It is a framework with components like QoS management, cluster verification utility and health monitoring, memory guards, and hang manager. OK….but what does this health framework do? It helps to run Oracle's Autonomous database engine in a self-driving, self-repairing, and a self-securing mode by applying advanced ML models to the database operations at run time. And these models run without a huge impact on operations.
Our guru of Autonomous Health and Machine Learning, Sandesh Rao will take us through this to understand how ML models work to manage the health of the cloud operations and keep them, well, autonomous! He will take us through concepts of real-time prevention and rapid recovery in the context of database layers and apply ML to them to show a new worldview of cloud operations.

He will also show a demo of the autonomous cloud platform to explain how all this works in unison for superlative database and infrastructure performance. Machine Learning is being adopted for data management products to improve operation and optimization, according to Gartner. In this session, you learn how this happens exactly from the AIOps leaders at Oracle. A QA session will follow after his demo.
ML fans - please come and join us in sharing some fun and informative time!
Speaker
Sandesh Rao
VP - Oracle Autonomous Health and Machine Learning Oracle Corporation
Sandesh has managed Support and Development organizations globally. He is also involved with Oracle DBaaS , PaaS , SaaS projects , tooling , automation for deployment and hardware based monitoring and diagnostics for the Oracle Cloud (OCI) and Oracle Managed Cloud Services . He is responsible for the autonomous health component which implements AIOps through the Autonomous Database Cloud . Prior to this Sandesh supported customers for Real Application Clusters , Exadata , Oracle Database Appliance and many other Database products.
Before we go to meet the big shot of Oracle, do some homework with AICUG:
https://www.oracle.com/technetwork/database/options/clustering/ahf/learnmore/oracle-ahf-faqs-4392561.pdf
Have questions about Applied Machine Learning Models That Power Oracle's Autonomous Health Frameworks for Databases – AICUG AI Tech share ?
Contact AICUG
When & Where

ActionSpot
453 W San Carlos St
San Jose, CA 95110


Tuesday, February 12, 2019 from 6:00 PM to 8:00 PM (PST)
Add to my calendar
Organizer
Artificial Intelligence Core User Group (AICUG) established on March 2018 is an international AI community. AICUG is devoted to spreading AI knowledge and helping people learn, understand, and develop AI technology. In AICUG, members are encouraged to present new ideas of AI, communicate with AI experts, create opportunities for collaborations, etc. AICUG provides multiple services for the community, including tech meetups, conferences, closed-door meetings, online courses and talks, etc.
AI Tech Shares are held by AICUG monthly, where a number of global AI experts gather and give talks. Topics of the talks cover fields including machine learning, deep learning, natural language processing, computer vision, recommendation algorithms, etc.