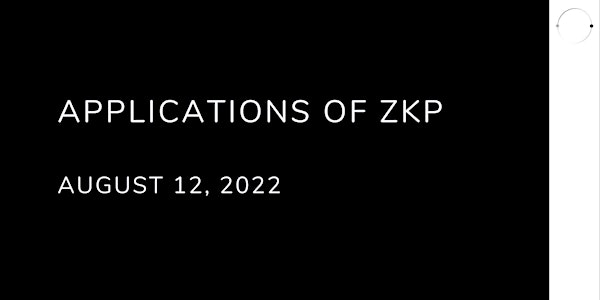 Applications of ZKP
Learn about potential applications of ZKP through industry-leading developers with Delendum Ventures
About this event
Zero Knowledge Proof (ZKP) was first introduced in 1980s with the goal to prove correctness of a result without revealing the result. Now, ZKP is applied in various applications to improve scalability and privacy on the blockchain.
In this session, we will dive into the potential use cases of ZKP. We have invited speakers from several ecosystems in ZKP to present their perspectives and projects. You can join the discussion group at: delendum.xyz/telegram
----------------------------------------------
Speaker List & Topics
1. Ago Lajko (Co-founder of Slush SDK)
Topic: ZK Rollups for App Specific Scaling
Description:
Design decisions and constraints apps have
Why L3s are the right solution for most apps
App rollup ecosystem: bridging and reading L1/L2 state
2. Ferdinand Sauer (Development Lead on Triton VM)
Topic: Can Machines Learn with Zero Knowledge?
Description: Yes. This presentation covers applications of zero-knowledge in machine learning, including:
Unbiased model training
Correct model evaluation
Non-regressing refinement, and
Integral execution of secret algorithms involved in these processes.
3. Michael Connor (Cryptography Engineering Lead at Aztec)
Topic: The Potential of Private Smart Contracts
Description:
The challenges of designing a private smart contract platform
Why it will require a paradigm shift in the way smart contract developers think
4. Phil Kelly & Brandon Kase (Head of BD & Architect Engineer at o(1) Labs)
Topic: Scan of Emerging Cases, Double Click on a Recursive Game Example
Description:
Identity, Private Transactions, Voting, Games, Attestation of general off-chain computation, Oracles
Recursion: Overview of poker game
----------------------------------------------
Delendum Ventures specializes in the zero-knowledge domain. We support early-stage zero-knowledge based projects with incubation and funding. We are also open to advise projects, provide reviews, and co-author research publications. Please contact us at hello@delendum.xyz for research collaborations.