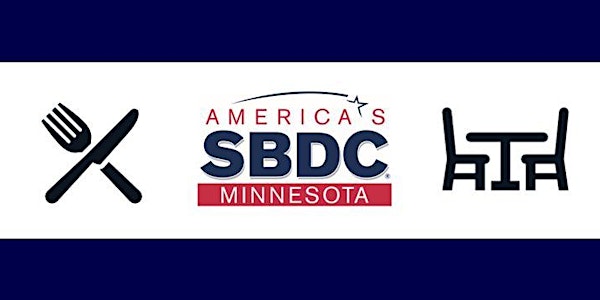 Application Workshop: Restaurant Revitalization Fund (Grant Opportunity)
Join the MN SBA District Office and North Central SBDC for a workshop on completing an application for the Restaurant Revitalization Fund!
About this event
This application workshop will closely review the Restaurant Revitalization Fund Application (SBA Form 3172) and provide insight and instruction to ensure accurate completion and the best likelihood of funding through this upcoming grant opportunity.
See here for the official information about the Restaurant Revitalization Fund released by the US Small Business Administration (SBA) on Sat., April 17. A sample of the Restaurant Revitalization Fund grant application is available here and will be closely discussed at the application workshop.
The application workshop will be led collaboratively by the North Central Small Business Development Center (SBDC) and the SBA Minnesota District Office, including SBA Minnesota Deputy District Director Twila Kennedy.
Participants are welcome to submit questions to North Central SBDC Director Rebecca Rowe prior to the application workshop at rebecca.rowe@clcmn.edu. Questions to be addressed during the webinar will be welcomed until end of day on Mon., April 26. There will also be time reserved during the webinar for questions with the Minnesota SBA District Office and the North Central SBDC.
SBA also notes on its Restaurant Revitalization Fund website that there is a call center for Restaurant Revitalization Fund support at 1-844-279-8898. Alternatively, there is an ever growing knowledge base with responses to particular Restaurant Revitalization Fund questions here.
Registration for the Wed., April 28 application workshop is open through Tues., April 27 . Registered participants will receive the Zoom link for this virtual event via email by 8 am on Wed., April 28. The webinar will open at 8:45 am on Wed., April 28, and participants are encouraged to join early to ensure access, connection, and an on-time event start.
All services and opportunities through the North Central SBDC are provided at no-cost and on a confidential basis. The North Central SBDC is a Resource Partner of SBA and funded through SBA, the Minnesota Department of Employment and Economic Development (DEED), and local partners. It is the goal of the North Central SBDC to provide expertise and guidance to prospective and existing businesses to start, sustain, and grow business ventures.
Connect with North Central SBDC at (218) 855-8140 with any questions.
[Note: It is anticipated that the US Small Business Administration (SBA) will begin accepting applications for the Restaurant Revitalization Fund in late April or early May. The specific date (as of April 21) has not yet been announced. It is critical that businesses are prepared to submit their applications when the funding opportunity opens. Previous communication by SBA leadership in public forums has indicated an approximately two-week period between SBA release of official Restaurant Revitalization Fund information and the opening of the application portal. Consequentially, with SBA releasing the official Restaurant Revitalization Fund information on Sat., April 17, the SBA may look to begin accepting applications on or sometime thereafter Sat., May 1. All anxiously and anticipatorily wait for the official release of this date. Note that demand for the Restaurant Revitalization Fund most likely exceeds $100 billion nationwide and therefore accurate completion of applications and early submission is very crucial for the $28.6 billion currently available through this grant opportunity.]