Description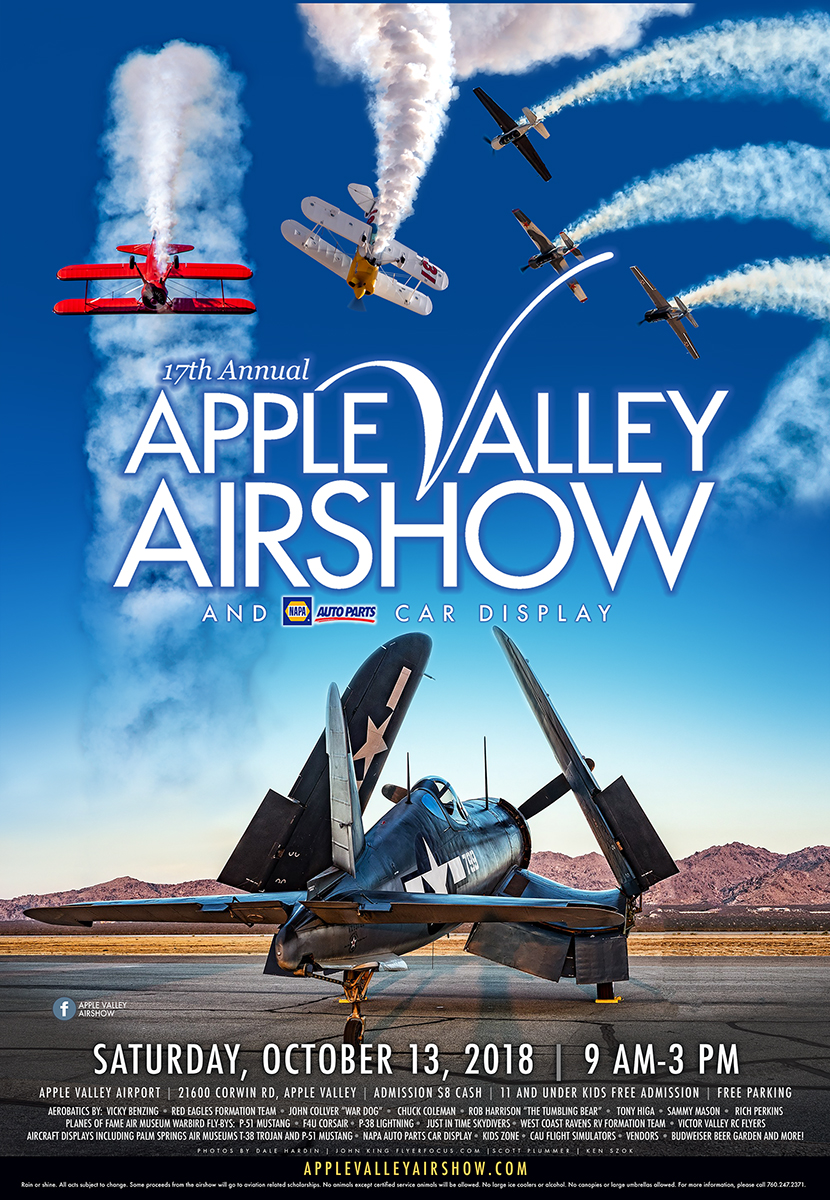 Apple Valley Airshow and NAPA Auto Parts Car Display
Saturday, October 13, 2018 - 9 a.m. - 3 p.m.
Kids 11 and Under FREE Admission
General Admission purchased at the gate $8 cash. Or, go to the Apple Valley Airport office during business hours to purchase tickets in advance Monday through Friday.
FREE Parking
Aerobatics, Warbird Fly-Bys, Formation Team Flying, Skydivers, Vintage Aircraft Displays, Kids Area, NAPA Auto Parts Car Display, Flight Simulator, Vendors and More!
PERFORMERS: http://applevalleyairshow.com/performers-view
PERFORMERS:
Just In Time Skydivers
Vicky Benzing Aerobatics
Red Eagles Formation Team
Rich Perkins Aerobatics
Sammy Mason Aerobatics
Chuck Coleman Aerobatics
Tony Higa Aerobatics
Rob Harrison "The Tumbling Bear" Aerobatics
John Collver Aerobatics
West Coast Ravens RV Formation Team
Planes of Fame Air Museum Warbirds:
Lockheed P-38 Lightning
North American P-51-D Mustang
Vought F4U-Corsair
And more!
FAQs, go to http://applevalleyairshow.com/faq
For event information, go to http://applevalleyairshow.com
Rain or shine. All acts subject to change. Some proceeds from the airshow will go to aviation related scholarships. No animals except certified service animals will be allowed. No large ice coolers or alcohol. No canopies or large umbrellas allowed. Personal umbreallas are OK. Folding chairs and blankets are OK. For more FAQs go to http://applevalleyairshow.com/faq. For more information, please call 760.247.2371 during business hours Monday through Friday.