Description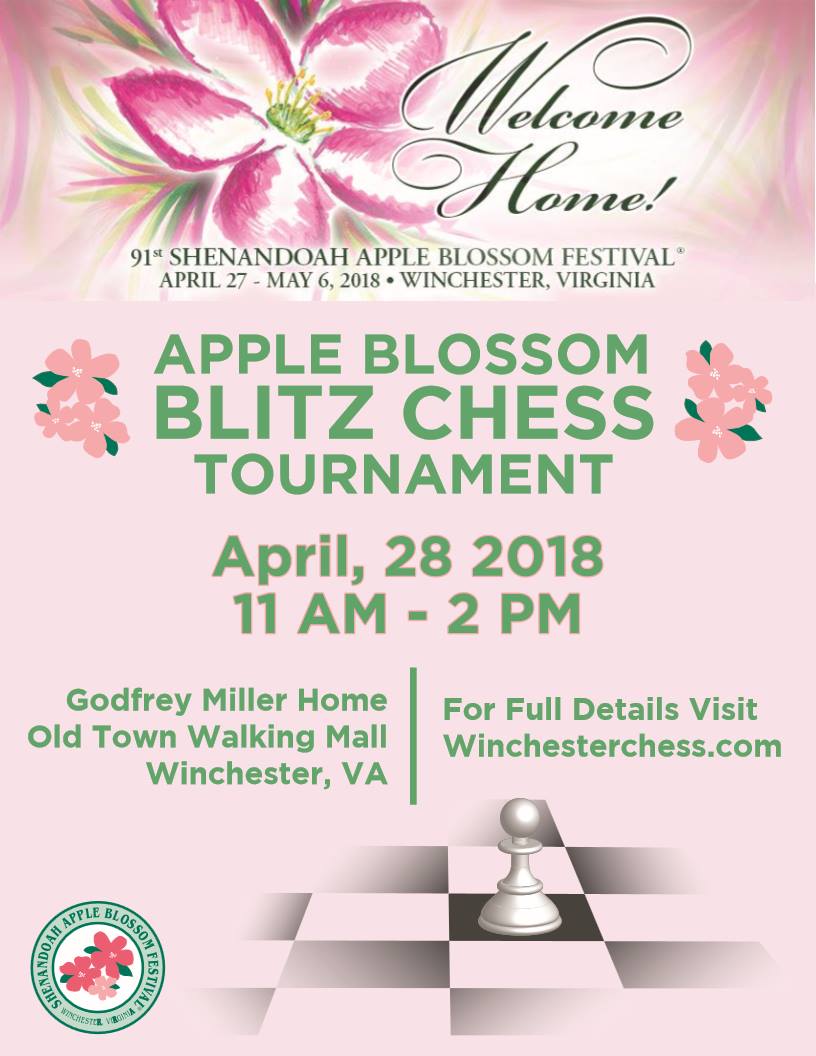 Apple Blossom Blitz Chess Tournament
Saturday, April 28
Godfrey Miller Home
28 S. Loudon Street - Old Town Walking Mall
Winchester, Virginia
11:00 am - 2:00 pm
Doors Open 10:30 AM
Round 1 begins 11:00 AM
Cost: $5 Pre-registered / $10 at Door - Portion of proceeds to benefit Godfrey Home.
We are delighted to annouce the 1st Apple Blossom Blitz Chess Tournament to be held at Godfrey Home during the 2018 Bloomin' Wine Festival in Old Town Winchester.
The event is sponsored by Incredible Flying Objects and kindly supported by The Godfrey Home and Shenandoah Apple Blossom Festival.
We will pair opponents according to their appropriate skill levels so everyone has fun. Win, lose, or draw - everyone plays multiple games!
Spectators are FREE.
Beginner coaching and casual games are FREE.
Outdoor tables and giant chess set will be setup on the lawn and walking mall.
Additional chess activities for tournament participants, kids, and anyone who wants to play.
For specific tournament information, please see the details below:
Sections: This tournament is organized into three sections. Quads for Kids, Intermediate and Advanced Swiss Pairings. Kids will be organized to play other kids at their grade and skill level. Swiss pairings are generated via computer software.
Prizes: 1st and 2nd Place Trophies per section / Medals for Kids
Registration: Register via EventBright or email winchesterchess@gmail.com. Space is limited and pre-registration is encouraged. Walk-ins are welcome!
General Information: Chess sets and boards will be provided. You may bring your own. Intermediate and Advanced players must provide their own Chess Clocks. This is an unrated tournament. Chess apps on digital devices are permitted. Kids game will be untimed.
Competition Format: 7 Rounds / G10;0 (Time controls are ten minutes per side, sudden death). This is an unrated tournament for fun. A perfect understanding of the rules is not necessary.
For planning purposes: Generally speaking, Grades K-8 will finish early. Depending on number of entries, it is not uncommon that a playoff and championship match. Tournament format subject to change based on number entries and time constraints.
For more information, contact Tournament Director, David Hubbard at winchesterchess@gmail.com, cell 973-280-7189.
The Shenandoah Valley Chess Club is a nonprofit organization dedicated to teaching and promoting the game of chess for all ages and skill levels in the Shenandoah Valley region. Chess programs are partnered with Handley Regional Library System and affiliated with United States and Virginia Chess Federations.
Meetings are held every Wednesdays at Handley Library, 4:30-7:30pm and every Saturdays at Bowman Library, 10:00am. Regular meetings are free to all and supported by community contributions.
There has never been a better moment to learn and enjoy the Royal Game!
To learn more, visit winchesterchess.com and uschess.org.