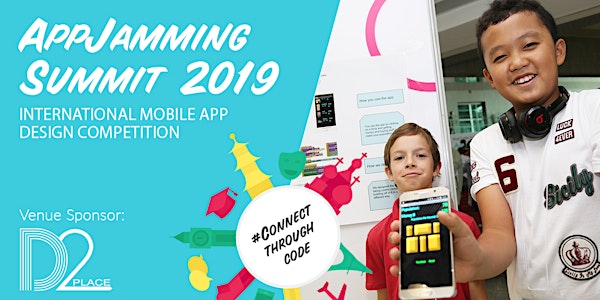 AppJamming Summit 2019 Final
When and where
Location
The Garage G/F, D2 Place TWO 15 Cheung Shun Street, Cheung Sha Wan Hong Kong
Description

AppJamming Summit (AJS) is an international mobile app design competition for young app developers across the World to showcase their talents and creativity. The grand winner would win a sponsored trip to MIT AppInventor Summit in Boston, USA!
AJS was created with the vision to encourage more young people to become Creators of Technology. Started in 2014, the event has built a community of young coders equipped with programming and presentation skills. Over the past 5 years, AJS has engaged over 400+ students across the World and has become a movement in Shaping Future Creators.
11:00-11:30 Opening Ceremony
11:30-13:30 Presentation Batch 1
13:30-15:30 Exhibition Time
14:30-15:30 AJS Forum
15:30-17:30 Presentation Batch 2
17:30-18:00 Award Ceremony
For more details on AppJamming Summit, please visit our website at http://appjammingsummit.org

The Future of Education - what is the role of parents to prepare our next generation?
The world is changing rapidly into a digital era and that parenting and education play huge roles in influencing the growth of our next generation. With AJS forum, we wish that parents would be able to reflect what is needed for our children and the role of parents in preparing our next generation.
Education is said to be a powerful weapon to change the world. What is the education needed for our students to face the upcoming challenges? While STEM education is a heated topic recently, is this the education needed for students? What would be the advice for parents?
The forum starts at 1430-1530 and we are delighted to discuss the topic with:
Mr. Chu Tsz Wing, Chief Headmaster of St. Hilary's Primary School

Ms. Michelle Sun, Founder and CEO of First Code Academy

Ms. Claudia Liu, Assistant Principal in HKBUAS Wong Kam Fai Secondary School
The topic will be conducted in Cantonese. We will provide translation if necessary.

We would love to promote the fun of coding to more parents and children! Join us on the day to have the first taste of coding!
4 sessions of AppJamming Workshop (Suitable for Age 9-11)

4 sessions of Scratch Workshop (Suitable for Age 6-8)

VR Experience and have fun with robots!

First Code Academy develops and runs computer programming courses and holiday camps tailored for kids and teens in Hong Kong and Singapore.
Our mission is to empower our next generation to be creators using technology. Since established in 2013, we have taught over 2,500 students, 3 of which were admitted to MIT for the AppInventor Summit, global app development competition, and another student have been invited to speak at a TEDx event about his tech spirit. Learn more of our students' success stories here.