Appelbaum: Twilight of Democracy:The Seductive Lure of Authoritarianism
The Atlantic's Pulitzer Prize winner & NYT best selling author Anne Appelbaum on US & global democracies & the lure of authoritarianism
About this event
Anne Applebaum
Pulitzer Prize winning historian, journalist, commentator on geo-politics and keynote speaker, Anne Applebaum examines the challenges and opportunities of global political and economic change through the lenses of world history and the contemporary political landscape.
Informed by her expertise in Europe and her years of international reporting, Applebaum shares perspectives on, and the far-reaching implications of, today's volatile world events. And as technology allows a new scale of media manipulation to authoritarian governments and changes the tenor of political discourse, she scrutinizes the misinformation, propaganda, and criminal exploitation that influence global affairs, as well.
From Syrian refugees to Putin's disinformation narratives, from the EU and the European financial crises to responding to terrorism, from solutions to transition-government corruption to political populists' game-changing campaign language, Applebaum provides both background and up-to-the-minute insights that are vital to understanding the risks and opportunities of today's world political and economic climate.
Anne's Pulitzer Prize-winning Gulag: A History is about the Soviet concentration camps. Her book, Red Famine: Stalin's War on Ukraine, is the winner of her second Duff Cooper Prize and the 28th Lionel Gelber Prize 2018. In it, Anne proves what many suspected: Stalin set out to destroy the Ukrainian peasantry. Anne is the only author to win the Duff Cooper Prize twice. Her other books include Iron Curtain: The Crushing of Eastern Europe, 1944-1946, which won a Cundill Prize for Historical Literature, and Between East and West: Across the Borderlands of Europe.
In 2021, Anne was awarded the ICFJ's Excellence in International Reporting Award. In October 2021, Anne was presented with the 38th 'Francisco Cerecedo' journalism award. by King Felipe VI of Spain.
In July 2020, Penguin published 'Twilight of Democracy: The Seductive Lure of Authoritarianism" – in this work, she outlines eloquently why elites in democracies around the world are turning toward nationalism and authoritarianism. The book became an immediate NYT best-seller in the non-fiction section. Anne was later named one of "The Top 50 Thinkers of the Covid-19 Age" by Prospect magazine. In December 2020, Barack Obama listed this book as one of his favourite reads of the year.
She is a Senior Fellow of International Affairs and Agora Fellow in Residence at the Johns Hopkins School of Advanced International Studies in Washington, DC.
Director of the Transitions Forum at the Legatum Institute from 2011-2015, an international think tank, Applebaum is the co-founder of the institute's Democracy Lab, an online partnership between the institute and Foreign Policy magazine. An adjunct fellow of the Center for European Policy Analysis, she is former Philippe Roman Chair in History and International Affairs at the London School of Economics.
For many years, Applebaum wrote a biweekly foreign affairs column for The Washington Post which is syndicated internationally. She is now a staff writer at The Atlantic. She has been a contributor to Foreign Affairs, the New Republic and The New York Review of Books. She was formerly a member of The Washington Post's editorial board; foreign and deputy editor of the Spectator magazine; and political editor of the Evening Standard. From 1988 – 1991 she covered the collapse of communism as Warsaw correspondent for The Economist.
Anne attended Yale University and was a Marshall Scholar at the London School of Economics and St. Antony's College, Oxford.
LARRY DIAMOND
Larry Diamond is a senior fellow at the Hoover Institution, the Mosbacher Senior Fellow in Global Democracy at the Freeman Spogli Institute for International Studies (FSI), and a Bass University Fellow in Undergraduate Education at Stanford University. He is also professor by courtesy of Political Science and Sociology at Stanford. He leads the Hoover Institution's programs on China's Global Sharp Power and on Taiwan in the Indo-Pacific Region. At FSI, he leads the Program on Arab Reform and Democracy, based at the Center on Democracy, Development and the Rule of Law, which he directed for more than six years. He also co-leads with (Eileen Donahoe) the Global Digital Policy Incubator, based at FSI's Cyber Policy Center. He is the founding coeditor of the Journal of Democracy and also serves as senior consultant at the International Forum for Democratic Studies of the National Endowment for Democracy. His research focuses on democratic trends and conditions around the world and on policies and reforms to defend and advance democracy. His latest edited book (with Orville Schell), China's Influence and American Interests (Hoover Press, 2019), urges a posture of constructive vigilance toward China's global projection of "sharp power," which it sees as a rising threat to democratic norms and institutions. He offers a massive open online course (MOOC) on Comparative Democratic Development through the edX platform and is now writing a textbook to accompany it.
Diamond's book, Ill Winds: Saving Democracy from Russian Rage, Chinese Ambition, and American Complacency, analyzes the challenges confronting liberal democracy in the United States and around the world at this potential "hinge in history," and offers an agenda for strengthening and defending democracy at home and abroad. A paperback edition with a new preface was released by Penguin in April 2020. His other books include: In Search of Democracy (2016), The Spirit of Democracy (2008), Developing Democracy: Toward Consolidation (1999), Promoting Democracy in the 1990s (1995), and Class, Ethnicity, and Democracy in Nigeria(1989). He has also edited or coedited more than forty books on democratic development around the world, most recently, Dynamics of Democracy in Taiwan: The Ma Ying-jeou Years.
During 2002–03, Diamond served as a consultant to the US Agency for International Development (USAID) and was a contributing author of its report, Foreign Aid in the National Interest. He has also advised and lectured to universities and think tanks around the world, and to the World Bank, the United Nations, the State Department, and other governmental and nongovernmental agencies dealing with governance and development. During the first three months of 2004, Diamond served as a senior adviser on governance to the Coalition Provisional Authority in Baghdad. His 2005 book, Squandered Victory: The American Occupation and the Bungled Effort to Bring Democracy to Iraq, was one of the first books to critically analyze America's postwar engagement in Iraq.
Among Diamond's other edited books are Democracy in Decline?; Democratization and Authoritarianism in the Arab World; Will China Democratize?; and Liberation Technology: Social Media and the Struggle for Democracy, all edited with Marc F. Plattner; and Politics and Culture in Contemporary Iran, with Abbas Milani. With Juan J. Linz and Seymour Martin Lipset, he edited the series, Democracy in Developing Countries, which helped to shape a new generation of comparative study of democratic development.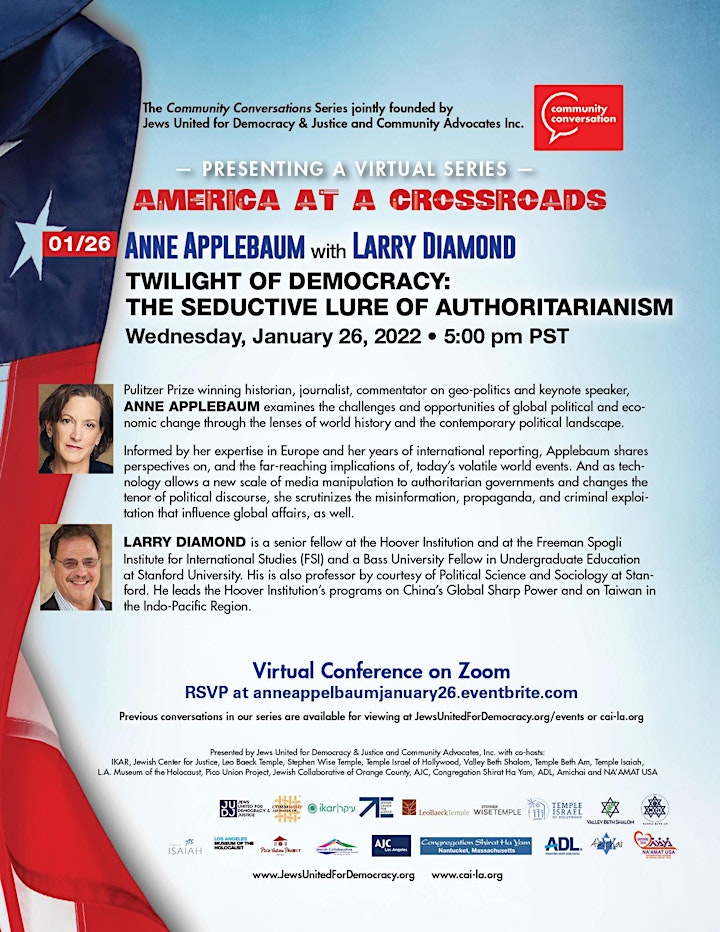 Organizer of Appelbaum: Twilight of Democracy:The Seductive Lure of Authoritarianism
Jews United for Democracy and Justice (JUDJ) is a broad cross-section of Los Angeles Jews who stand with our community and others to assert a Jewish voice to safeguard the principles and foundations of our constitutional democracy.
Founded in the wake of the executive orders on immigration and refugees, JUDJ is deeply concerned about rising threats to religious tolerance, equal rights, a free and fair press, human dignity, and long-held norms of decency and civil society. We will speak out and take action when our shared Jewish values require us to counter those threats.
Community Advocates, Inc. (CAI) is a nonprofit organization that advocates innovative approaches to human relations and race relations. It was founded on the idea that while we do not live in a perfect world, there has been steady and continuing progress in the arena of race and human relations. CAI is led by its Chairman Richard Riordan, former Mayor of Los Angeles and President David A. Lehrer, former Regional Director of the Anti-Defamation League. For many years its vice president was the late Joe R. Hicks, former Executive Director of the Los Angeles City Human Relations Commission. CAI spreads its vision through op-eds, speeches, panel presentations, journal articles and broadcast programming.