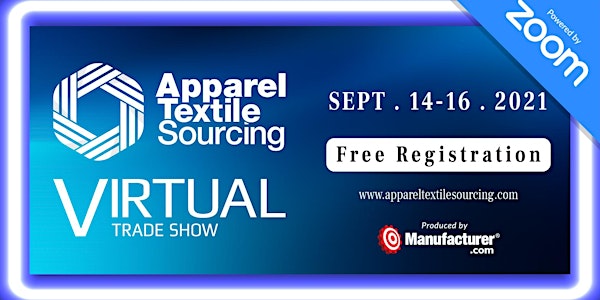 Apparel Textile Sourcing Canada Virtual 2021
Apparel Textile Sourcing goes VIRTUAL in 2021!
About this event
Apparel and Textile Sourcing returns in 2021 - VIRTUALLY
New Business | New Suppliers | New Speakers
The largest international sourcing event focused on the North American Apparel, Textile, and Fashion sectors is returning VIRTUALLY in 2021. Connect with 200+ exhibitors from the world's major manufacturing countries supplying the apparel market with Finished Apparel, Textiles, Fabrics, and Fashion.
The world's top retailers, manufacturers, suppliers, and industry professionals will come together for five days of sourcing, networking and education.
Attendees include designers, brands, buying offices, retailers, eCommerce marketplaces and others sourcing raw materials and completed merchandise.
Exhibits include factories, manufacturers, producers, suppliers and more businesses from countries all over the globe specializing and producing apparel and textiles.
Speakers include experts from the world of sourcing, trade, fashion and apparel - from government officials to fashion gurus, to major retail brands - all providing free tips and advice of what 2021 will bring and how to find success.