Description
Author Jeffrey H. Ryan will be at the Grand Opening of the L.L. Bean store in Rockville, Maryland to sign copies of his highly acclaimed book: Appalachian Odyssey: A 28-year hike on America's trail and his newly released book: "Blazing Ahead: Benton MacKaye, Myron Avery and the Rivalry that Built the Appalachian Trail".
Appalachian Odyssey is an informative, fun read that invites everyone along for the adventure. As one reviewer put it, "it may surprise people that I thoroughly enjoyed a memoir about hiking the Appalachian Trail. But I did!"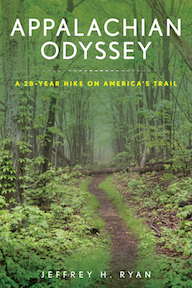 Blazing Ahead, published by Appalachian Mountain Club Books, tells the story of how the most famous trail in the world was envisioned and built.
"L.L. Bean grand opening events are fantastic. I always enjoy meeting people who share a love of the outdoors.", says Ryan.
Copies of both books will be available for purchase and the author would be delighted to sign copies.