App Strategy Workshop - Los Angeles, CA

Thursday, May 26, 2016 from 1:00 PM to 6:30 PM (PDT)
Event Details

 Monetize. Optimize. Drive Downloads.
Building a great app is difficult. Turning it into a profitable business can be even more of a challenge. Join industry experts, innovative mobile tech startups, app publishers and developers to explore strategies to turn your app into a profitable business.
 
The App Strategy Workshop features a half-day of candid discussions on user acquisition, user retetnion, monetization and leadership strategies. Enjoy networking breaks, and mingle with speakers and attendees over appetizers and an open-bar during the Happy Hour.


Strike a pose in our superhero 'Print a Selfie' photo booth and compete in a friendly game of Crossy Road to epic win prizes! Register today - space is limited.


WORKSHOP DETAILS
WHEN: Thursday, May 26 2016 | 1pm-6:30pm
WHERE: Loews Santa Monica Beach Hotel 1700 Ocean Avenue, CA 90401
PARKING: Valet parking is available onsite. We will validate the first 75 cars!
OFFICIAL WEBSITE: http://bit.ly/LAASWEB 
---
FEATURED SPEAKERS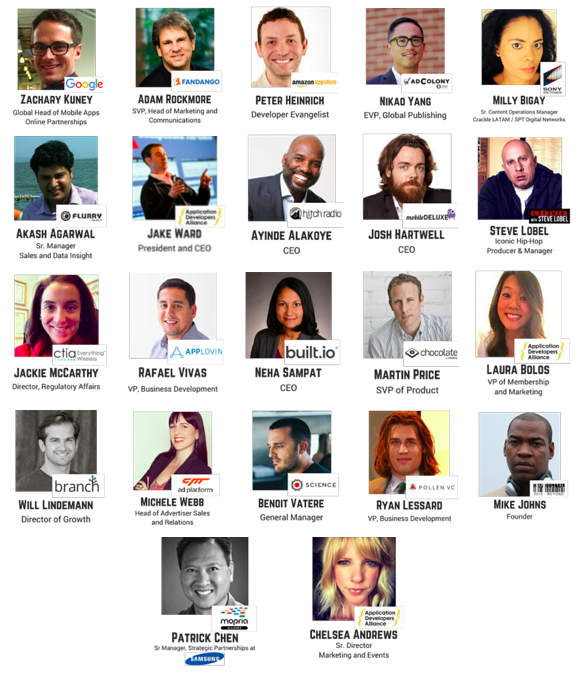 ---
AGENDA
1:00pm Registration
Arrive early to get a good seat, and enjoy light snacks and refreshments before the program kicks-off.
1:30pm Welcoming Remarks by Apps Alliance
        Jake Ward, President and CEO, Apps Alliance
1:40pm Getting your first 10,000 Downloads on a Budget
You've officially launched your app - now how do you quickly acquire engaged users? Learn how to reach your target audience and increase downloads from experts as they share tips and tricks to boost user-acquisition. This panel will teach you how to leverage growth hacking strategies, discovery tools, social media routes, and more to quickly get your first 10,000 downloads.
Participants:
        Jackie McCarthy, Director of Regulatory Affairs, CTIA (Moderator)
        Ryan Lessard, VP of Business Development, Pollen
        Will Lindemann, Director of Growth, Branch Metrics
        Akash Agarwal, Senior Manager for Sales and Data Insight, Flurry
        Michele Webb, Head of Advertiser Sales and Relations, Cheetah Mobile
2:10pm This or That: The Science of Mobile Video Ads
Creating a sticky app that keeps users coming back multiple times a day while implementing ads without annoying or cannibalizing users are core challenges all app publishers face. It's a delicate balance. It's a science. Hear industry experts Benoit Vatere, GM at Science Mobile (publisher of blockbuster appsWishbone andSlingshot), Nikao Yang, EVP of Global Publishing at AdColony by Opera Mediaworks, and Jake Ward, CEO & President at Apps Alliance, discuss how to leverage seamless integration of video ads to maximize revenue while maintaining optimal user engagement.
Participants:
        Jake Ward, President and CEO, Apps Alliance (Moderator)
        Nikao Yang, EVP of Global Publishing, AdColony
        Benoit Vatere, General Manager, Science Mobile
2:40pm Maximizing App Revenue
Discover new strategies to generate revenue with apps. Listen in as monetization experts have a candid discussion on best practices to maximize video advertising, native advertising, in-app purchasing, subscription models, and more, and how each impact user experience, downloads, and profitability.
Participants:
        Martin Price, SVP of Product, Chocolate by Vdopia (Moderator)
        Zachary Kuney, Global Head of Mobile Apps Online Partnerships, Google
        Adam Rockmore, SVP Head of Marketing and Communications, Fandango
        Peter Heinrich, Developer Evangelist, Amazon Appstore
        Rafael Vivas, VP of Business Development, AppLovin
3:10pm Mobile Print – Disruption, Collaboration and Opportunity
Standing out from the crowd is tough. Meeting a universal need is a great place to start. Learn to press the right buttons with Mopria Alliance (mobile printing alliance with members including HP, Xerox, Canon and Samsung) and discover how adding print to your app, will not only add value to your business, but also delight your users.
        Patrick Chen, Senior Manager of Strategic Partnerships, Samsung
3:20pm Coffee Break
Stretch your legs, check your email and enjoy a cup of coffee and a snack. Also chat with our amazing sponsors and enter to win prize giveaways by taking a photo in the superhero 'Print a Selfie' photo booth or kicking butt in a game of Crossy Road.
3:40pm Digital Disruption: How Apps Are Transforming the Entertainment Industry
Hear music industry legend Steve Lobel, discuss the evolution of music and digital entertainment with the explosive growth of mobile tech. As a music producer and manager for hip hop stars including Bone Thugs-n-Harmony, Sean Kingston, Nipsey Hussle, Easy-E, Common, Missy Elliot, Big Pun, Fat Joe, Mann, Iyaz, and many others, Lobel has experienced first hand the impact of digital distribution and how apps are changing the face of the entertainment industry. Lobel will also share his unparalleled advice for tech entrepreneurs including the importance of mentors and a strong work ethic, and never taking no for an answer.

Participants:
Mike Johns, Founder, I AM DIGITAL (Moderator)
Steve Lobel, Iconic Hip Hop Producer and Manager and Entrepreneur
4:00pm It's All About the People: How to Build High Performing Teams
The most important asset of any company is it's people - the employees, partners, and customers that make it all happen. Listen in as entertainment industry expert Milly Bigay, explores her experiences in leading teams to success at Walt Disney, Peace Corps, and now Sony Pictures, and shares her top tips for building and maintaining stellar teams.
Milly Bigay, Sr. Content Operations Manager - SPT Digital Networks, Sony Pictures
4:15pm Startup Stories: CEOs Share Secrets for Success
Listen in as Apps Alliance Board Members share their biggest lessons learned on the path to success. They'll candidly explore "what startups typically don't know, but need to know" while discussing their pitfalls and triumphs, and everything in between.
Participants:
        Laura Bolos, VP of Membership and Marketing, Apps Alliance (Moderator)
        Josh Hartwell, CEO, Mobile Deluxe
        Ayinde Alakoye, CEO, Hitch Radio
        Neha Sampat, CEO, Built.io
4:45pm-6:30pm Open-Bar Happy Hour & Prize Giveaways
Mingle with speakers and attendees over appetizers and an open-bar, and enter to win prizes by striking a pose in the superhero 'Print a Selfie' photo booth and kicking butt in a game of Crossy Road.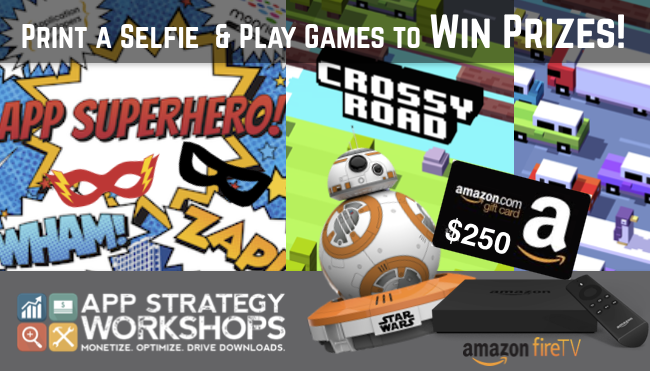 Print a Selfie Giveaway! Download the Mopria Print Services app from the Google Play Store before arriving so you're ready to rock it in the superhero photo booth for the 'Print a Selfie' giveaway. All participants are entered to win a $250 Amazon gift card.
---
Want to keep the party going?
Join investors and the local tech community for the LA Tech Happy Hour from 6-9pm on the Expert Dojo patio. Register free with code ADA (codes are limited).

---
SPONSORS

---
 LOCAL PARTNERS
---
This App Strategy Workshops is part of a global 6-city series hosted by the Application Developers Alliance, a non-profit global membership organization that supports developers as creators, innovators, and entrepreneurs. Visit the Workshop website.
---

View Privacy Policy
When & Where

Loews Santa Monica Beach Hotel
1700 Ocean Avenue
Santa Monica, CA 90401


Thursday, May 26, 2016 from 1:00 PM to 6:30 PM (PDT)
Add to my calendar
Organizer
Oath:, ONE: Mobile, Yahoo Gemini, and Flurry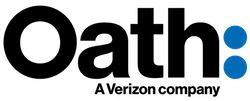 Oath, a subsidiary of Verizon, is a values-led company committed to building brands people love. We reach over one billion people around the world with a dynamic house of 50+ media and technology brands. A global leader in digital and mobile, Oath is shaping the future of media.

ONE by AOL: Mobile is a leading mobile marketplace for the world's top brands, app developers and mobile web publishers. Our full-service supply side platform was built for the needs of mobile app developers and publishers, providing you with complete control, transparency and flexibility to design your monetization strategy in line with your app or mobile web experience. ONE by AOL: Mobile connects publishers with the industry's largest mobile demand portfolio and enables monetization across every device and format with a single, scalable SDK. Sign Up Today: https://signup.onemobile.aol.com.

 
Yahoo Gemini is a data-driven platform used for generating ad revenue for third party publishers through native advertising. Yahoo Gemini helps marketers achieve measurable results with intent driven advertising, which leverages Yahoo's proprietary data signals to target interested audiences, reach them across screens, on Yahoo sites and third party publishers, and engage them with search and native ads.

Flurry is an industry-leading analytics, monetization and advertising platform. With Flurry, developers and marketers can analyze user interactions with applications and advertise in-apps. Flurry supports nearly 250,000 developers, reaching more than 1 Million applications, across more than 2.1 billion devices with 10 billion sessions every day. Flurry was acquired by Yahoo! in July 2014.
App Strategy Workshop - Los Angeles, CA