App Strategy Workshop + Happy Hour - San Francisco, CA

Thursday, August 11, 2016 from 1:00 PM to 6:30 PM (PDT)
Event Details

 Monetize. Optimize. Drive Downloads.
Building a great app is difficult. Turning it into a profitable business can be even more of a challenge. Join industry experts, innovative mobile tech startups, app publishers and developers to explore strategies to turn your app into a profitable business.


The App Strategy Workshop features a half-day of candid discussions on user acquisition, user retention, monetization and leadership strategies. Enjoy networking breaks, and mingle with speakers and attendees over appetizers and an open-bar during the Happy Hour.


This is a workshop you don't want to miss! Register now while space is still available.
OFFICIAL WEBSITE: http://bit.ly/SFASW


WHEN: Thursday, August 11th 2016 | 1pm-6:30pm


WHERE: Merchants Exchange Building | Julia Morgan Ballroom
465 California Street, 15th Floor, San Francisco, CA 94104 (map)

---
FEATURED SPEAKERS
(Additional speakers to be announced)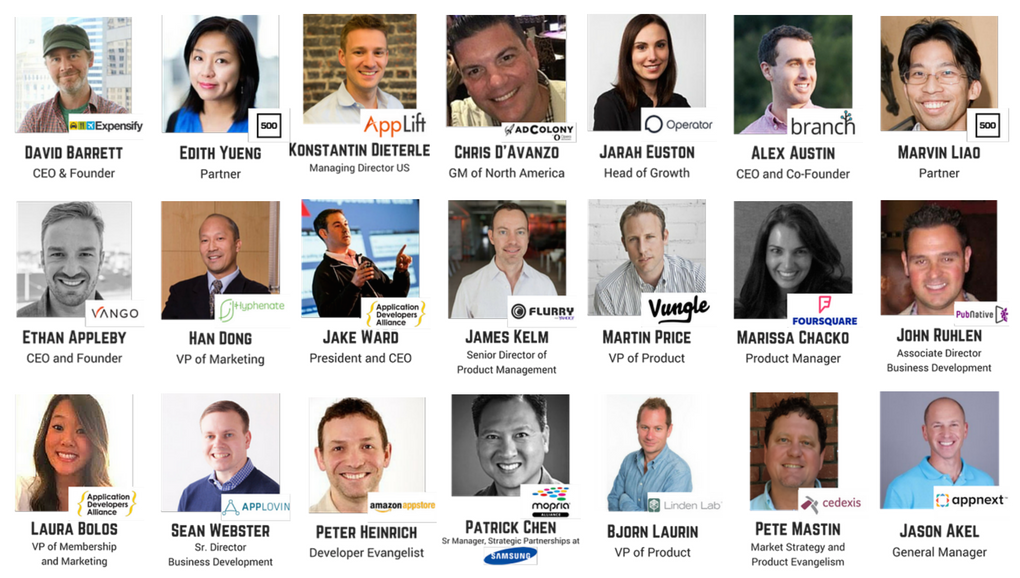 ---
AGENDA
1:00 PM - Registration
Arrive early to get a good seat, and enjoy light snacks and refreshments before the program kicks-off.
1:30PM - Opening Remarks
Jake Ward, CEO & President, Application Developers Alliance
1:45PM How to Boost Downloads on a Budget
Building a loyal user base in a competitive market is one of the biggest challenges mobile app publishers face. Join industry leading app marketers as they have a candid discussion on best practices for organic and paid user acquisition, and creative tactics to drive downloads on a budget. 
Participants:
Konstantin Dieterle, Managing Director US, AppLift (Moderator) 
Alex Austin, CEO & Co-Founder, Branch 
Ethan Appleby, CEO & Founder, Vango
Jarah Euston, Head of Growth, Operator
Jason Akel, General Manager North America, AppNext 
2:15PM Improving Appstore Ranking: Best Practices & Tactics to Avoid by Amazon Appstore
How far would you go to make your app successful? Everyone has a strategy, and as an app publisher, Amazon has seen the good, the bad, and the ugly. Hear tactics that will get you banned or blacklisted, along with best practices for actually achieving the results you want: more downloads, good reviews, and increased monetization opportunities. 
Peter Heinrich, Developer Evangelist, Amazon Appstore
2:30PM Mobile Print: Disruption, Collaboration and Opportunity
Standing out from the crowd is tough. Meeting a universal need is a great place to start. Learn to press the right buttons with Mopria Alliance (mobile printing alliance with members including HP, Xerox, Canon, and Samsung) and discover how adding print to your app, will not only add value to your business, but also delight your users. 
Patrick Chen, Senior Manager of Strategic Partnerships, Samsung
2:35PM Show Me the Measurement: Monetizing Mobile Apps in Today's Competitive Ecosystem
When should I integrate ads and how do I migrate ad revenue to mobile? What role do mobile applications play in the mobile monetization game? What do app developers need to know in order to effectively monetize content in today's demanding digital ecosystem?  
James Kelm, Senior Director of Product Management, Flurry from Yahoo
2:55PM Maximizing Revenue: Tips for Improving User Engagement and Increasing LTV
As the app marketplace continues to grow, the need to keep users engaged in your app rather than jumping to a competitor is increasingly important. Hear experts discuss key solutions and strategies to measure and enhance user experience and leverage metrics to improve LTV and monetize without annoying users. 
Participants:
Sean Webster, Senior Director, Business Development, AppLovin (Moderator)
Chris D'Avanzo, GM of North America, AdColony
John Ruhlen, Associate Director, Business Development, PubNative
Marissa Chacko, Product Manager, Foursquare
Han Dong, VP of Marketing, Hyphenate
3:25PM Avoid Slow Load Times: Tips to Speed Up Your App
A common reason for app abandonment is poor user experience resulting form excessive load times and buffering. Hear form Pete Mastin of Cedexis share tips to optimize your app and improve performance. 
Pete Mastin, Market Strategist and Product Evangelist, Cedexis
3:30PM - COFFEE BREAK
Stretch your legs, check your email, and enjoy a cup of coffee and a snack. Also chat with our amazing sponsors and enter to win prize giveaways. 
3:40PM Virtual Reality & Real World Opportunities: A Look Into the Future of VR, Games and Monetization
Hear industry experts Bjorn Laurin, VP of Product at Linden Lab and Martin Price, SVP of Product at Vungle, have a conversation about about the future of monetization through games, VR & AR, and mobile video.
Martin Price, SVP of Product, Chocolate by Vdopia (Moderator)
Bjorn Laurin, VP of Product, Linden Lab
4:00PM I See Unicorns: Insights From San Francisco Investors
What do Uber, Pinterest, Airbnb, Lyft, and Dropbox all have in common? They're Bay Area unicorns - tech startups now valued at $1 billion or more. As a hotbed for innovation, San Francisco is bursting with early stage companies - perhaps like yours - building a foundation for success. Hear local investors explore what they look for in companies, how they evaluate potential, and what they predict to be the best opportunities in next-generation tech. 
Participants:
Jake Ward, CEO & President, Apps Alliance (Moderator)
Marvin Liao, Partner, 500 Startups
Edith Yeung, Partner, 500 Mobile Collective
4:30PM - [KEYNOTE] Starups That Don't Suck! Expensify CEO, David Barrett, Shares Secrets for Success 

David Barrett, CEO & Founder of Expensify, started programming at the early age of 6 and has been innovating and building disruptive technologies ever since. Hear David explore his entrepreneurial journey sharing unparalleled insight into discovering opportunities, overcoming challenges, scaling startups, leading teams to success, and improving life for millions of customers.
David Barrett, CEO & Founder, Expensify
4:50PM - Open-Bar Happy Hour & Prize Giveaways
Mingle with speakers and attendees over an open-bar and yummy appetizers. 

---

SPONSORS


INDUSTRY PARTNERS

---
This App Strategy Workshops is part of a global 6-city series hosted by the Application Developers Alliance, a non-profit global membership organization that supports developers as creators, innovators, and entrepreneurs. Visit the Workshop website.
---

View Privacy Policy
When & Where

Merchants Exchange Building
Julia Morgan Ballroom
465 California Street, 15th Floor
San Francisco, CA 94104


Thursday, August 11, 2016 from 1:00 PM to 6:30 PM (PDT)
Add to my calendar
Organizer
The Developers Alliance
The Developers Alliance is a non-profit global membership organization that supports developers as creators, innovators, and entrepreneurs. 
For more information, visit our website: appdevelopersalliance.org
View Privacy Policy
App Strategy Workshop + Happy Hour - San Francisco, CA