App Strategy Workshop + Happy Hour - Berlin, Germany

Thursday, September 29, 2016 from 1:00 PM to 6:30 PM (CEST)
Event Details
Monetize. Optimize. Drive Downloads.
Building a great app is difficult. Turning it into a profitable business can be even more of a challenge. Join industry experts, innovative mobile tech startups, app publishers and developers to explore strategies to turn your app into a profitable business.
 
The App Strategy Workshop features a half-day of candid discussions on user acquisition, user retention, monetization and leadership strategies. Enjoy networking breaks, and mingle with speakers and attendees over appetizers and an open-bar during the Happy Hour.


WORKSHOP DETAILS
WHEN: Thursday, 29 September 2016 | 1pm-6:30pm
WHERE: Kalkscheune, Johannistraße 2, 10117, Berlin, Germany
OFFICIAL WEBSITE: http://bit.ly/Berlinasw 
---
FEATURED SPEAKERS
(More speaker to be announced)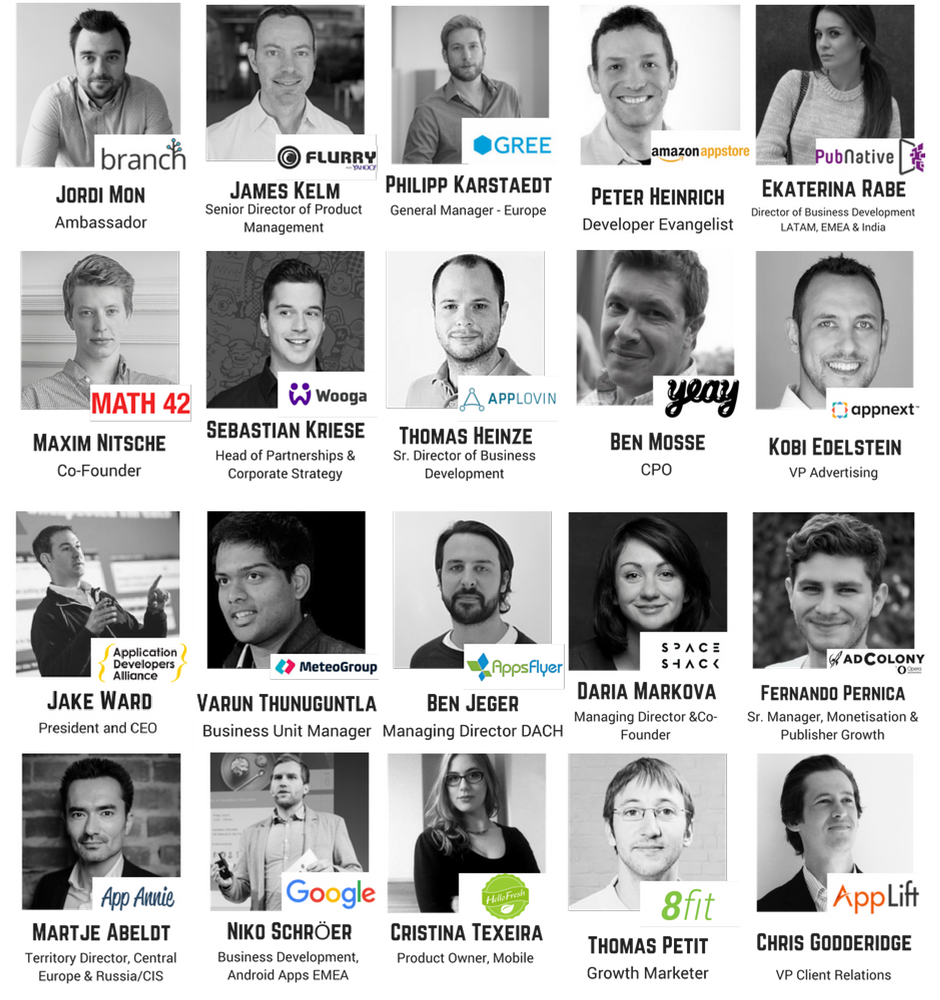 ---
AGENDA
1.00pm Registration

1.30pm Welcoming Remarks by Apps Alliance
          Jake Ward, President & CEO, App Developers Alliance
1.40pm Think It, Code It, Ship It, Tweak It
So you have an app idea? Taking your idea from paper to app store involves more than just code. Hear from industry experts as they outline the stages to launch your app in the best possible way, and the tools available to developers for coding, testing, and distributing.
          Daria Markova, Managing Director & Co-Founder, Space Shack (moderator)
          Cristina Teixera, Mobile Product Owner, Hello Fresh
          Maxim Nitsche, CEO & Co-Founder, Math42
          Benjamin Mosse, CPO, Yeay
          Niko Schöer, Busines Development, Android Apps EMEA, Google
2.10pm Improving Appstore Rank: Best practices (& Tactics to Avoid)
          Peter Heinrich, Developer Evangelist, Amazon
2.25pm Then vs. Now: Next-Generation Marketing Tactics to Grow Your Mobile App
Whether you're a startup trying to make it big or a big-name publisher like Rovio, trying to build a global user base in a competitive market is one of the biggest challenges any mobile app business faces. Join app marketers as they have a candid discussion on tips & tricks to boost your user acquisition and retention.
          Chris Godderidge, VP Client Relations, AppLift (moderator)
          Jordi Mon, Ambassador, Branch

          Ben Jeger, Managing Director DACH, AppsFlyer
          Varun Thunuguntla, Business Unit Manager, Consumer Sector, Meteogroup
          Thomas Petit, Growth Team Member, 8fit
2.55PM Your Treasure Map Towards Successful Mobile UA
Advertising across any medium is always fluid and ever a delicate mix. Nowhere is this truer than in the mobile app space. Paid user acquisition is necessary and can be highly effective but the path to a good user acquisition strategy can be fraught with challenges and misinformation. Find out how to protect your bottom line and identify your arch enemies in paid user acquisition while maximizing valuable ad dollars, and controlling your mobile UA strategy.
          Kobi Edelstein, VP Advertising, Appnext
3.15pm Coffee Break
Stretch your legs, check your email, and enjoy a cup of coffee and a snack. Also chat with our amazing sponsors & enter to win prize giveaway
3.45pm Show Me the Measurement: Monetizing Mobile Apps In Today's Competitive Ecosystem
When should I integrate ads, and how I migrate ad revenue to mobile? What role do mobile applications play in the mobile monetization game? What do app developers need to know in order to effectively monetize content in today's demanding digital ecosystem?
          James Kelm, Senior Director Product Management, Flurry Analytics
4.00pm Proven App Monetisation Strategies
There are a variety of business models to choose from when it comes to monetisation. Picking the model effective for your app, and appealing to your users, is crucial. Join us to learn from the panel of experts about strategies to increase app revenue, and the future of app monetisation.
          Ekaterina Rabe, Director Business Development LATAM, EMEA, India, PubNative (moderator)
          Fernando Pernica, Sr. Manager, Monetisation & Publisher Growth, AdColony
          Thomas Heinze, Sr. Director of Business Development, AppLovin
          Philipp Karstaedt, General Manager - Europe, GREE
          Sebastian Kriese, Head of Partnerships & Corporate Strategy, Wooga
4.30pm Business Intelligence in Mobile Apps - From Data to Insights & Action
The App Economy today is a highly competitive in developed markets, while continuing to demonstrate rapid growth in the coming years - especially in emerging markets. As an advertiser, publisher or investor, the key to success is your ability to access, process, and convert the relevant prieces information to drive strategic and operational planning. This represents an ongoing challenge due to the wealth of data, so how do you get from Data to Insights and Action? 
          Martje Abeldt, Territory Director, Central Europe & Russia/CIS, App Annie
4.50pm Closing Remarks & Prize Giveaways
5.00pm Happy Hour
Refreshments will be provided throughout with an open-bar and appetiser available during the reception
---

SPONSORS
LOCAL PARTNERS
Want to sponsor, or have questions about the workshop?
 Please contact: Beverley@appalliance.org
---
This App Strategy Workshops is part of a global 6-city series hosted by the Application Developers Alliance, a non-profit global membership organization that supports developers as creators, innovators, and entrepreneurs. Visit the Workshop website.
---


View Privacy Policy
Have questions about App Strategy Workshop + Happy Hour - Berlin, Germany?
Contact Oath
When & Where

Kalkscheune
Johannisstraße 2
10117 Berlin
Germany


Thursday, September 29, 2016 from 1:00 PM to 6:30 PM (CEST)
Add to my calendar
Organizer
Oath
Oath, a subsidiary of Verizon, is a values-led company committed to building brands people love. We reach over one billion people around the world with a dynamic house of 50+ media and technology brands. A global leader in digital and mobile, Oath is shaping the future of media.
View Privacy Policy
App Strategy Workshop + Happy Hour - Berlin, Germany