** This workshop is for young people between the ages of 9 -14years only. They will not require previous knowledge of any software**
About this event
Brief
To design a digital product (an app or a website) to help young people with money.
What will they create:
At the end of the 1-day workshop participants will produce a paper prototype, an interactive prototype and present to the group.
Objectives
Research: Looking at a website or app that students use today to help them study.
Design: Participants will define their research by sketching and designing.
Present: Each team will present their app design to the group.
Schedule for the Day
- Introduction to User Experience (UX)
- Research
- Design: sketching
- Marvel App
- Presentation skills and practice
- Presentations
Please read the information below carefully
What equipment will you need in the UX workshop:
It would be ideal that each participant has a tablet or laptop to work on; this would make it easy for them to work in small teams and produce work quickly.
A packed lunch
Each participant requires an email address so they can sign up to Marvel App (the is no fee required).
What the Woolwich Centre will provide:
Prizes for the teams
Refreshments
*Parents/Guardians are not permitted to stay the day, they can use the Woolwich Centre Library Facilities but will not be in the Workshop. Please, can Parents/Guardians not book a ticket for themselves, as the tickets are for young people ages 9 -14 years only.*
Please arrive promptly to begin at 9.30 am
FAQs
What do I need to bring to the event?
Every participant will need to bring along a laptop and a packed lunch.
If you are no longer able to make the event please cancel your ticket order (or contact the organiser via Eventbrite) there is a high volume of interest for this event and it is fair to allow other prospective participants to attend.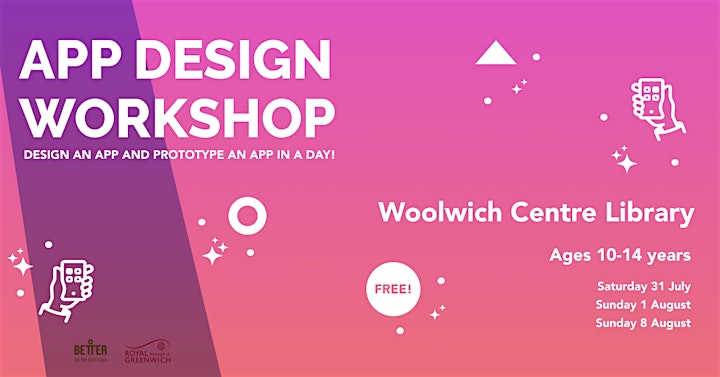 Organizer of App Design Workshop for Kids!