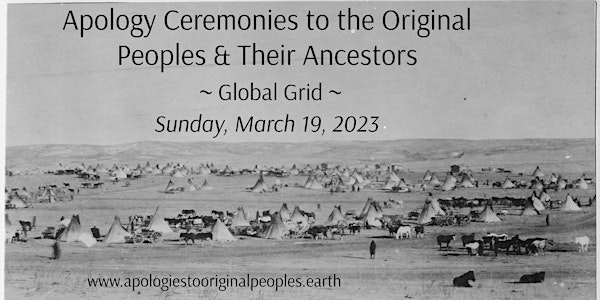 Apology Ceremonies to the Original Peoples & their Ancestors - Global Grid
A Global Unified Field of Apologies to the Original Peoples & their Ancestors of Every Region - for Reconciliation & Healing.
Date and time
Sunday, March 19 · 12am - 11:30pm EDT
About this event
NOTE: While registration is Free, 100% of donations made will be given to indigenous groups (list below).
ALSO - if Registration here is not working for you, please send us your info (name and location) via our website HERE. And if you would like to make a donation to the selected Indigenous groups with your registration, send funds HERE.
~~~~~~~
Please join us in a Global Grid of Ceremonies offering Apologies to the Original Peoples & their Ancestors to bring Reconciliation & Healing Forward.
Sunday, March 19th, 2023 - your time zone.
BY REGISTERING, YOU ARE HELPING INDIGENOUS PEOPLES AROUND THE WORLD WITNESS HOW MANY GOOD-HEARTED PEOPLE SEEK TO SUPPORT THEM. xoxoxox
~ This world-wide Unified Field of ceremonies has been requested by a number of Indigenous Ancestors from the Spirit Plane, along with Mother Gaia. It is a project of the Great Mother Love Way.**
~~~~~~~
As cultures across our Sacred Earth, we have all conquered and been conquered. Yet, we are one people sharing this glorious planet.
These times are the ones of Great Healing - beyond Separation, Imbalance, Injustice & Materialism - to living as One Humanity.
The Original Peoples of every region of our Sacred Earth have been treated in horrific ways: massacred or poisoned, lands stolen, treaties broken, forced to attend reservation schools, women abducted and abused, or worse.
​The sad truth is that much of this is still continuing today in an ongoing clash of worldviews and dearth of wisdom and compassion.
In some parts of the world such as Europe, most people don't remember who the Original Peoples are. However, the Ancestors are still there on the Spirit Planes.
As part of our Healing, those of us from the dominant global culture are being called to Apologize ... And we are also being asked to speak for our Ancestors for all they have perpetrated from their place of deep soul-woundedness ... to Apologize for their actions also.
​We are being called to forgive ourselves too, as we forgive our Ancestors ...
​And to Change Our Ways.
~~~~~~~
"I ask you to look within and ask who you are, what you are doing here and what was here before you. Only then will you be able to forgive yourselves for what you and your ancestors have done. After that, you will be guided to do the right and honorable thing by the indigenous peoples, and we will all find healing together." ~ Grandfather William Commanda, Former chief of the Algonquin nation. (11/11/1913 - 8/3/2011)
~~~~~~~
~~~~~~~
"... it is important to recognize the prophecies that apply to what is happening on Mother Earth today, with all the daunting challenges that we humans are facing. The many prophecies that I am aware of say that there will come a time when the world will need Indigenous ways and look towards Indigenous people for answers. That time is NOW." ~ Larry Merculieff, Unungan/Aleut Elder, Global Center for Indigenous Leadership & Lifeways
~~~~~~~
100% of all donations made will be split between:
• Global Center for Indigenous Leaders & Lifeways
• Support Puyr Tembé, an Indigenous leader from the Amazon who is leading her people in a fight to demand the new Brazilian Congress protect the forest from the storm of logging, mining and cattle-ranching that's driving it to collapse. (Campaign through AVAAZ)
• The Land Trust Fund for the Kogi, Wiwa, Arhuaco and Kankuamo Peoples in the mountains of La Sierra Nevada, Colombia - through the Fountain/Center for Sacred Studies
~~~~~~~
**Gaia Mystic and High Priestess Mare Cromwell, of the Great Mother Love Way, received the request to organize this world-wide Unified Field of ceremonies directly from an Indigenous Ancestor in Maryland in September, 2021. This was after she honored several local requests for Apology Ceremonies from Original Peoples' Ancestors in specific locations in Australia & Maryland, 2019 - 2021.
Mare expresses her deepest, deepest Love and Gratitude to the Indigenous Elders in the physical along with the Ancestors on the Spirit Plane who have guided the creation of this Global Grid.
NOTE - all who register will be added to the Great Mother Love Way mailing list for upcoming events, Messages from Mother Gaia, and pertinent information. You can unsubscribe at any time via the link of the bottom of the newsletter. xoxoxox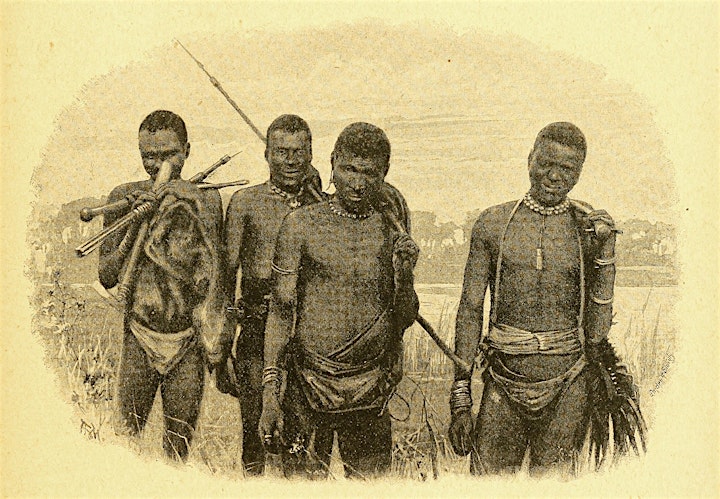 Wandering hunters (Masarwa Bushmen), North Kalahari desert, published in 1892 (from H.A. Bryden photogr.) No Restrictions – Flickr Commons
Kogi woman and child. By Dwayne Reilander - Own work, CC BY-SA 4.0, https://commons.wikimedia.org/w/index.php?curid=63661640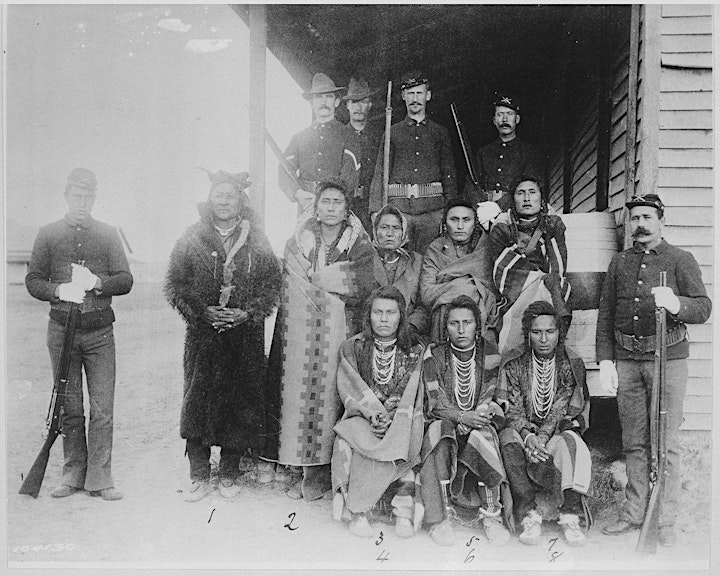 Eight Crow prisoners under guard at Crow agency, Montana, 1887
By Unknown author or not provided - U.S. National Archives and Records Administration, Public Domain, https://commons.wikimedia.org/w/index.php?curid=17068928
Public Domain. Wikipedia. U.S. National Archives and Records Administration