apidays LIVE NEW YORK 2021 - API-driven Regulations for Finance, Insurance
apidays LIVE NEW YORK -API-driven Regulations for Finance, Insurance, and Healthcare | July 28 & 29, 2021
About this event
Many regulations are forcing incumbents that have never been open – neither on the cultural, nor the technical side – to open APIs. And these companies face huge challenges to make it happen resisting the attack by startups and innovative players who are going faster.
In the USA, it is the healthcare industry regulation that started to promote using APIs to open systems for more interoperability to benefit end-users, with programs like EHR, FHIR, LH7, etc.
In Europe, PSD2 and Open Banking UK have led the path to open banking and are followed by more than 40 countries, which are adopting API-led regulations to force banks to open APIs.
Insurance may be the next fortress to fall if the industry doesn't proactively do it before regulators. Now, the US Federal Trade Commission is also evaluating the opportunity of regulation for the US Banking industry.
Last but not least, the Public Sector and Governments are also pushing for the use of APIs to support their open data policies and deliver value to ecosystems.
This year's lineup of speakers include:
Simon Torrance, Advisor at World Economic Forum
Alissa Valentina Knight, Partner at Knight Ink | Recovering Hacker | Cybersecurity Content Creator | Influencer
David O'Neill, CEO of APImetrics
Div Manickam, Director, WW Infrastructure Services Marketing and Portfolio Management at Lenovo
Derric Gilling, CEO of Moesif
Arun Narayanaswamy, Director of Engineering at Amadeus Labs
Jarvis Ka, Enterprise Architect at Indiana Farm Bureau Insurance
Paul Krajewski, Sr. Integration Engineer at Dina Care
Deb Roy, Senior Manager - API Practice at Accenture
Jean Baptiste Aviat, Co-Founder & CTO at Sqreen.io
Dinesh Katyal, Product Director at Financial Data Exchange
Damir Svrtan, Senior Software Engineer at Netflix
and many more
At apidays New York, we will see that beyond opening APIs for regulation, the true business goal of the API mindset is to conquer channels leveraging your ecosystem to achieve maximum business potential at scale. This paves the way for enterprises that are extended, elastic and exponential.
On the business side, we will talk about:
Shifting from open banking to embedded banking
Banking & Insurance API business models
Building APIs for Fintech and Insurtech ecosystems
Developer experience
On the technical side, we will discover how to build these APIs by focusing on:
Open Finance API design
Open Banking API architecture
Opening & Securing APIs with FAPI, OpenID, FIDO, and others
Governing APIs between IT and business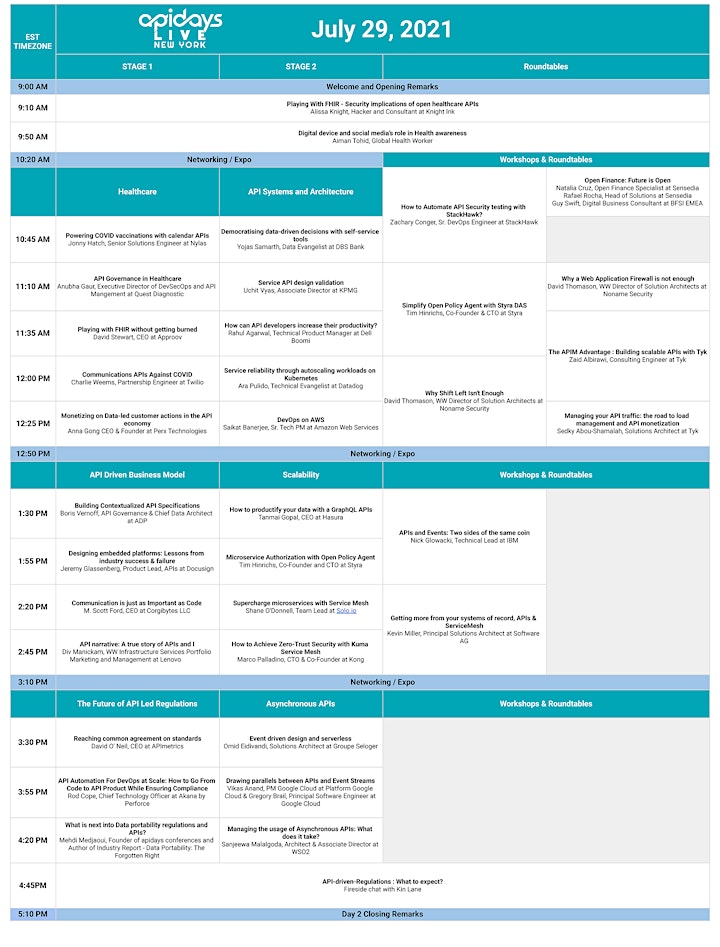 Organizer of apidays LIVE NEW YORK 2021 - API-driven Regulations for Finance, Insurance
Created in 2012 in Paris, apidays has organized 50+ events in 13 countries, gathering over 30,000 attendees and 2,000+ speakers. Its aim is to democratize and evangelize the opportunities and the use of APIs for corporations and businesses to fully enter the next wave of the digital transformation, the era of automation.

Watch Featured Conference Videos and Expert Talks here. Watch the 2020 & 2021 conferences on-demand here.