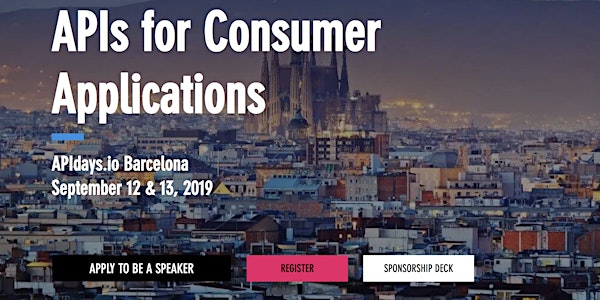 APIdays Barcelona: APIs for Consumer Applications
Location
AXA Auditorium and Convention Center
Avinguda Diagonal, 547
08029 Barcelona
Spain
Refund policy
Refunds up to 30 days before event
Description
Traditional industries are finally starting to catch up with digital transformation, partly because of the level legal requirements for industries to open APIs, even for their competitors and disruptors. On the other hand, there's an entire group of companies that have embraced the digital transformation since the beginning and riding high on it.
FinTech Banks, Transportations Companies, Booking firms, Food delivery services and even the Beauty sector are offering services for millions of people through APIs, posing some interesting challenges in terms of scaling, monitoring and changes deployment. We call these the APIs for consumers.

This event is not only for those already in the API and platform game. This event is for companies that are growing and starting to see the challenges of offering services to a giant number of clients at the same time and want to share information, getting inspiration from other companies, competitors and across industries, as well as experts.
Speakers, Sponsors and Agenda: Visit the event page at apidays.co/barcelona to learn more about the detailed agenda section, featured speakers and sponsors.
Through its 7 years of existence, APIdays has become the leading tech and business conference in APIs and the programmable economy.
15,000+ attendees
36 events
1,350 speakers
11 countries
7,000+ companies
100+ sponsors
120,000+ community members
Our code of conduct is available here - https://www.apidays.co/code-of-conduct