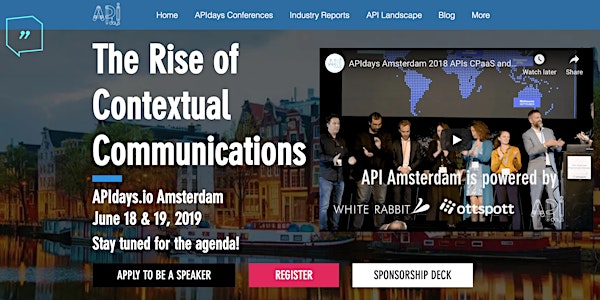 APIdays Amsterdam: The Rise of Contextual Communications
When and where
Location
Hotel Arena 55 's-Gravesandestraat 1092 AA Amsterdam Netherlands
Refund Policy
Refunds up to 30 days before event
Description
In a mobile first world where technology is changing ever faster, communications API's are enabling companies to radically change the way they interact with customers and employees.
Large enterprises, challenged by disrupting startups and struggling with their legacy IT infrastructure, are looking for ways to gradually change their ways of working, turning digital transformation into an ongoing process. The business communications leaders of tomorrow embrace change, open innovation and new ecosystems combining UC, CPaaS, AI and voice in radically new ways.
Speaker lineup: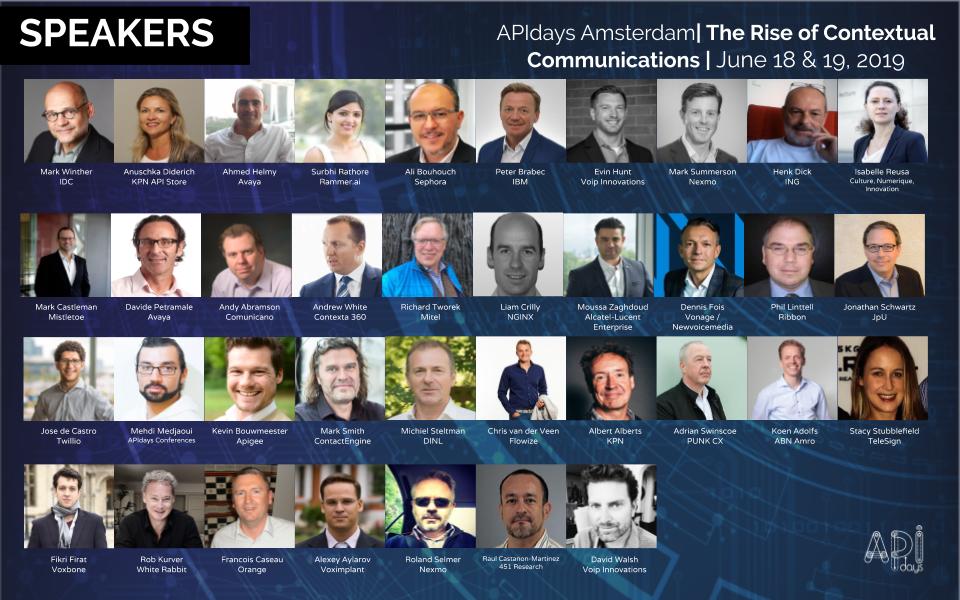 Mark Winther, Group VP & GM, Worldwide Telecom at IDC
Anuschka Diderich, Thought Leader API at KPN New Business
Ahmed Helmy, CTO for International Markets at Avaya
Surbhi Rathore, Co-Founder of Rammer.ai
Ali Bouhouch, CTO at Sephora
Peter Brabec, Business Unit Leader for Europe at IBM
Evin Hunt, CTO at Voip Innovations
David Walsh, CEO of Voip Innovations
Davide Petramale, Evangelist Avaya Cloud at Avaya
Henk Dick, Product Owner, Twilio Chat, Video and Recording at ING
Mark Castleman, Partner at Mistletoe USA, Softbank AI Fund
Phil Linttell, Director, KANDY Platform of GENBAND at Ribbon
Isabelle Reusa, Culture, Numerique, Innovation
Kay Lummitsch, Catalyst, Coach & Mentor, Ex-Swisscom API Strategist
Andy Abramson, CEO & Founder of Comunicano
Andrew White, CEO of Contexta 360
Richard Tworek, VP Mitel Labs & Next Generation Products at Mitel
Moussa Zaghdoud, Vice President, Cloud Business Unit at Alcatel-Lucent Enterprise
Raul Castanon-Martinez, Senior Analyst at 451 Research
Dennis Fois, SVP Applications at Vonage/Newvoicemedia
Jonathan Schwartz, CEO of JpU
Alexey Aylarov, CEO and Co-founder of Voximplant
Roland Selmer, VP Product at Nexmo, the Vonage API Platform
Koen Adolfs, Product Owner, Open Banking at ABN Amro
Albert Alberts, Architect at KPN
Luis Borges Quina, CEO of Ottspott
Kevin Bouwmeester, Sales Engineer at Apigee
Jose de Castro, CTO at Twilio
Fikri Firat, Product Manager of Strategic Products at Voxbone
Rob Kurver, CEO of White Rabbit
Adrian Swinscoe, Author at PUNK CX
Francois Caseau, API Valorization at Orange
Mehdi Medjaoui, Founder of APIdays Conferences
Stacy Stubblefield, Co-Founder and Chief Innovation Officer at Telesign
Liam Crilly, Director of Product Management at NGINX
Mark Smith, CEO of ContactEngine
Michiel Steltman, Managing Director at DINL
Mark Summerson, VP Global Channel Partners at Nexmo
Chris van der Veen, CEO of Flowize
Agenda - available soon
Visit apidays.co/amsterdam to learn more.
Our code of conduct is available here - https://www.apidays.co/code-of-conduct