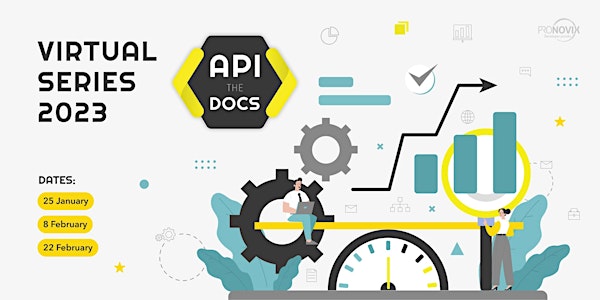 API The Docs Virtual 2023 - Feedback, Metrics, Analytics
Online event series about API documentation, now with the focus on what is worth measuring on the community side of docs.
About this event
Last December API The Docs organised a Feedback, Metrics and Analytics track at Apidays Paris. This series of live online events continues to explore the topic. Join us this season and learn what the crucial metrics are to look at on developer portals, what tooling others use, how to think about KPIs and success indicators, what is worth measuring on the community side of docs and more.
You'll come away with practical ideas for:
How to get feedback to improve developer experience?
What are the crucial metrics to look at on developer portals? How does the abundance of data become meaningful insight?
How to define KPIs and success indicators, and how to get qualitative feedback?
SCHEDULE
8 February
Alvin Cho: Success metrics when launching your first developer portal
"Building our a developer portal may seem easy at the onset with off the shelf options, but when you're building a custom portal to match the needs of your company, it's not as easy. In this session, we'll talk about our process in determining the right places to start with success metrics and features through an early stage feedback back before having customers. You'll see our intention is to tell a story with multiple facets for multiple people, developers, product managers, C suite decision makers etc... Stories around API usage, health, cost, errors and support to provide our users with an overall of their business performance through our APIs."
Zdenek Nemec: Documentation, APIs & AI
"AI is entering the world of APIs, where API documentation plays a critical role. One of the fundamental challenges is the need to share understanding about an API and keep the knowledge up to date. AI can potentially speed up API integrations dramatically, but it greatly depends on API documentation. Let's explore the emerging approach to employing AI in APIs, discuss its impact on API documentation, and see how changing our way of working with APIs will lead to self-integrating applications."
22 February
James Noes: Optimizing Dev Portals with Analytics and Feedback
Making informed decisions on which features to prioritize in a developer portal can be a daunting task. In this session, we'll show you how to leverage experiments, data, and user feedback to evaluate their potential and refine your approach. We'll explore how testing ideas with minimal investment, akin to an MVP, can help you avoid building features that don't meet your users' needs.
Matthew Revell: By the time they're reading the docs, it's already too late
"Your relationship with a developer begins before they even know your product's name. In fact, before they know they need a product like yours.
In this talk, Matthew will make the case that developer marketing, developer experience, and developer education are part of a continuum. And that if you're thinking of documentation as something that happens only after someone has signed-up for your API, then you're leaving it too late. He'll draw on pedagogical and marketing research to propose a model for the developer learning journey where traditional API documentation is just one stop along the way.
Attend this talk and you'll come away with practical ideas for how to start educating developers earlier in their product evaluation and learning journey."
Past events:
25 January
Kumar Dhanagopal - Making sense of analytics for documentation pages
"As content producers, we invest considerable time and effort in developing, packaging, and delivering content that we think our users need. After publishing the content, we hope that users find our content useful. And we often wonder how users really navigate and consume our content. Web page analytics can help us gauge the information needs of our customers, assess their content consumption behavior, and find opportunities to improve our content and how we deliver it.
In this session, we'll explore the following topics:
Basics of web analytics
Pitfalls of relying too much on web analytics for important decisions
The typical web analytics process.
Guidelines for interpreting web analytics numbers"
Serah Njambi Kiburu - Feedback cycles and their role in improving overall developer experiences.
"Drawing from experiences from open source work and her time at Spotify, Serah's talk will
cover the challenges, opportunities and hacks around proactive and reactive monitoring, processing, tracking and acting on stakeholder and community feedback, and
argue for the centricity of well-defined feedback loops in improving the overall developer experiences for any product and features you are responsible for."
Event page & further info: