Description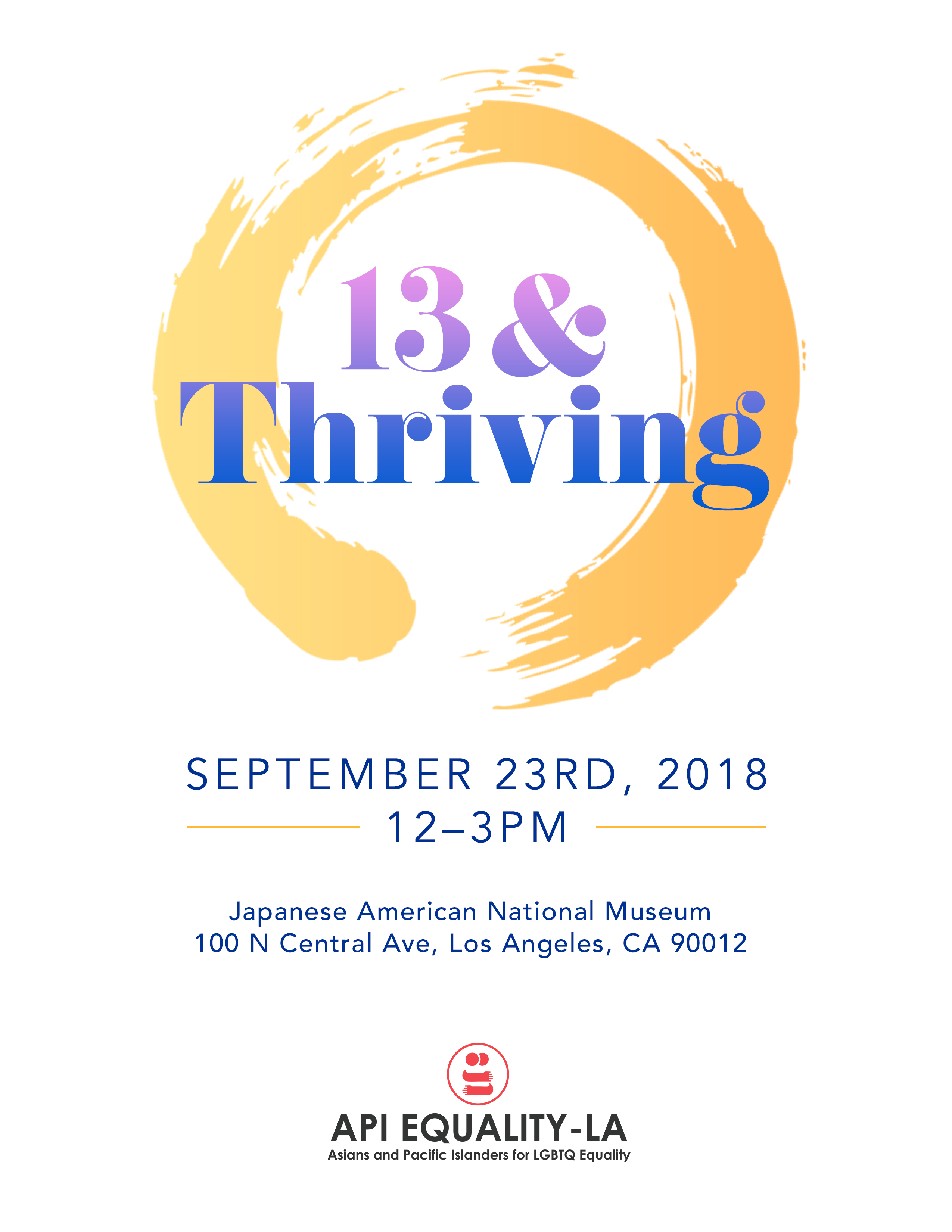 Help celebrate API Equality-LA's 13th Anniversary! Our theme this year, "13 & Thriving", is a testament to the power of our API LGBTQ community and allies. Join us to celebrate our community's leaders, reflect on the past year of investing in community healing, and commit to creating space for all API LGBTQ people to thrive.

We are excited to honor longtime partners Lambda Legal, the oldest and largest national legal organization that advocates for the civil rights of all LGBTQ people, and Eileen Ma, veteran organizer for workers rights, immigrants rights, and LGBTQ rights, and API Equality-LA's former Executive Director.

---

Honoree Lambda Legal:
The work of Lambda Legal is vital. Lambda Legal makes the case for equality in the nation's courts and in the court of public opinion in support of LGBTQ communities and people living with HIV. The results have lasting impact in people's lives, public policies, and ideas.
Lambda Legal has been instrumental in helping API Equality-LA become the organization it is today. From educating our members and leaders about legislative battles and victories, to training our volunteers to speak to media, to helping the organization draft amicus briefs, Lambda Legal's support has been critical to API Equality-LA and to the API LGBTQ community.
---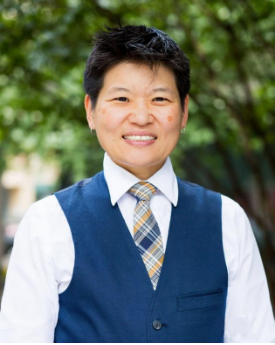 Honoree Eileen Ma (she/her):
As a public interest attorney and organizer, Eileen has developed projects and campaigns around the country, including efforts to address the rights of workers, tenants, immigrants and the LGBTQ community, as well as fighting for health care access and equitable development.
Eileen's leadership as Executive Director at API Equality-LA uplifted people of all ages and experiences to fight for marriage equality, education, healthcare, and immigration reform. Her ability to inspire people into action also involved organizing communities of queer API women, queer women of color, immigrants, and workers to mobilize an intersectional social justice movement.
---
Master of Ceremonies, Chris Lam (he/him):
Chris Lam is a Los Angeles-based content creator and on-camera host. When Chris signed on to be our Master of Ceremonies at our "13 & Thriving" anniversary event, we knew his passion would bring something fiercely unique to the celebration.
Formerly at Buzzfeed, Chris is most known for his YouTube channel, OneWingedChris, where he covers queer culture, video games and anime. He was recently featured on Into Magazine for his channel's Drag Race Season 10 review show. His work has also been featured on Teen Vogue, MTV News, and Good Morning America, and he has spoken at USC, UCLA, and UPenn.
---
Performer, Marie Watschke (she/her/they):
Marie Watschke is a queer, depressed mestiza Filipina American from California, Her identity and political views as an intersectional feminist heavily influence her comedic act and writing. Marie started comdey in 2013 when she started attending Cal State University, Fullerton to study film. After an event that made her feel unsafe in the general comedy scene, she struggled to get back to performing.
Marie was able to start performing again when she found support and community is Disoriented Comedy and The Ruby Theater on Sunset Blvd. Marie is now part of the leadership team for The Comedy Comedy Festival: A Comedy Festival (a comedy festival produce by Disoriented Comedy and JACCC).
---
Our QTAPI Community can thrive when we work together. Thank you to all of our sponsors for helping us celebrate our 13 & Thriving Anniversary Celebration!
Gold Sponsors:
Asian Americans Advancing Justice - Los Angeles
Los Angeles LGBT Center
The California Endowment
Silver Sponsors:
APAIT
Equality California
Community Sponsors:
ACLU of Southern California
CAUSE
Lambda Legal
Latino Equality Alliance & Mi Centro
National Queer Asian Pacific Islander Alliance
PFLAG - San Gabriel Valley Asian Pacific Islander
For corporate and community sponsorship and advertising opportunities, please purchase directly from our website.
API Equality-LA is fiscally sponsored by Asian Americans Advancing Justice – Los Angeles, a 501(c)(3) nonprofit organization. Our Federal Tax ID number is 95-3854152. $45 of every ticket is not tax-deductible; the remainder of your donation is fully deductible to the extent allowed by law.