Description
The APHA 2018 ICEHS Awards Dinner will be held on November 13, 2018 from 630-930pm at the Harbor House (831 W. Harbor Drive; San Diego CA 92101).
At the dinner, we will be honoring a number of award recipients, including:
Distinguished Career: Susan Scavo Gallagher, MPH
Excellent in Science: R. Dawn Comstock, PhD
Public Service: Linda C. Degutis, DrPH, MSN
Institutional Public Service: Datalys Center for Sports Injury Prevention and Research
Ticket price includes dinner and beverages (alcohol not included).
Drinks: Cash bar.
What to wear: Business casual.
The restaurant is located next to the San Diego Convention Center and a 5-10 minute walk away. The restaurant is also accessible by Taxi/Uber/Lyft.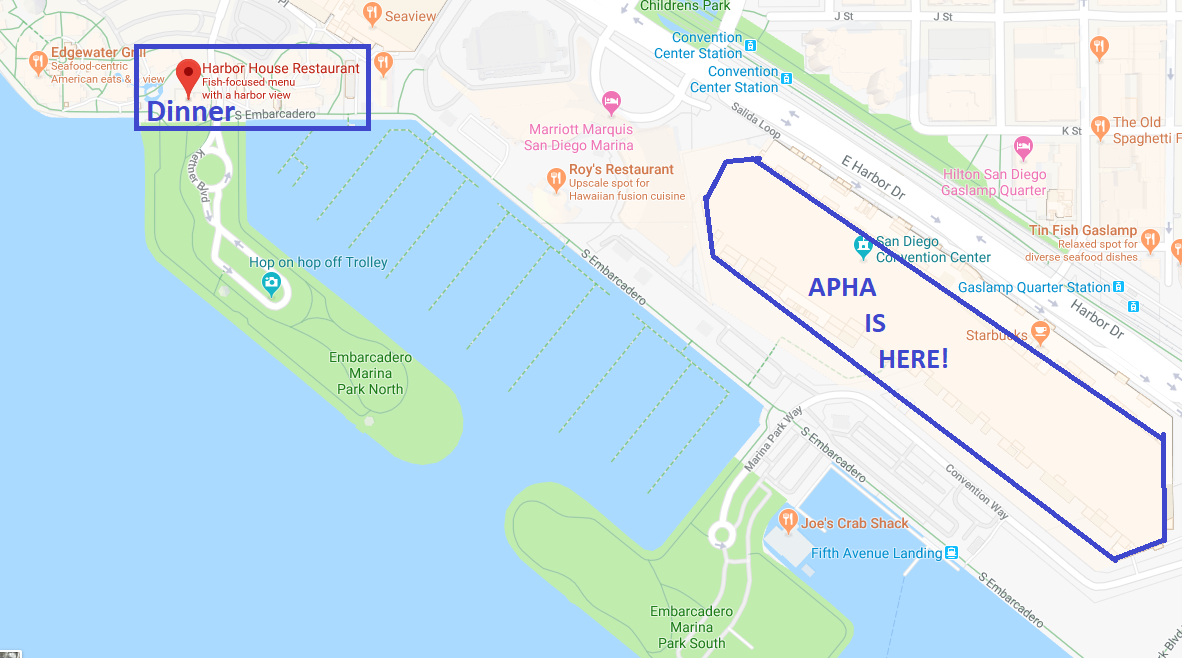 Parking is also available in the Seaport Village parking lot immediately in front of the restaurant, where Harbor House can validate parking for two hours. However, Harbor House let us know that even with validation, there is still a $5 charge and after two hours, $1 per every 15 minutes. Alternatively, they noted limited public parking metered lot spaces behind them where you can pay with coins until 8pm (price is $1 per every hour).
NEW THIS YEAR!
Please consider purchasing a ticket for one of our students. Traveling to a conference is not always cheap. Although we have opportunities such as the Road Safety Scholarship and the Student Paper Award, anything we can do as a section to help sponsor students who have put in the work to be considered for these funding opportunities will lead to a more fruitful and successful conference for them.
Let's help them begin the networking process by getting them a seat at the (dinner) table. If interested, please purchase a ticket for one of the students at the link below:
https://www.eventbrite.com/e/apha-2018-icehs-section-annual-awards-dinner-student-sponsorship-tickets-49100982360